GW SMHS and Children's National Hospital researchers partner to take on a pair of rare mitochondrial diseases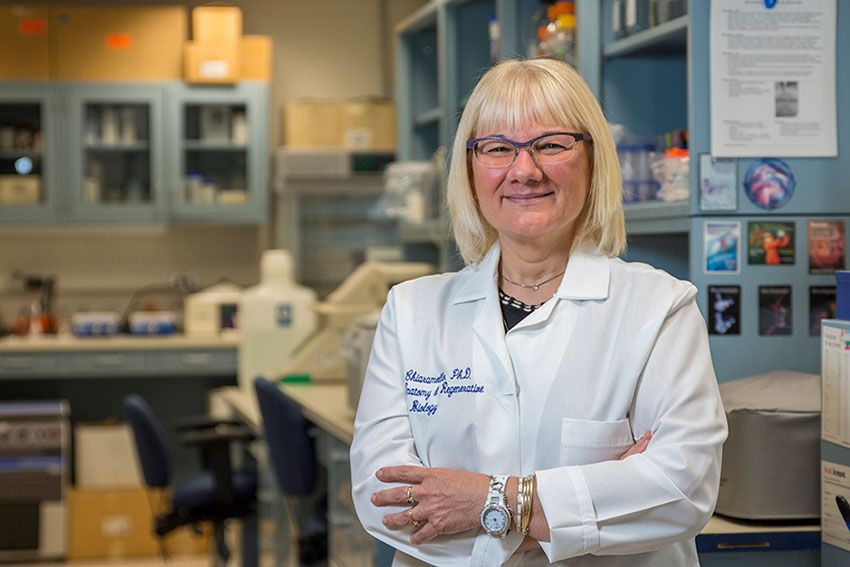 With a $1.13 million grant from the National Institutes of Health (NIH), Anne Chiaramello, PhD, associate professor of anatomy and cell biology and founding director of the Mito-EpiGen Program at the George Washington University School of Medicine and Health Sciences, is testing a novel therapeutic approach for two rare mitochondrial diseases that occur when mitochondria in cells do not produce enough energy. Chiaramello, who is working with Andrea Gropman, MD, division chief of neurodevelopmental pediatrics at Children's National Hospital (Children's National) discusses the clinical trial and how ties to the disease community has bolstered their research.
Q: What are MELAS and LHON-Plus?
Chiaramello: MELAS (mitochondrial encephalopathy, lactic acidosis, stroke-like episodes) and LHON-Plus (Leber's hereditary optic neuropathy-Plus) are ultra-rare inherited mitochondrial diseases that are multisystemic, progressive and not easily treated. MELAS has a childhood onset, while LHON-Plus has a predominantly early adulthood onset. 
Patients with these diseases can have diverse symptoms, such as stroke-like episodes, vision loss, muscle weakness and pain, and recurrent headaches, making clinical diagnosis difficult and hampering treatments. Currently, patients only have access to pain management options that don't halt fatal progression, resulting in significant disability, morbidity and premature death.
Q: How are you collaborating with Children's National?
Chiaramello: My long-time collaborator, Dr. Andrea Gropman, is a pediatric neurologist and geneticist specializing in mitochondrial diseases at Children's National. Our collaboration came from both of us volunteering to teach mitochondrial neurodevelopmental diseases to Institute for Biomedical Sciences graduate students.
Our initial pilot study was funded by the Clinical and Translational Institute at Children's National, which led to multiple publications and several federal grants from the National Institute of Neurological Disorders and Stroke and the Department of Defense, and to the latest clinical grant from the National Center for Advancing Translational Sciences.
Dr. Gropman recruits patients under her care and those who solicit her expertise for accurate clinical diagnoses. Patients enrolled in our study undergo a skin biopsy from which my laboratory derives skin cells to build an extensive biobank.
Using highly sophisticated genomic and mitochondrial experimental approaches, we not only provide a personalized molecular diagnosis for each patient, but we also identify which skin cells, or fibroblasts, from the patients respond to our novel therapeutic intervention. Our combined expertise lends itself to precision medicine by applying a bedside to bench and back strategy.
Q: What roles have the disease communities played in this research?
Chiaramello: As the founding director of the Mito-EpiGen Program, I reached out to several local, national and international patient advocacy groups. They provide a forum for the MELAS and LHON-Plus community to participate in determining disease measurements and endpoints relevant to quality of life for our clinical study.
Q: How difficult is it to find a cohort of patients?
Chiaramello: Building a comprehensive cohort of patients for each disease is challenging given their very low prevalence and the hindered clinical and genetic diagnosis. This makes recruiting for clinical trials difficult, so we use basket clinical trials, borrowed from oncology, where we test the same treatment on patients with either disease.
I also recruit patients through my collaboration with Dr. Gropman, who is the Children's National site principal investigator of the North American Mitochondrial Disease Consortium, a member of the NIH Office of Rare Diseases Research, and a member of the Rare Diseases Clinical Research Network.
Q: What impact would you like to see this research have?
Chiaramello: Our pilot study on wild-type neurons and fibroblasts from a small cohort of MELAS and LHON-Plus has provided the blueprint for testing our therapeutic candidate on 80 patients with one of the two diseases for our current clinical study. This study is the first to explore the therapeutic potential of a pharmaco-epigenomic molecule, a kind of drug, for two distinct mitochondrial diseases and across variable phenotypes within each disease.
During the first two years of pre-clinical study, we aim to achieve two milestones: to stratify recruited patients based on their in vitro response to our therapeutic candidate, and to submit an Investigational New Drug application to the Food and Drug Administration. Once approved, we will move into the three-year, basket clinical trial process to determine the patient-specific maximum tolerated dose and to assess how effective our therapeutic candidate is at curtailing the progression of symptoms in MELAS and LHON-Plus patients. Our clinical study will provide knowledge to improve future basket clinical trials for other mitochondrial inherited neurodegenerative diseases.