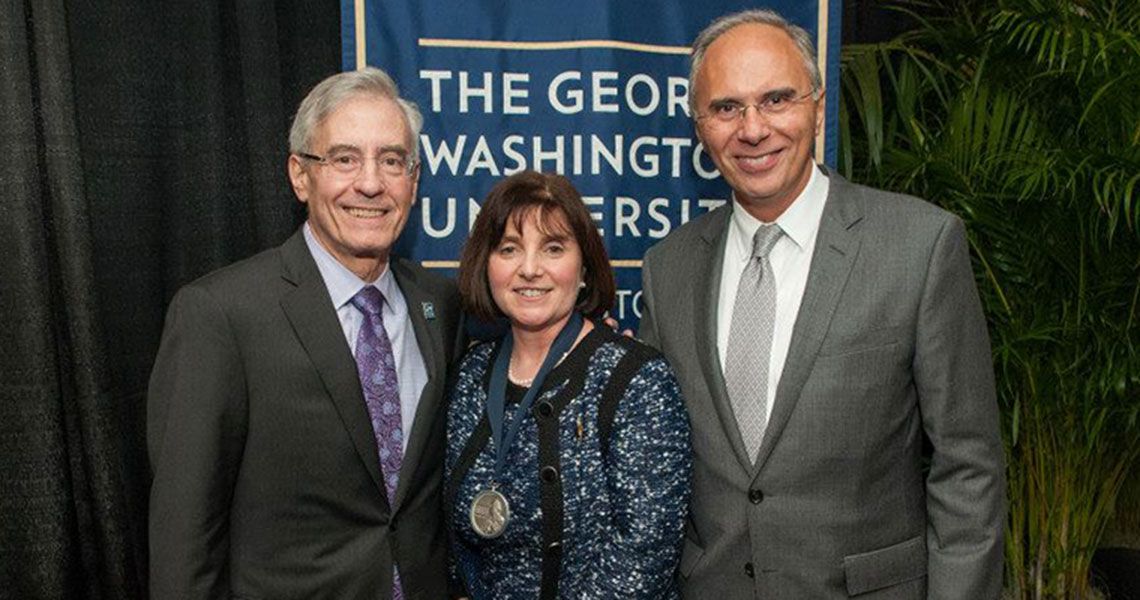 "GW has been my second home since 1989 when I was fortunate enough to join the medical school community," said Nancy D. Gaba, MD '93, RESD '97, FACOG, chair of the Department of Obstetrics and Gynecology at the GW School of Medicine and Health Sciences (SMHS). "I feel that I have grown up here and some of the most impactful things that have ever happened to me, including meeting my husband, delivering my first baby and my own children, developing lifelong friendships, choosing OB/GYN as a career and even seeing my first patient die happened here."
Gaba, who was selected to serve as chair of the department in February 2014, reflected on her career at GW and outlined her vision for the Department Obstetrics and Gynecology during her formal installation as the Oscar I. and Mildred S. Dodek and Joan B. and Oscar I. Dodek Jr. Professor of Obstetrics and Gynecology on Oct. 8.
"My vision for the Department of Obstetrics and Gynecology emphasizes three main principles that are important to me — excellence in patient care, teaching and mentorship, and scholarship," said Gaba, who joins a distinguished group of leaders who have held this title, including Allan B. Weingold, MD; Harold Fox, MD; and, most recently, John Larsen, MD.
Jeffrey S. Akman, MD '81, RESD '85, Walter A. Bloedorn Professor of Administrative Medicine, vice president for health affairs and dean of SMHS, welcomed family, friends, alumni, students, and residents to the celebration, which highlighted the importance of endowed professorships to academic medicine and honored the accomplishes and ambitions of Gaba.
Established in 1982 by Oscar I. Dodek and Mildred S. Dodek and Joan B. and Oscar I. Dodek Jr. BA '56, MD '56, JD '85, the endowed professorship supports the SMHS Department of Obstetrics and Gynecology and recognizes the Dodek family's continued commitment to GW. Dodek Jr.'s parents, Oscar I. Dodek Sr. and Mildred S. Dodek, endowed the chair of obstetrics and gynecology to honor Samuel Dodek, MD, a beloved GW professor, and their son.
"The oldest endowed professorship at GW — the Congressional Professorship — dates back to 1832," said GW President Steven Knapp. "Today we continue this tradition with the installation of Dr. Gaba," he said, acknowledging Gaba as a renowned educator with a deep and longstanding connection to GW.
"We have known Nancy for two decades as a dedicated, knowledgeable physician and a professor who understands the essence of student and resident academics," said Dodek Jr., Emeritus Clinical Professor of Obstetrics and Gynecology at SMHS.
Colleague and mentor Alan Wasserman, MD, Eugene Meyer Professor of Medicine, chair of the Department of Medicine at SMHS, and president and chairman of the board of the GW Medical Faculty Associates, described Gaba as a proven leader in medical education and recognized her years of dedicated service to the betterment of women's health.  
Gaba graduated from GW's MD program in 1993 and completed her internship and residency at GW in 1997, where she held the position of Administrative Chief Resident. In 1997, she joined GW's faculty, where she served as the Residency Program Director in the Department of Obstetrics and Gynecology, and as Associate Dean for Graduate Medical Education. She is a Fellow of the American Congress of Obstetricians and Gynecologists (ACOG).
A published author and recipient of numerous prestigious teaching awards, including ACOG's Donald F. Richardson Faculty Award of Excellence and the Association of Professors of Obstetrics and Gynecology Excellence in Teaching Award, Gaba also serves as a board examiner for the American Board of Obstetrics and Gynecology. This year, she became president of the Society for Academic Specialists in Obstetrics and Gynecology and is a founding member of the organization.
"Receiving the Donald F. Richardson Faculty Award of Excellence and delivering my acceptance speech on mentorship and academic medicine has led me on a continuing quest to learn more about mentorship," she said. "Each day I strive to discover how I can do it better." Gaba took a moment to thank her mentors in the audience Wasserman and Anton N. Sidawy, MD, MPH, Anthony Lewis B. Saltz Chair and professor of surgery at SMHS. "They have been so generous with their advice, their teaching, their coaching, and their friendship," added Gaba. Mentorship is a crucial aspect of Gaba's mission for the department "to help others be mentors and get the most from a mentoring relationship."
Gaba hopes her goals for the department will one day become her legacy at GW. "I look forward to making my vision a reality."