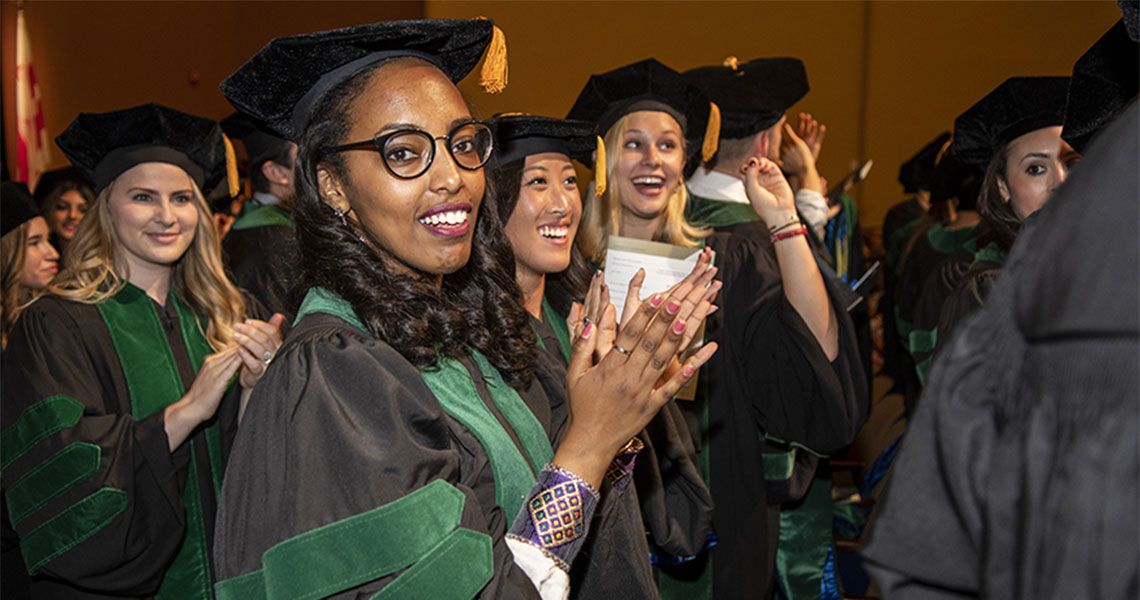 Between the sound of bagpipes and students singing "Seasons of Love" from the Broadway musical Rent, Lisner Auditorium was full of song as students and faculty from the George Washington University (GW) School of Medicine and Health Sciences (SMHS) entered and settled in for the MD graduation ceremony on Sunday, May 20.
In their last moments as medical students, the Class of 2018 heard from Griffin P. Rodgers, MD, FEL '89, director of the National Institute of Diabetes and Digestive and Kidney Diseases. Rodgers shared the five tips that he has cultivated over time with the graduates.
The first he shared was that "what you learn tomorrow is even more critical than what you know today." Rodgers pointed to the technological advances, such as artificial intelligence and precision medicine, which have further pushed many industries, including medicine, into the future.
In his second tip, he advised that patients will often be the ones calling the shots as result of the digital revolution. Recent years have seen an emergence in applications that help to diagnose disease and track a patient's vitals. "You may end up prescribing more apps than medicine," Rodgers said. "But that will be a good thing. It will give the patient more ownership of their wellbeing."
Rodgers' third tip was that collaboration, in a society facing many public health challenges, is key. His fourth was that "science can be a powerful tool for social justice, and social justice can be a powerful tool for health."
He made his point by acknowledging the emphasis that the GW curriculum places on social determinants of health and how it challenges students to think about how they can impact them.
Finally, Rodgers delivered his fifth piece of advice: "Follow your passions," he said. "You must be true to yourself. That's the only way you can be the best you can be in medicine, science, or any other part of your life."
Before leading students in the Hippocratic Oath and closing the ceremony, Jeffrey S. Akman, MD '81, RESD '85, vice president for health affairs, Walter A. Bloedorn Professor of Administrative Medicine, and dean of SMHS, addressed the audience with a few remarks.
He reflected on his speech at the ceremony the previous year, where he discussed truth, integrity, and honor as the fundamental core values for a physician. In that speech, he referenced the words above one of the benches in the Ross Hall courtyard, "See truth and pursue it steadily."
This year he discussed the words above another bench, "Joy of healing those who seek my care."
"We pursue a career in medicine for many reasons," said Akman. "But what is it about turning a career into a calling or vocation?"
To answer this, he highlighted three important words in the phrase: joy, healing, and care.
"Joy reflects that the physician is grateful for the healing experience," Akman explained.
In terms of healing, he says, "The physician and author Abraham Vargese links healing and calling. My desire to be a physician had a lot to do with that sense of medicine as a ministry of healing, not just a science."
Finally, care, Akman said, "is a word with multiple meanings … It speaks to the potential reward, that is, happiness that can be achieved through intimacy and psychological vulnerability. This is central to the calling to medicine."