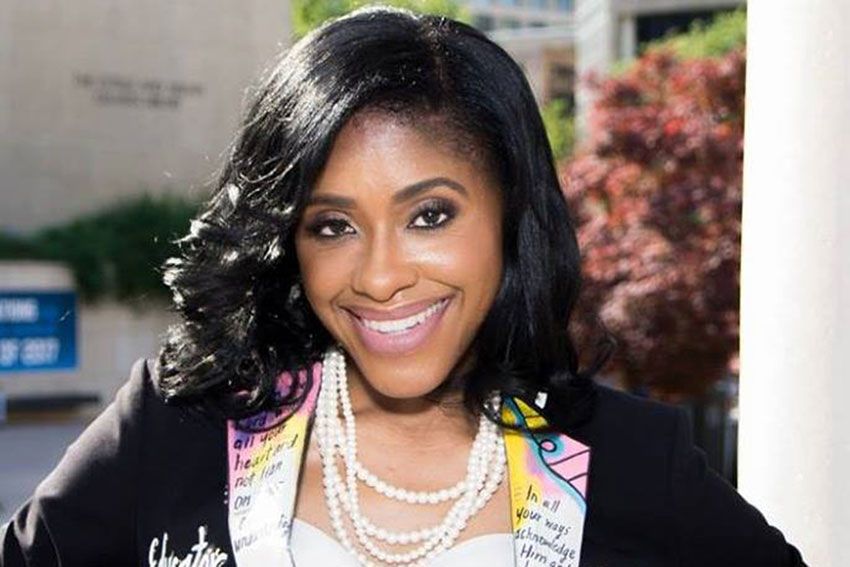 Congratulations to Maranda Ward, EdD '17, MPH, assistant professor of clinical research and leadership at the George Washington University (GW) School of Medicine and Health Sciences (SMHS), on being selected as a 2020–21 SMHS Emerging Scholars Fellow.
The Emerging Scholars in Health Sciences Fellowship Program provides funding to support career development and scholarly projects focused on academic advancements, service-learning opportunities, and professional and mentoring partnerships both inside and outside of SMHS. The award is a one-year career development fellowship, renewable for an additional year. This is the first time the divisions of Health Sciences and Faculty and Student Affairs have partnered for this fellowship.
"Dr. Ward is an outstanding faculty member who will embrace the opportunities offered to her in the Emerging Scholars Fellowship and leave her mark on not only the GW community but also the larger academic community," said Leslie Davidson, PhD, chair and associate professor in the Department of Clinical Research and Leadership at SMHS. "Dr. Ward has already shaped Health Sciences undergraduate curricula ensuring competencies in health equity are embedded in all programs.
"She has provided training to faculty and staff across the university and has built a strong coalition of committed faculty to ensure concepts of health equity are core to student learning. I believe she is the perfect candidate to lead a similar and more expansive initiative in the area of anti-racism. This fellowship will provide her the mentorship, networking, time, and ultimately the foundation necessary for her to become a lead scholar in this area."
Ward's scholarly focus for her project is health equity and anti-racism. She will work closely with Yolanda Haywood, MD, interim senior associate dean of diversity and faculty affairs and associate dean for student affairs at SMHS, to gauge training needs across the medical enterprise in support of the newly established Anti-Racism Coalition.
Over the course of the fellowship, Ward will assess the relationship between SMHS' existing commitment to health equity and its new commitment to racial equity through an anti-racism train-the-trainer program. This curriculum and pilot data will be useful for SMHS, GW Hospital, The GW Medical Faculty Associates, and Children's National Hospital (Children's National) in meeting measurable aims to be anti-racist institutions in practice, said Ward.
"This fellowship gives me protected time to take the lead on conducting an environmental scan, including key informant interviews that will allow me to design a curriculum that will be used to train faculty, staff, and students who will later be deployed to lead anti-racism trainings for their respective programs and departments," Ward explained.
Ward's work at GW includes integrating an IRB-approved educational research study on ethnocultural empathy within her health equity-based courses, with support from an educational research grant from the SMHS Center for Faculty Excellence. This work led to her invitation to join the SMHS Academy of Education Scholars. Ward also designed and led a five-part Health Equity Professional Development Learning Series, which ran during the 2019–20 academic year.
Additionally, Ward serves as a co-investigator focused on extramurally funded workforce development projects, including the GW Health Careers Opportunity Program and the Clinical and Translational Sciences Institute at Children's National.
"I'm excited that my career development award is aligned with an institutional need," she said. "In addition to helping us truly live our social mission of advancing both racial and health equity, I also get to interface with senior leaders, expand my network, and raise my visibility."
Ward also is working with her mentor team to develop a five-year individualized career development plan "to help launch my scholar career and support my trajectory to a sustainable, extramurally supported scholarly agenda," she said.