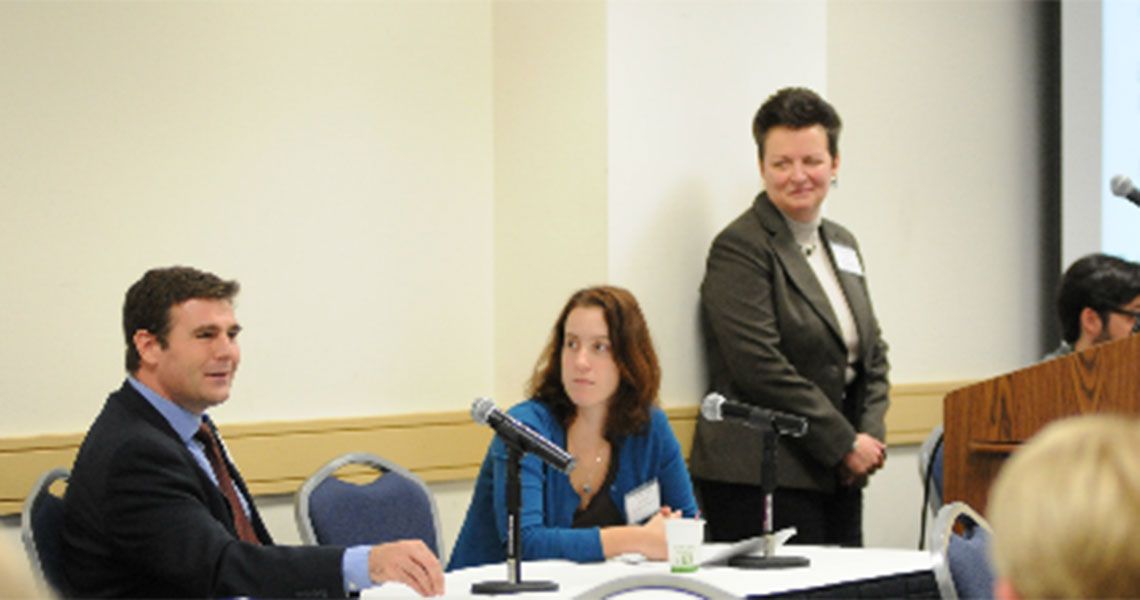 Supportive, insightful, challenging, and observant are just some of the qualities that an effective mentor must possess. Aiming to promote mentorship and its importance to the academic community, the Clinical and Translational Science Institute at Children's National Medical Center (CTSI-CN), in collaboration with the George Washington University, hosted "Building the Next Generation of Academic Leaders: A Mentor Development Conference," Nov. 15-16. Previously a six-month seminar series, CTSI-CN's Mentor Development Program was recently re-structured as a day and a half conference. However, the program's mission remains the same: to improve training opportunities and career development of clinical and translational scientists. More than 60 attendees representing Children's National Medical Center and nearly every school at GW gathered to share their perspective on mentoring. Dianne Martin, Ph.D., vice provost for faculty affairs at GW, opened the conference by welcoming staff and faculty, some of whom are currently mentors and others who aspire to become mentors.
A good mentor is someone who is as open to learning as they are to teaching, according to keynote speaker Sara Melita, M.S., assistant vice president of organizational development and effectiveness in the department of human resources at GW. In her discussion titled "Defining mentorship: What makes a good mentor and why is mentoring important?" Melita explored ways to successfully engage mentees and stressed the importance of establishing both a personal and professional relationship. Drawing from her own experience as a mentor and mentee, Melita explained that the concept of mentorship is more than just having expertise and confidence; it's about being vulnerable and relatable. "Humility matters," said Melita. "Admitting you don't know the answer and articulating that you don't have absolute knowledge about everything is important." Melita also encouraged attendees to interact with one another to provoke conversation and learn how their peers define mentoring and how it is or can be beneficial for their professional and personal development.
Conference attendee Srijaya Reddy, M.D., assistant professor of anesthesiology and critical care medicine at GW's School of Medicine and Health Sciences (SMHS), often finds that she is performing double duty, as both mentor and mentee. "As a junior faculty member, I have benefited from many mentorships, whether they have been formal or informal," said Reddy. "But I also find myself in a mentorship role because we have trainees, fellows, and residents who seek out the younger faculty for guidance because they can better relate to us."
The conference also featured panel discussions. Lisa M. Guay-Woodford, M.D., principal investigator of CTSI-CN and associate vice president for clinical and translational research at GW, facilitated the first panel, titled "Junior faculty panel: What do we need?" The panelists outlined their best practices for building effective relationships with both mentors and mentees and shared their personal perspectives on how to create a successful work-life balance. Panelist Daniele S. Podini, Ph.D., assistant professor of forensic molecular biology and biological sciences at GW's Columbian College of Arts and Sciences, addressed the challenges he faced as a new junior faculty member and how mentors helped guide him in the right direction. "I diversified my resources for mentors," said Podini. "Some relationships occurred naturally through friendship, others I sought out because I knew they are experts in certain areas like administrative issues or grant proposal writing." The overarching theme that emerged from this discussion was the need to establish effective, committed mentorship networks that meet the needs of the junior faculty. "Being a part of a team and collaborating with your peers and senior faculty is very important," said panelist Heather Hoffman, Ph.D., associate professor of epidemiology and biostatistics at the Milken Institute School of Public Health (formerly the GW School of Public Health and Health Services).
For panelist Larissa May, M.D., M.P.H., assistant professor of emergency medicine and associate director of clinical research in the department of emergency medicine at SMHS, mentoring is a continuum where you learn how to become a mentor while you are still a mentee. "The best mentors are the ones that are always available," said May. "For example, when I ask a mentor to review grants, the best ones respond quickly, provide feedback, and meet deadlines."
Melita also led a panel titled "Developing a mentoring plan for your faculty."  The panelists discussed promotional and tenure policies and how they can be implemented to impact career development, and instructed attendees on how to communicate a mentoring philosophy and prepare a mentoring plan with a mentee. Panelist Paula Lantz, Ph.D., chair and professor of health policy at the MISPH, stressed the importance of creating a culture of support and guidance and fostering the relationship between the mentor and mentee. "Mentorship has to be a two-way street, said Lantz. "People have to feel comfortable enough with someone who is giving them advice to say to the person 'you know what? I don't think you are right'." For Lantz, the best mentors are empathetic and take the time to get to know the other person on both a personal and professional level. Mary A. Corcoran Ph.D., OT/L, FAOTA, associate dean of faculty development for health sciences and professor of clinical research and leadership at SMHS, addressed her approach to mentorship and faculty development. "It's all about bringing together people with common interests to learn from one another," said Corcoran. Her efforts involve trying to spark interesting relationships among the three health sciences departments; physical therapy and health care sciences, physician assistant studies, and clinical research and leadership in an effort to foster mentorship.
This conference is the first of many conversations about mentorship planned for the coming year. Simply put, the best mentors make you want to mentor others, says Melita. "The most effective mentors have challenged me and helped me see that I'm not always right, even when I think I am."
Visit CTSI-CN's website to learn about the program and future events.