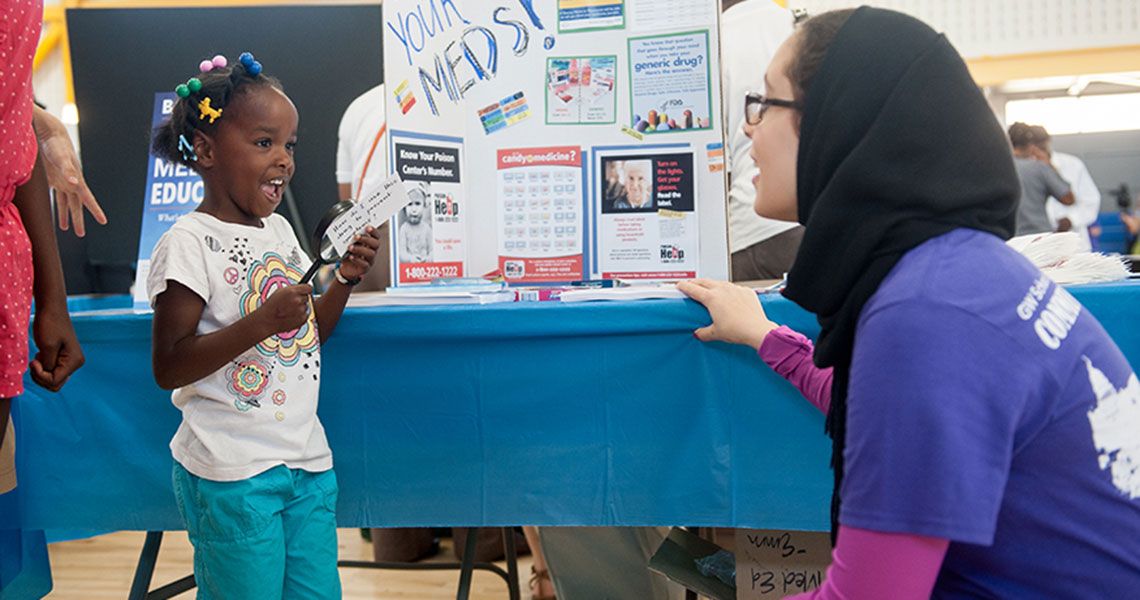 At the Barry Farm Recreation Center, a new facility in Washington, D.C.'s Ward 8, community members wandered the packed gym on Aug. 22. Tables manned by GW School of Medicine and Health Sciences (SMHS) medical, physician assistant (PA), and physical therapy (PT) students sported signs advertising healthy sleep strategies, hypertension prevention, and GI and liver health, among others. Outside, the Children's Health Project of D.C., part of Children's National Health System, offered free immunizations for children, and the hospital's Dr. Bear greeted young participants.
The event, a community health expo sponsored by the Youth and Family Development Model Community Hub, Unity Healthcare, and the Rodham Institute, drew together health care professionals and almost two dozen organizations to tackle the needs of those in the medically underserved Ward 8.
"I'm so excited about this event today at Barry Farm Recreation Center, and it is so important for us, the Rodham Institute, to be partners, because when we look at health disparities here in Washington, D.C., guess what? This is ground zero," said Gigi El-Bayoumi, M.D., professor of medicine at SMHS and founding director of the Rodham Institute. "We feel very strongly that we can support what the community wants to do, and we hope that this kick-off event will be the beginning of a long-lasting relationship."
In addition to providing community members with health screenings, yoga and cooking classes, and information on mental health and kidney transplants, the expo served as a learning opportunity for SMHS students. For fourth-year SMHS medical student Daniel Mays, the event — part of SMHS's annual Community Service Day — was crucial for helping first- and second-year M.D. students, as well as PA and PT students, understand the realities of health disparities.
"This Community Service Day is unique in that the goal is really to get to know the community on a personal level; that is so important when trying to make an impact, especially when there are social structures in place where some people have such poor health," Mays said. "[Today] is just one of many opportunities to engage the community on an individual and personal level. For any medical provider, that, I think, is so golden because it sets the context of 'we're all equal in this together as a community.'"
Earlier in the month, SMHS students participated in a park clean-up, where they disposed of weeds and garbage, said Emmeline Ha, a second-year medical student at SMHS and a Community Service Day planning committee member. "This year, we really wanted to give a variety to students so they could do things they're most passionate in," she added. "We had an arts and crafts event on Wednesday, Aug. 12, with Operation Smile where we made murals and little stuffed animal toys to give to the children."
Back at the health expo, students and community members engaged in dance exercises and snacked on black bean quesadillas and avocadoes. "This has been a real explosion of energy from all sides," said Bridget Huysman, a second-year medical student at SMHS, during an early morning break. "For those of us who are learners in training, it's a real tribute to the expectation of us as providers in the future. Your job is not just what happens in your office, but about what you can bring to the community."
Paul Strauss (Washington, D.C.'s shadow senator) agreed: "It's been so great to have everybody from GW and the Rodham Institute out here in Ward 8. It's really making a difference."