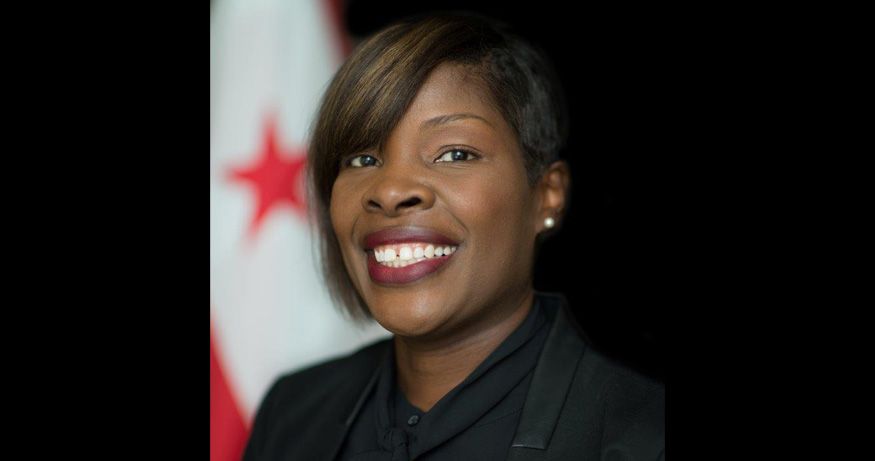 WASHINGTON (May 9, 2022) — The George Washington (GW) University School of Medicine and Health Sciences is pleased to announce that LaQuandra S. Nesbitt, MD, MPH, director of the District of Columbia Department of Health in Washington, will serve as the keynote speaker at the MD Program's Diploma Ceremony on Sunday, May 15, 2022.
"Dr. Nesbitt is a true partner to our school, and a great medical leader who guides her department with exceptional skill to protect the health and wellbeing of the citizens in the District. A tireless advocate for health equity, her service during the COVID pandemic has ensured that our city's healthcare systems are continuously prepared to care for our community during this most challenging period in the modern medical era," said Barbara Lee Bass, MD, vice president for health affairs, dean of the GW School of Medicine and Health Sciences, and CEO of the GW Medical Faculty Associates. "A shining example of a great leader in medicine and public health, we are honored that Dr. Nesbitt will address our graduating medical students, as they take the next step in their careers as physician leaders."
Dr. Nesbitt is a board-certified family physician with more than a decade of experience leading population health initiatives in governmental public health agencies. She serves as the Director of the District of Columbia Department of Health (DC Health) in Washington, D.C., a position she has held since January 2015 when she was appointed by Mayor Muriel Bowser. As a physician leader, Dr. Nesbitt mobilizes organizations and communities to implement innovative solutions that promote health and wellness, and achieve health equity.
Throughout her career she has led multi-sector collaborations to address innovation in health care delivery and its impact on high cost, high need and other special populations; the integration of public health and health care; and the impact of social policies on the public's health. Prior to her role at DC Health, Dr. Nesbitt served as the director of the Louisville Metro Department of Public Health and Wellness, where she led initiatives focused on Affordable Care Act implementation and violence prevention. 
Dr. Nesbitt is a published author and served as an executive editor of Population Health: Management, Policy, and Technology. During her tenure in Kentucky, Dr. Nesbitt was appointed by Governor Steve Beshear to a four-year term as a member of Kentucky's Early Childhood Advisory Council and now serves in a similar capacity on the District of Columbia's State Early Childhood Development Coordinating Council. She serves nationally as the chair of the Association of State and Territorial Health Official's Performance Improvement and Accreditation Policy Committee. Dr. Nesbitt also served as a member of the Federal Reserve Bank of St. Louis' Health Industry Council, the Commonwealth Fund Health Care Delivery System Reform Program National Advisory Group, and the US Centers for Disease Control and Prevention's Advisory Committee to the Director, where she served as co-chair of the Public Health and Healthcare Collaboration Workgroup.
Dr. Nesbitt earned her Bachelor of Science degree in biochemistry from the University of Michigan, her medical degree from Wayne State University School of Medicine, and her Master of Public Health in Health Care Management and Policy from the Harvard School of Public Health. She completed an internship in family medicine at the University Hospitals of Cleveland/Case Western Reserve University, and completed the remainder of her family medicine residency in the University of Maryland's Department of Family Medicine where she served as chief resident. Dr. Nesbitt completed her fellowship training with the Commonwealth Fund Harvard University Fellowship in Minority Health Policy.
View more information about GW's Commencement Events.
Watch the live webcast of the MD Diploma Ceremony on May 15 at 3:00 pm.