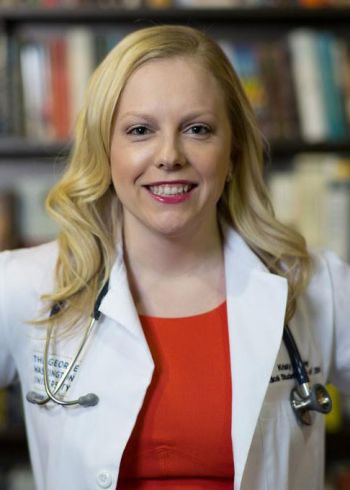 Congratulations to Kristy Lynn Hawley, M.P.H., rising fourth-year medical student at the George Washington University (GW) School of Medicine and Health Sciences (SMHS), who was a recipient of the American Medical Association (AMA) Foundation's 2015 Leadership Award. The award was presented at a ceremony held during the AMA Annual Meeting in Chicago.
This national award recognizes medical students, residents/fellows, and early career physicians for achievements in community service, medical education, and public health. Hawley is one of 15 awardees who received special training to further develop their skills as future leaders in community affairs and organized medicine.
Hawley, a scholar at the Office for Clinical Practice Innovation at GW SMHS and former co-director at the GW Healing Clinic, has used her health policy and public health background to advocate for policies that benefit both patients and the medical profession.
Prior to pursuing a career in medicine, she received her Master of Public Health from The Dartmouth Institute for Health Policy and Clinical Practice and worked as a research assistant at the American Enterprise Institute for scholars in the health policy department. During her time at GW SMHS, Hawley completed a Health Policy Fellowship in the office of Congressman Bill Cassidy, M.D., where she provided research and policy assistance on issues surrounding U.S. Food and Drug Administration regulatory policy and public health.
Hawley has served as a member of the AMA Medical Student Section's (MSS) national Committee on Legislation and Advocacy, as well as the MSS's Committee on Economics and Quality in Medicine. She was recently selected as the only medical student council member to serve on the AMA Council on Medical Service for a term of one year. She was appointed by the Governing Council of the AMA MSS with the concurrence of the AMA Board of Trustees.
Hawley was also recently awarded the National Quality Scholar Award from the American College of Medical Quality, in recognition of her interest and leadership in improving the quality of the health care system.