ANNOUNCEMENT (Oct. 16, 2023) — John R. Bethea, PhD, has been selected to serve as the chair of the Department of Anatomy and Cell Biology at the George Washington University (GW) School of Medicine and Health Sciences (SMHS).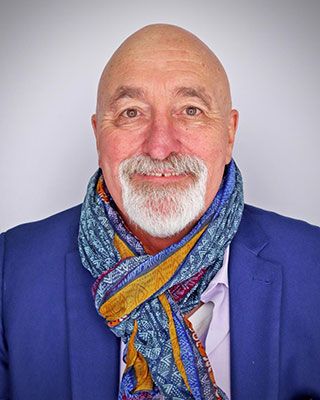 In this role, Bethea will lead a team of distinguished research and teaching faculty who are national and international leaders in neural cell biology, neurotherapeutics, cancer cell biology, and medical/health sciences education. With an impressive portfolio of research in neuroimmunology and leadership experience, he will oversee the department academic programs, guide future departmental growth, facilitate future collaborations, and support research efforts.
"Dr. Bethea's vision and expertise will lead the department - and the school - in cross-cutting initiatives. He is a consensus builder who emphasizes communication among colleagues," said Barbara L. Bass, MD, Walter A. Bloedorn Chair of Administrative Medicine, professor of surgery, vice president for health affairs, dean of the GW School of Medicine and Health Sciences and CEO of the GW Medical Faculty Associates. "Under Dr. Bethea's leadership, I am confident that the department will continue to advance science and grow its research portfolio."
Bethea was most recently a professor in the Department of Biology at Drexel University, where he served as the Department Head from 2014 to 2019. Before joining the faculty at Drexel, Bethea held multiple positions within The Miami Project to Cure Paralysis in the Department of Neurological Surgery at the University of Miami Miller School of Medicine.
Bethea maintains an active, well-funded research program focused on the mechanisms and therapies for chronic neuropathic pain, mechanisms of spinal cord injury-induced immune dysfunction, and TNFR2 (tumor necrosis factor receptor-2) dependent sex differences in functional recovery and mechanisms of remyelination and neuroprotection with funding from the National Institutes of Health and Department of Defense. He also serves on numerous NIH and DoD review panels and has chaired the New Jersey Commission of Brain Injury since 2012.
Bethea earned his PhD from the University of Alabama at Birmingham and completed an NIH postdoctoral fellowship at Case Western University and a Multiple Sclerosis Society postdoctoral fellowship at The Cleveland Clinic Foundation. He has published nearly 100 research articles in peer-reviewed journals, book chapters, and research monographs on neuropathic pain in Multiple Sclerosis, cytokines in brain trauma, and spinal cord injury. He has served on the editorial boards for Neural Regeneration Research, the Journal of Neurochemistry, and the Journal of Neuropathology and Experimental Neurology. Bethea currently serves on the editorial boards for Experimental Neurology, he is the chief editor of Trends in Neuroinflammation, and he is a reviewer for many other journals.
He is a seasoned educator who has taught undergraduate and graduate level courses in neuroscience, immunology, and cell and molecular biology, throughout his career. Bethea is a talented mentor, actively guiding the development of more than a dozen PhD students as well as postdoctoral fellows and research assistant professors in his lab.
The Department of Anatomy and Cell Biology has an international reputation for advancing knowledge in cellular and molecular neuroscience, as well as key teaching roles in Anatomy for SMHS and health sciences programs. The Department is currently home to 11 tenured/tenure track faculty members and 15 non tenure track appointments. Bethea plans to sustain current research programs and build new multidisciplinary collaborations linking neuroscience to immunology and pathology across the SMHS.
"I am honored to join the faculty of George Washington University School of Medicine and Health Sciences as Professor and Chair of Anatomy and Cell Biology. The SMHS is an outstanding research, educational, and health care institution and I look forward to working with members of the Anatomy and Cell Biology department, as well as members of the faculty, students and leadership across the enterprise to enhance basic and translation neuroscience and neuroimmunology research," said Bethea.
Bethea began serving in the position of Chair of the Department of Anatomy and Cell Biology on Oct.1, 2023.