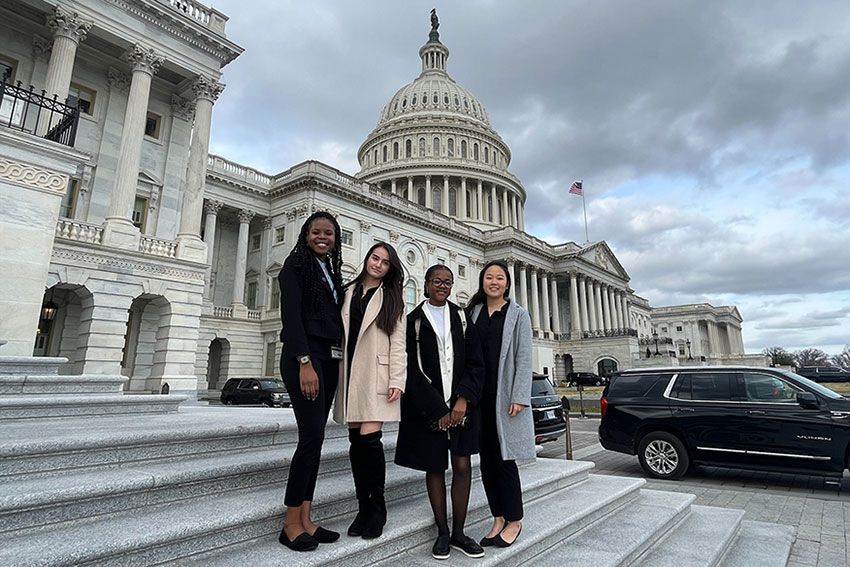 Student ambassadors from the George Washington University School of Medicine and Health Sciences' Health Careers Opportunity Program (HCOP) pounded the pavement for some grassroots lobbying on Capitol Hill on Dec. 8, meeting with legislators to advocate for the continuation of federal funding — critically needed support to addresses workforce shortage in the health professions.
GW HCOP, which launched in 2018, has helped prepare more than 100 students from educationally and economically disadvantaged backgrounds, for academic and career success, providing scholarships and stipends for tuition, as well as offering a summer program, mentorship, and career counseling. Funding from the federal Health Resources and Services Administration, supports the grant program, will run out in August 2023.
With grant renewal uncertain, GW SMHS students joined representatives from the National Council for Diversity in the Health Professions of the Health and Medicine Counsel and GW staff, canvasing the offices of Senators Tim Kaine (D-VA) and Mark Warner (D-VA), as well as Representatives Jennifer Wexton (D-VA 10) and Donald Beyer (D-VA 08), sharing their stories and testimonials about the success of GW's program.
"Prior to our meetings, we met with students to provide background on what the advocacy process looks like and what to expect when in front of congressional staff," said Gabrielle Sosa, assistant director of government relations at GW, who joined the group for the trip.
Marcia Firmani, PhD, MSHS, chair of the Department of Biomedical Laboratory Sciences at GW SMHS, and the principal investigator on the grant, and Jessica To-Alemanji, PhD, DPT, PT, program manager for HCOP, organized the meetings and provided the legislative staffers with information about GW's HCOP successes. From there, the students discussed their success stories and how HCOP helped them pursue their educational journey. Many of them expressed how without the program, they would not have been able to pursue their career goals.
As a recipient of multiple scholarships, HCOP is the only one that provides comprehensive support: the financial, social, and emotional needs that come with pursuing an education in the medical field with a disadvantaged background are all things that are taken into consideration when it comes to us scholars," said GW Physician Assistant student Pretoria Okafor who was among the ambassadors lobbying for the continuation of HCOP funding.
Describing her own journey and the impact HCOP has had for her, Okafor noted "If there were more resources allocated to HCOP and other scholarships aimed at increasing diversity within medicine, more minority students could have the chance to overcome financial barriers associated with pursuing such a noble profession, surrounded by a community of people reminding you that in a field still so wanting in diversity, you belong."
The potential loss of such a vital pathway couldn't come at a worse time for the U.S. labor market.
Demand across all health care professions is expected to rise 13 percent from 2021 to 2031, creating about 2 million new jobs over the decade according to the Bureau of Labor Statistics. "Eighty percent of health care facilities across the United States already are experiencing health care professional shortages," added To-Alemanji.
"Programs such as HCOP," she added, "not only offer students more opportunities to pursue careers in the health care industry, they also help build greater sociodemographic alignment between health workers and the communities they serve. That has been linked to better health outcomes."