The newly launched Ron & Joy Paul Kidney Center at GW will raise awareness about kidney disease and increase live kidney donation in Washington, D.C.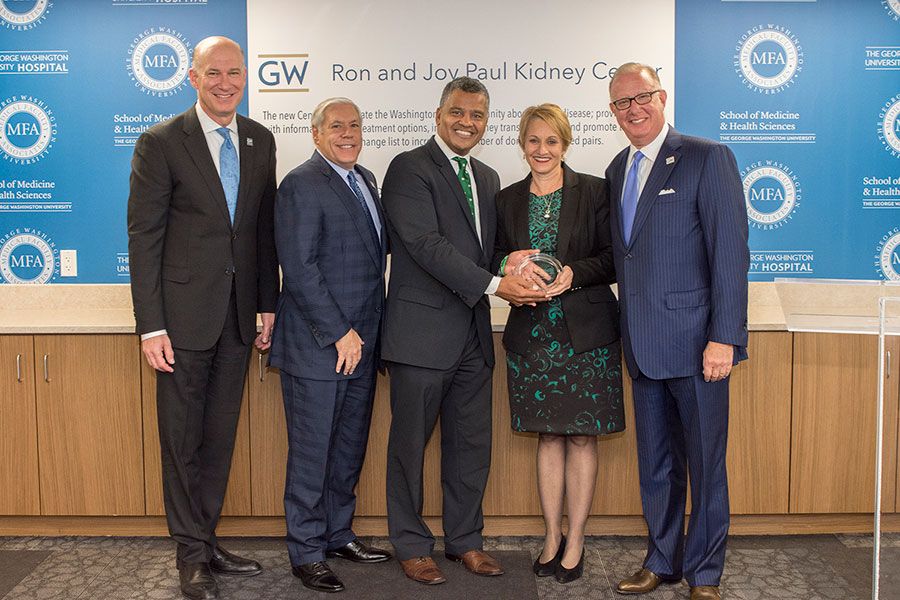 WASHINGTON (Nov. 5, 2015) —  The George Washington University (GW) School of Medicine and Health Sciences, in concert with GW Hospital and the GW Medical Faculty Associates, has established the Ron & Joy Paul Kidney Center to raise awareness about kidney disease and increase live kidney donation in Washington, D.C.
Thanks to a $2.5 million gift from The Ron & Joy Paul Family Foundation, established by Ron Paul, chairman and co-founder of EagleBank, and founder of Ronald Paul Companies, a real estate development company, and his wife, Joy, a social worker in private practice, the Center will launch several initiatives aimed at addressing the burden of kidney disease on D.C. citizens.
"We are thrilled to establish the Ron & Joy Paul Kidney Center at GW. Thanks to this new Center, we  are able to make a  positive impact on the health of our city and educate those suffering from kidney disease, are at risk, or may have a loved one who is affected by kidney disease," said Jeffrey S.  Akman, M.D., vice president for health affairs, Walter A. Bloedorn Professor of Administrative Medicine, and dean of the GW School of Medicine and Health Sciences. "We are grateful to Ron and Joy Paul for enabling us to improve the lives of those we serve."
The need for kidney donation in the U.S. is urgent — 12 people die each day while waiting for a life-saving kidney transplant. Nearly 80 percent of those waiting for a kidney transplant in the District are ethnic minorities. In D.C., kidney transplants have decreased, but the incidence of end-stage renal disease has increased. The Ron and Joy Paul Kidney Center hopes to remedy this situation and increase the number of live kidney donation in the D.C. metro area.
"After being diagnosed with kidney disease at age 26, seven years later, I received a kidney from my brother, Steven. Nineteen years later, I needed another transplant and received a second kidney from my friend and co-worker, Kathy McCallum," said Paul. "Kidney donation saved my life and can save the lives of countless others in Washington, D.C."
Additionally, the Ron & Joy Paul Kidney Center will support the establishment of educational forums, including a Kidney Transplant Education Series and educational outreach programs at community clinics and faith-based organizations. The Center will also support and bolster the efforts of the Minority Organ Tissue and Transplant Education Program (MOTTEP), which partners with the GW Transplant Institute to address and reduce the number of ethnic minorities in need of transplants. MOTTEP initiatives include promoting paired kidney exchange lists.
GW Hospital performed its first paired kidney exchange earlier this year and anticipates many more to come. Kidneys donated from living donors offer better outcomes and can shorten the long, health-threatening, and uncertain wait for a kidney.
"When we established the GW Transplant Institute earlier this year, our goal was to provide the D.C. area with greater access to transplantation," said Barry Wolfman, chief executive officer and managing director of GW Hospital. "Collaborating with local organizations and leaders who are committed to this cause will undoubtedly help us meet this need. Far more kidneys are needed to save lives — and that is what we are trying to accomplish."
Kidney disease awareness is crucial for keeping future generations off the kidney transplant list. Many patients miss the early warning signs of kidney disease — high blood pressure, frequent urination, and creatinine in the blood, among others. The later the diagnosis, the more difficult it is to remain healthy enough to receive a kidney while on the transplant list.