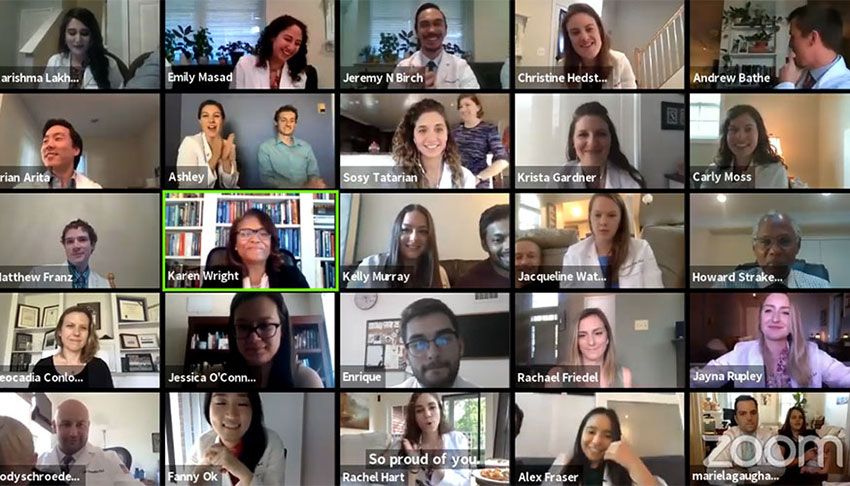 When Rep. Karen Bass (D-Calif.) began her career as a physician assistant (PA), the United States was in the throes of the HIV/AIDS epidemic. About 30 years later, the George Washington University (GW) School of Medicine and Health Sciences (SMHS) PA Program Class of 2020, entered the workforce as the U.S. and countries around the globe were dealing with effects of the novel coronavirus.
"I graduated [from PA school] at a historical moment," she said. "A historical moment that changed the way we lived our lives. You are also graduating at a historical moment that will absolutely change your life."
Bass served as the keynote speaker for the GW PA Program Long White Coat Ceremony held during GW Commencement Weekend. The event was hosted virtually in light of social distancing restrictions because of COVID-19.
"Leadership skills and commitment are so needed in the world today," she said. "GW educates and trains the next generation of PA leaders. We need you to lead now as we travel on this epic journey together. We need your leadership."
Bass' speech to the graduates served as a call to action and a charge to join their health care colleagues in the fight against the novel coronavirus.
In his remarks to the class, student speaker Josh Rosenthal, PA '20, compared his two year journey through the PA Program to his daughter's first two years of life; early on he noticed that he and his daughter were walking parallel roads.
"As Gabriella spoke her first words, we were completing our first physical exams in the CLASS Center," he said. "As my daughter began to eat and drink on her own, we began digesting real clinical medicine. When she took her first steps, we took our first steps into clinical practices where we began our rotations."
Rosenthal also shared the lessons he learned watching those parallel journeys. He learned to better appreciate the skills and knowledge the graduates gained over the course of their education. "Newborns do not know a thing," he said. "But, they do possess an incredible ability to learn. They're eager to experience the new world around them and they push themselves as they master new skills. That's how we began."
The second lesson, Rosenthal said, was for his classmates and now colleagues to remember: "we are PA toddlers." While they have now marked the end of PA school, the graduates still have much farther to go, he said.
The third and final lesson he delivered to the class was to remember the fundamentals. "Just as my daughter has mastered the fundamentals of coordination, communication, and independence, which she will need for the rest of her life, we have mastered the foundational skills that we will need to succeed each and every day of our medical lives," said Rosenthal. "These skills are essential to good practice and we must not abandon them."
Keeping with tradition, albeit virtually, Susan LeLacheur, DrPH '08, MPH '89, PA-C, BS '82, spoke to the graduates about the symbolism behind the white coats that they would soon wear. "The mundane meaning of the white coat as the original PPE seems paramount, while it's meaning as a symbol of all you achieved in the last two years seems dwarfed by the enormity of the challenge we are all facing as you enter the force that will care for this wounded world," the professor of physician assistant studies said. "Yet, never has its deeper meaning been more critical, not as a symbol of knowledge, but as a symbol of service."
Following LeLacheur's remarks, the graduates were asked to turn on their cameras so livestream attendees could watch as they donned their new long white coats in preparation of joining the fight against COVID-19 and serving their communities.