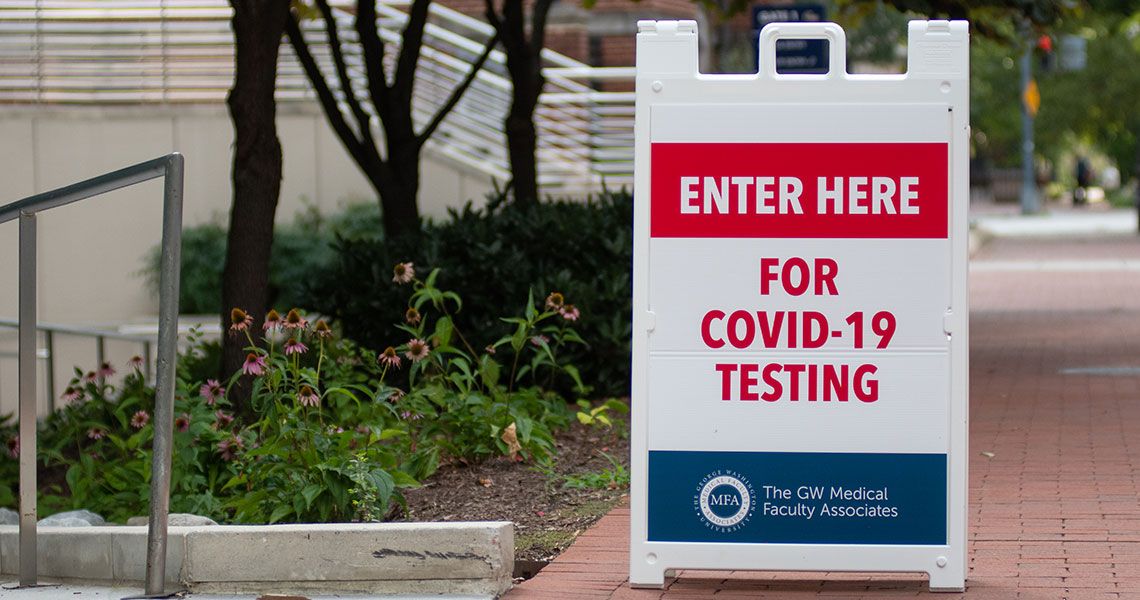 In a concerted effort to support the health, safety, and well-being of all employees at the George Washington University (GW), a new Occupational Health Program is being developed with the help of university leaders alongside experts from the GW School of Medicine and Health Sciences (SMHS), Milken Institute School of Public Health at GW (Milken SPH), and The GW Medical Faculty Associates (GW MFA).
The need to establish the Occupational Health Program grew out of the Community Health and Well-Being and Public Health committees, formed to advise the university on the COVID-19 campus re-opening plan, according to Ray Lucas, MD, medical director of the new Occupational Health Program and associate professor of emergency medicine at SMHS.
While students on campus receive care and get COVID-19 testing through GW's Colonial Health services, there was no comprehensive plan for employees. The new Occupational Health Program is designed to support employees and the GW community in the areas of testing, contact tracing, isolation protocols, and occupational and mental health. There also will be telehealth services for employees quarantined at home.
Gene Migliaccio, DrPH, associate dean for applied public health at Milken SPH, was instrumental in the development of the program thanks to a long history of experience in occupational health. He worked in the federal government for many years helping to lead its Federal Occupational Health program, which ran clinics and wellness centers for all federal employees.
He noted that GW's program will go through different phases, with the first focused on the COVID-19 response across the university, and the second supporting a flu clinic in the fall. 
"Additionally, members of these committees saw the value in having occupational health services post-pandemic as they are shown to enhance safety and worker productivity, to reduce absenteeism, and improve employee satisfaction," noted Lucas.
Migliaccio said they looked at what other universities are doing, especially those with medical centers, and discovered that many have similar programs. "We also know that for wellness programs, for every dollar you invest in your employee health there's a $3 rate of return, and that's through a healthy population, so there's a cost-benefit for investing in our employees."
As part of that post-pandemic view, the program is planning a more comprehensive occupational health clinic within the GW MFA for university employees and faculty. The clinic could provide services such as assistance with work-related injuries, first aid, evaluations for certain labor occupations/pre-employment, wellness screenings, and more. 
In the long-term, noted Migliaccio, the Occupational Health Program seeks to provide employees with easy-to-access, onsite health care and wellness options. 
Additional wellness programs under consideration could include those focused on healthy eating, exercise, and smoking cessation, for example. The Occupational Health Program also will coordinate with the university's free-standing employee assistance and behavioral health programs, which currently are found in GW Human Resources.
"What we really want is for this program to serve as a one-stop shop for all GW faculty and staff to access clinical programs, wellness programs, and employee assistance programs," Migliaccio said.