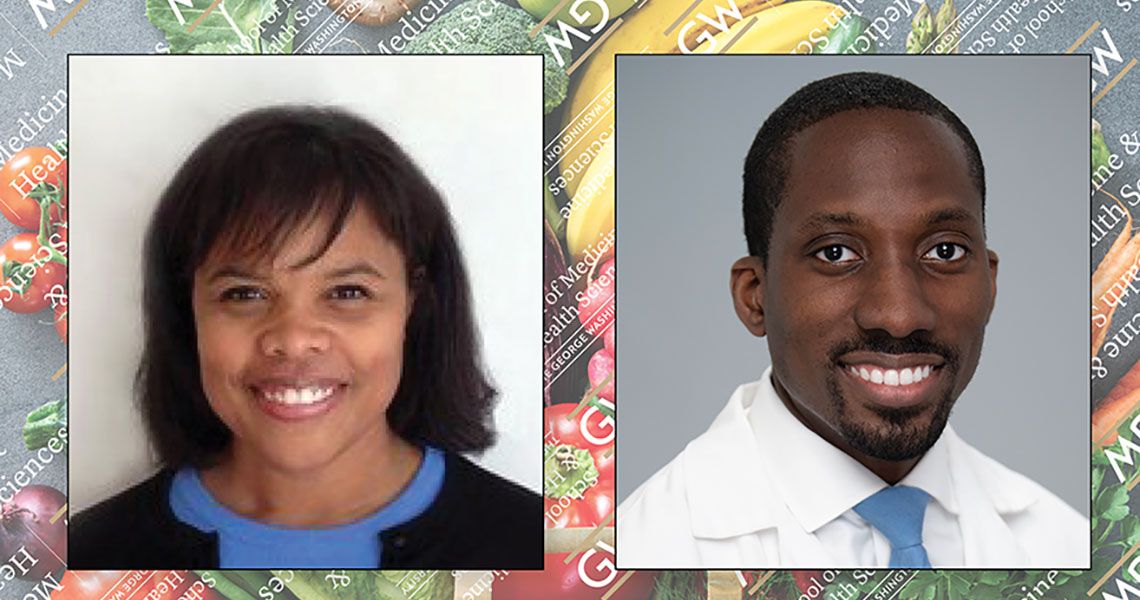 The George Washington University (GW) Culinary Medicine elective recently expanded with the addition of two new members, Kofi Essel, MD '11, MPH '17, assistant professor of medicine at the GW School of Medicine and Health Sciences (SMHS), and Nicole Farmer, MD, staff scientist with the National Institutes of Health (NIH) Clinical Center and an adjunct associate professor of medicine at SMHS.
Essel will serve as director of the GW Culinary Medicine Program, overseeing the elective course for medical students, championing culinary medicine, conducting research, and helping to reinforce the role of nutrition in health and health care.
Essel, who also serves as a board-certified pediatrician at Children's National Hospital's Children's Health Center in Anacostia, has been active in the nutrition, obesity, and food insecurity education and research arena for the past two decades.
"My passion has always been to work closely with medical students and make sure I play a role in having a mark on raising the next generation of empathetic and thoughtful clinicians," Essel said. "I have been conducting community cooking classes with a variety of community organizations and clinical practices."
Essel's expanded role on the Culinary Medicine team, he said, grew organically through his work with students engaged in culinary medicine as well as through lecturing and moderating workshops.
"My job is easy: simply to continue the dynamic work started by Drs. Seema Kakar and Lawrence Deyton, and bring my passion and expertise to continuing these wonderful traditions," Essel said. "As a community pediatrician, I plan to bring the same great joy into this work, and hopefully it will continue to spill over to my community, staff, students, and colleagues."
GW SMHS first added a culinary medicine elective for third- and fourth-year MD students in the fall of 2017, based on the program Timothy S. Harlan, MD, FACP, developed at Tulane University, a curriculum that is currently taught at more than 55 sites nationwide. Two years later, Harlan joined the faculty at GW SMHS along with Kerri Dotson, a chef and dietitian who serves as the Director of Operations for the program.
The GW SMHS curriculum, and culinary medicine as a whole, according to Harlan, is not about "food as medicine." Rather, it teaches health providers how to educate their patients about making healthier choices in the kitchen and about the positive impact those choices can have on health when paired with the powerful tools already in health care professionals' arsenal.
"Dr. Essel brings a wealth of experience to the Culinary Medicine Program, especially with his experience in teaching medical students. He has a tremendous understanding of obesity treatment," Harlan said, citing the Healthy Homes, Healthy Futures curriculum at Children's National Health System, an obesity-centered home visitation program for pediatric residents in Washington, D.C., that Essel co-authored with Sirisha Yalamanchi, MD '04, BA '00, and Cara Lichtenstein, MD, MPH '04, CERT '08, as well as Erin Hysom, RDN, MPH, of the Maryland State Department of Education. In 2017 the curriculum received an inaugural Innovation Award for Health Care Provider Training and Education from the Alliance for a Healthier Generation.
"This expertise," Harlan added, "will allow expansion of the program over the course of the next few years and, with his leadership, make it the premier culinary medicine program in the United States."
In her new role in the program, Farmer will bring a wealth of experience researching health behaviors and health disparities.
"My specific area of interest is on dietary behaviors and in particular cooking as a health behavior," Farmer explained. "My role with the Culinary Medicine Program will build on obesity prevention and chronic disease management. I am the [principal investigator] of a study here at NIH in which Dr. Harlan and Dr. Essel are associate investigators. The study focuses on the role of a culinary intervention on home cooking behavior and cardiovascular disease risk factors among African American adults living in limited food access environments."
Farmer's first exposure to culinary medicine dates back to 2011, when she participated in an Integrative Medicine Fellowship at the University of Arizona. Her interest in the topic continued while working as an internist in private practice. Farmer worked with dietician and naturopathic physician colleagues to start a culinary education program for her patients.
"In 2017," she recalled, "I started a post-doctoral research fellowship under Gwenyth R. Wallen, PhD, senior investigator at the NIH Clinical Center, to explore the role of cooking behavior in psychosocial health and nutritional disparities.
"During this fellowship, I met Dr. Harlan when I attended a Health Meets Food continuing medical education program at Tulane. We have been close collaborators ever since," said Farmer.
"Having Dr. Essel join our team is amazing, but we are over-the-moon about Dr. Farmer bringing her expertise to the research infrastructure we are working to build," said Harlan. "Our multidisciplinary investigations will advance so much further and faster with her involvement. We are really fortunate to have her join us."