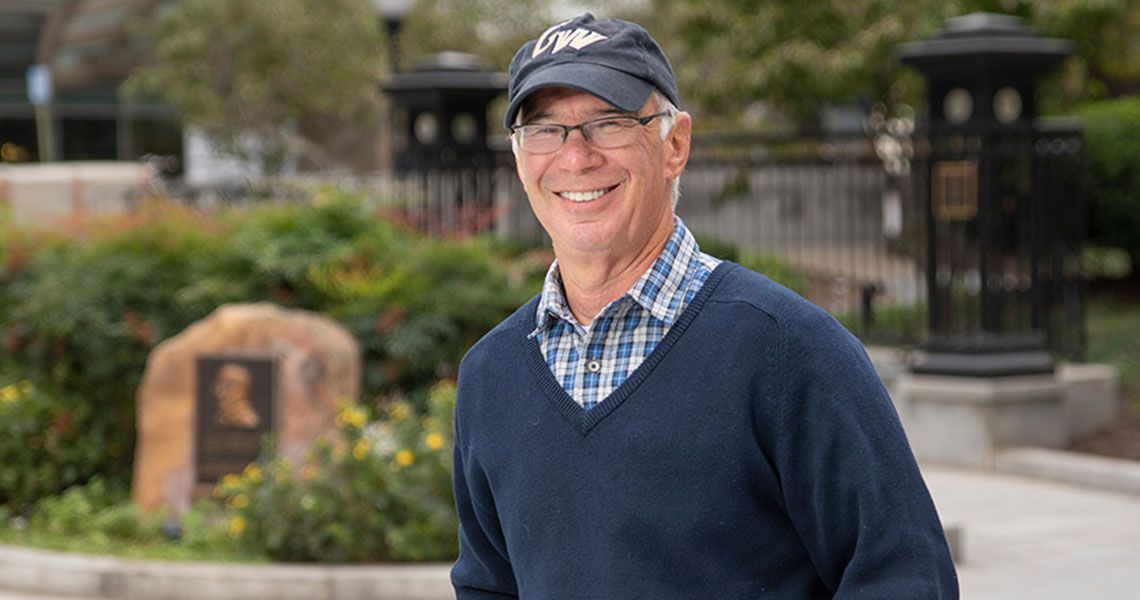 When Gordon S. Moshman, MD '78, was accepted to medical school, he thought he might want to be a surgeon. The high costs of a medical education, however, left him looking for alternatives. That change in direction led Moshman to a Public Health Service Scholarship — a federal program offering scholarships to students in return for a commitment to provide care in underserved communities — and that sent him on the path to family medicine and rural health care.
In 2015, the semi-retired family physician and his wife, Ann, made a gift to fund a Rural Medicine Elective for primary care residents at the George Washington University (GW) School of Medicine and Health Sciences (SMHS) in an effort to impart the lessons learned in those rural settings to the next generation of physicians. Since then, GW residents have traveled to communities as far as Whitefish, Montana; Austin, Minnesota; and most recently the Chinle Comprehensive Health Care Facility, in northeastern Arizona, for two-week internships in rural practices.
When Moshman was just out of his residency, he served a four-year placement in Roundup, Montana. "It was pretty isolated," he recalls, and definitely "not on the tourist path."
The town consisted of 2,300 residents, with almost 4,000 additional people in the surrounding county. Most of the locals worked, if they had jobs, in often hazardous professions, such as ranching, the oil industry, logging, and at saw mills, which meant there was always work to be done for the young physician.
"When I went to Montana," says Moshman, "if you couldn't [remove an] appendix, or deliver a baby, or set a forearm or wrist fracture — because those were the kinds of cases that came in — if you couldn't do that, they would have said, 'well, you're not completely trained.
"I think that still goes. I think primary care physicians can legitimately take care of about 90 percent of what comes in the door," he says.
Despite rural medicine's challenges — long hours, sometimes under-resourced hospital facilities, and a patient community facing serious health disparities — Moshman says his decision to become a rural family medicine practitioner turned out to be a good fit. "The relationships that you make, and the satisfaction of being part of a health care system that really works," he says, makes the tough times easier to take. "The ability to provide quality care, to be successful in the system, and to have the appreciation of your patients, those are the reasons young physicians should consider careers in rural health care."
Through their gift, the Moshmans have enabled 10 GW primary care residents to participate in the two-week program. "I wanted physicians to learn to take care of the whole patient," Moshman explains. "As a family practice doctor in a rural area, at one time you were responsible for everything. That's why I agreed to support primary care here at GW. I felt that learning about that accountability is important, that there is much more to the practice of primary care than triage to subspecialists."
"Our residency is in an urban setting, so this elective allows these doctors to experience practicing health care in lower-resourced, rural settings," adds April Barbour, MD, MPH, director of the Division of General Internal Medicine and associate professor of medicine at SMHS. "In Washington, D.C., we have specialists readily available, [but] our residents are seeing general internists managing a lot of things on the front lines because they don't have those specialists nearby. They come back, really impressed by the breadth and scope of what these physicians are managing in their practices."
GW's primary care residency program exposes trainees to a wealth of experiences across the scope of general medicine to learn those skills and see how practices run in a variety of settings. Residents at GW perform home visits, care for patients in an assisted living facility, and work at a federally qualified health center in Washington, D.C. This elective, says Barbour, adds another layer to that and broadens the educational experience.
"What Dr. Moshman has done has impacted our trainees so much, and I love that. It's wonderful to be able to offer them this experience," Barbour says. "But, I think he also has provided an example for our residency program graduates, that giving back to those trainees, those learners coming behind you is a wonderfully valuable and important experience. I really appreciate his example."