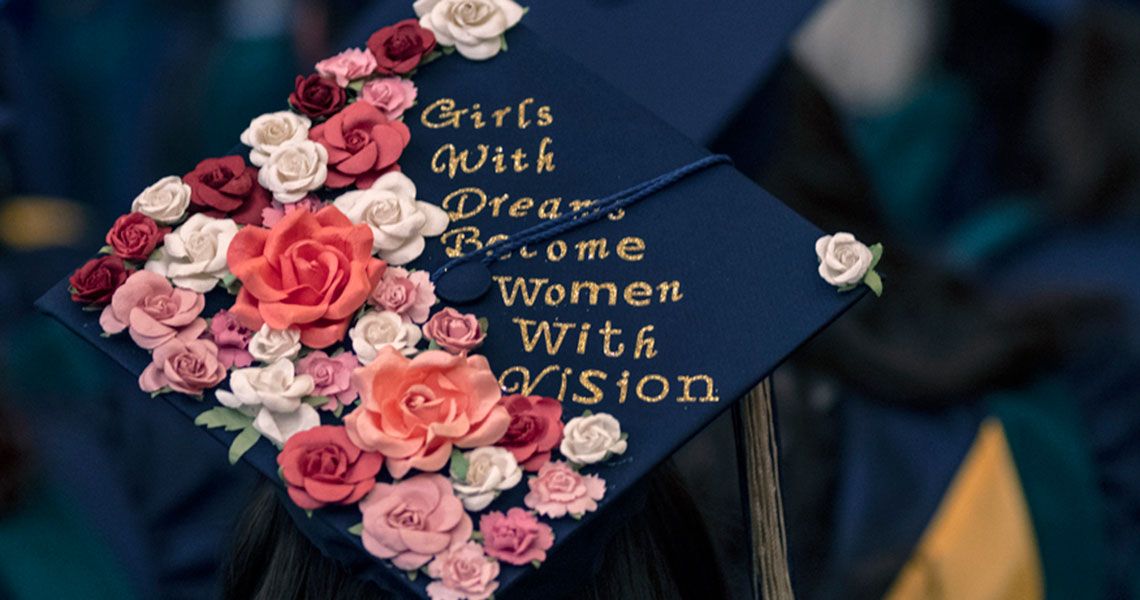 More than 600 students representing 27 health sciences programs at the George Washington University (GW) School of Medicine and Health Sciences (SMHS) strode into Lisner Auditorium as family and friends cheered and waved them on. Some wore caps decorated for the festivities while others had medals, sashes, or colorful cords signifying their academic achievements; all were visible for the 2019 Health Sciences Graduation Celebration on May 18.
In welcoming the newest members of the SMHS alumni family, Jeffrey S. Akman, MD '81, RESD '85, vice president for health affairs, Walter A. Bloedorn Professor of Administrative Medicine, and dean of SMHS, reminded the graduates that no matter what changes the health care field may enocunter, one thing will always remain true: the values that form the foundation for health professionals. In what was his final commencement weekend as dean of SMHS, Akman told the graduates, "Ethics, morality, honesty, and integrity matter greatly. In fact, these are the values that matter more than anything else. … There are powerful forces that will attempt to force you to bend or will encroach on your integrity. Graduates, resist these forces and always remember that living your lives and practicing your art in uprightness and honor will ultimately be how you measure success in your lives."
Following Akman's welcoming remarks, Shawneequa Callier, JD, associate professor of clinical research and leadership at SMHS, recognized the program's 62 Alpha Eta inductees, the national scholastic honor society for the allied health professions.
Karen Schlumpf, MPH, director of the health sciences core curriculum at SMHS, then presented the Ozgur Ekmekci Interprofessional Leadership Awards. The honor — named for the former interim chair and associate professor of clinical research and leadership who passed away in 2015 — recognizes graduating health sciences students who demonstrate interprofessional scholarship. This year's Ozgur awards were presented to Louis Wong, MS '19, as the online program recipient, and Catherine E. Schutte, DPT '19, as the campus program honoree.
Clifford Cymrot, MHA, director of the undergraduate medical laboratory sciences (MLS) programs and assistant professor of biomedical laboratory sciences, announced this year's Outstanding Undergraduate Award, presented each year to graduates who stand out for their leadership and academic success. MLS graduate Tasheka Latrice Pearcey, BSHS '19, received the 2019 undergraduate award.
In her remarks, Pearcey thanked her family for their unconditional support and constant motivation and thanked her MLS professors for pushing her beyond her comfort zone. She also dedicated the award to her late grandfather, who introduced her to the MLS profession at an early age. As the oldest of six siblings, a military spouse, and the mother of three children ages 8–17, Pearcey said she grew used to putting the needs of her family ahead of her own. "I'm a natural giver, but this degree, this was for me. … My initial goal was to set an example for my children, to teach them that no matter what happens in life, you must always be persistent and give 100 percent." As she presented the Outstanding Graduate Student Award to Elony May, DPT '19, Physical Therapy Program Director Ellen Costello, PhD, PT, said, "this comes as no surprise to faculty and students in the Doctor of Physical Therapy Program. We've watched as Elony managed her tenure at GW with dignity and grace, and lending her mature perspective to all of her interactions, which is to say Elony kept the students and faculty calm." In her remarks, the reserve officer in the United States Air Force and mother of two, told the audience to "make wherever you are better than when you found it. Whether it's creating a positive work environment, improving a process, or spending extra time with someone. We all have the potential to make an impact in the health care community and each other's lives."
Following the presentation of diplomas and the recitation of the School of Medicine and Health Sciences Pledge, Reamer L. Bushardt, PharmD, PA-C, senior associate dean for health sciences at SMHS, delivered the charge to the graduates. "Be responsible for your own learning and personal growth. Learn to harness that knowledge and recognize your limitations. Embrace uncertainty and ambiguity in your careers. Serve the community around you; see what's missing and provide it, see what's inadequate and provide it, see what works and embrace it. Choose the path of leadership, and lead with the character and values you have lived here at GW," he said. Bushardt added that the graduates should embrace courage, integrity, selflessness, empathy, collaboration, and reflection. "This is the exact kind of leadership the world needs now. I know you are going to shine with that character and your capabilities. I know you, like so many other GW graduates, are going to change the course of history."