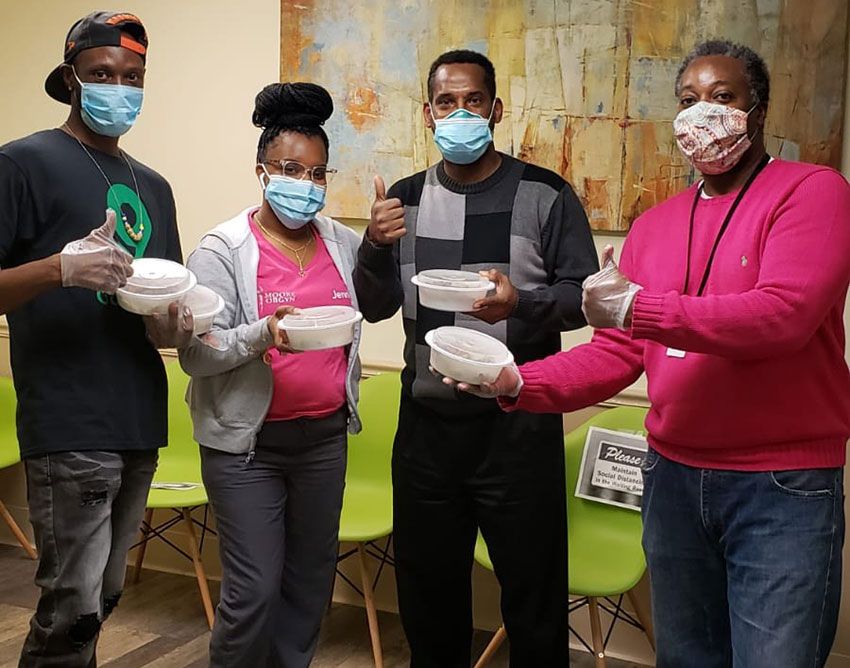 In Washington, D.C., African Americans make up about 45% of residents, but according to recent data from the Centers for Disease Control and Prevention, about 62.5% of deaths from COVID-19 in the city are in the African American community.
While this may come as a shock to many Americans, it's nothing new, said Jehan "Gigi" El-Bayoumi, MD, RESD '88, founding director of the George Washington University (GW) Rodham Institute and professor of medicine at the GW School of Medicine and Health Sciences. El-Bayoumi also was recently named to D.C. Mayor Muriel Bowser's task force on reopening D.C.
"This public health crisis has illuminated a well-kept secret – that we have a societal problem," she said. "It's just the latest example of negative health outcomes for African Americans and communities of color. If you look at rates of diabetes, cancer, or HIV, it's not that different."
She noted a study from Virginia Commonwealth University on life expectancy in the Washington, D.C., region that found people who live in Georgetown have a life expectancy of 94 years, while residents of Anacostia have a life expectancy of 66.3 – and that's during normal times.
The COVID-19 pandemic is taking an issue that was always there and helping people to see it in very stark terms, El-Bayoumi said.
For the Rodham Institute, providing help in this unprecedented time is about taking action based on the needs of the community. "We need to provide community-led solutions," she said. "We don't dictate the priorities, we are the conveners, connectors, and catalyzers based on what the community tells us it needs most."
One area in which Rodham is providing support is helping to feed health care workers and communities in need. 
Rodham has joined forces with Goodfynd, a D.C.-based company that through an app connects food trucks to consumers, according to Kristina Williams, director of community engagement at the Rodham Institute. Through the partnership, they are aiming to raise $30,000 to help deliver 3,000 meals to health care workers and community members. 
As of the first week in May, Rodham has donated 200 meals to organizations including United Medical Center, Temple of Praise Church, and Moore & Associates, and has donated 671 produce boxes throughout southeast D.C. 
"During this pandemic, many food trucks have gone out of business and have laid off their staff," Williams noted. "Our partnership with Goodfynd has helped both frontline health care workers and small businesses so they can keep their staff employed."
El-Bayoumi added that Rodham recently established a new partnership with an organization called Off their Plate, which has distributed over 20,000 meals to nine cities and recently added D.C. to its program. Rodham helped to connect them with food-based organizations in the city maximize their impact, she said. Recently, Rodham also supported D.C.'s Department of Corrections with a donation of 100 masks to the department. 
Williams noted that the pandemic has served to increase Rodham's partnerships with community organizations, including local business, churches, and educational organizations. "We are working with them and receiving feedback on where food is needed most. We're also working with Food and Friends, Keany Produce, Martha's Table, and others to distribute meals wherever needed."
In addition to meals, the Rodham Institute also will soon be distributing a gift of Surface Pro laptops from Microsoft, Inc., to people and organizations in need thanks to a donation from the computer giant. 
Twenty computers will be distributed with the help of Rodham Institute partners including the Pennsylvania Avenue Baptist Church, the Southeast Tennis and Learning Center, and United Medical Center, among others. 
El-Bayoumi said they are working on a needs assessment to see where the computers would be the most useful, either in a health care or educational setting. "We hope this could be a beginning of a relationship to distribute more," she said.
Education in the community is also a key tenet of the institute's mission, and Ashanti Carter, program manager at the Rodham Institute, is now using her skills as a former educator to help teenagers in the District better understand the science of the virus and public health during a pandemic.
Carter reached out to D.C. Public Schools that have an Academy of Health Sciences to see if she could hold virtual educational sessions on public health and the virus. She said she was met with enthusiasm by many of the schools and so far has meet with classes of students at Coolidge High School, Eastern High School, and Friendship Collegiate Academy. 
The enthusiasm of the students has been tremendous, Carter said, also noting the importance of teaching students about the importance of public health, and maybe even inspiring some of them to consider going into the field for their careers.
Carter also included short lessons on topics such as what "flatten the curve" means and going over the anatomy of a virus.
"What I've really enjoyed is that during the Q&A," she said, "I'm able to demystify some of the rumors going around about COVID-19. I can make sure these students are getting accurate information that they can bring back to their families."
El-Bayoumi added that physicians, nurses, and other health care providers are being listened to more than ever because of their experience and expertise, and that means their voices matter more than ever.
"While we're facing real hardships today, this also is a window of opportunity to advocate for our patients, especially the most vulnerable among them, and to educate people about the social determinants of health," she said. "We need to speak out, and help the people who need it most."