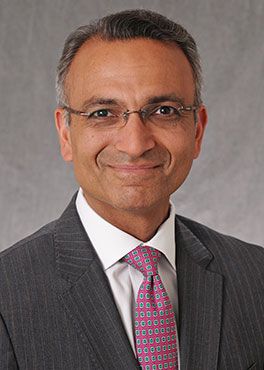 The George Washington University (GW) Hospital has announced that Farzad Najam, M.D., F.A.C.S., has been named Division Director of the Division of Cardiac Surgery. Najam, who has been practicing at GW Hospital since 2004, was formerly the associate director of cardiac surgery and associate clinical professor of cardiac surgery.
"I am honored and excited about this opportunity to lead the Division of Cardiac Surgery at The George Washington University Hospital," said Najam. "I want to thank everyone for their support. An outstanding and collaborative group of nurses, advanced practice providers, physicians, ancillary support personnel, administrators, and many others, have led to the creation of one of the best cardiac surgery division in the world. I look forward to serving in this leadership role and working closely as a team member with our staff as we embark on our exciting future together with innovative initiatives and research for the benefit of our patients and families."
Najam is certified by the American Board of Thoracic surgery. He is also a fellow of the American College of Surgeons and is a member of the Society of Thoracic Surgeons and the International Society of Minimally Invasive Cardiothoracic Surgery. He serves on the editorial board of the Journal of the College of Physicians and Surgeons Pakistan. He specializes in cardiac surgery and has expertise in mitral valve repair surgery, surgery for atrial fibrillation, valvular heart disease, thoracic aortic diseases and heart failure with a special focus on Extracorporeal Membrane Oxygenation.
Najam earned his Bachelor of Medicine and Bachelor of Surgery (MB; BS,) degree in 1991 from King Edward Medical College (now King Edward Medical University) in Lahore, Pakistan. He attended the Brooklyn Hospital Center/New York University, where he was an intern and a second-year resident in surgery. He completed a residency in surgery at Morristown Memorial Hospital in New Jersey, where he served as a senior resident in general surgery, later becoming chief resident. He served as chief resident of cardiothoracic surgery at The GW Medical Center and was later named chief resident at the Cleveland Clinic Foundation's Department of Thoracic and Cardiovascular Surgery. In addition, he participated in fellowships in cardiovascular surgery at the Children's National Medical Center and the Veterans Affairs Medical Center in Washington, D.C. From 2002 to 2004, Najam practiced as a clinical associate in the Department of Thoracic and Cardiovascular Surgery at the Cleveland Clinic Foundation in Cleveland, Ohio.
Najam received the Ames L. Filippone Jr., M.D. Chairman's Award in Surgery from Morristown Memorial Hospital. He was featured in the 2003-04 edition of the National Register's Who's Who in Executives and Professionals. He received the Service Excellence Award from The GW Hospital and also received the Abid Hussain Gold Medal for "Best Candidate in Higher School Certificate Examinations." He was also named a "Washingtonian Top Doctors" in 2012 and 2014.
Najam has conducted numerous presentations both nationally and internationally, covering topics including surgical techniques for mitral valve repair, Extracorporeal Membrane Oxygenation and coronary bypass grafting. Dr. Najam has authored or co-authored numerous articles in peer- reviewed journals. He co-authored/co-edited "Robotic Surgery,"(McGraw-Hill, New York, 2008), a comprehensive textbook on robotic surgery. The textbook was awarded the book of the year award by the British Medical Association in 2009.