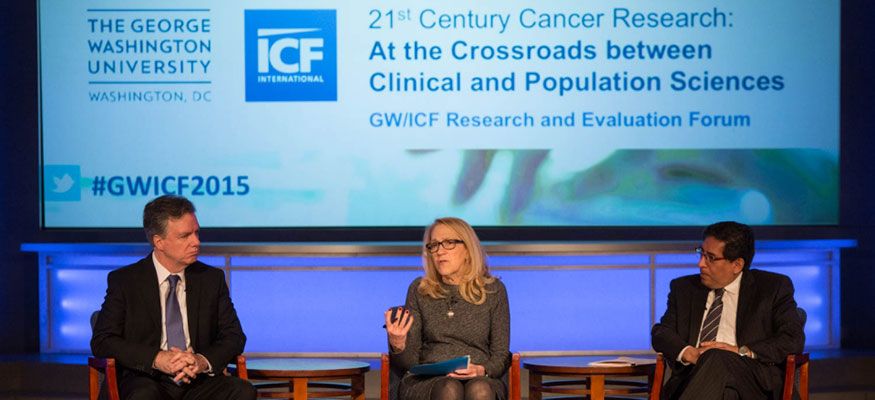 Cancer is like publishing a book, Eduardo Sotomayor, M.D., professor of medicine at George Washington University (GW) School of Medicine and Health Sciences (SMHS), and director of the GW Cancer Center, tells his patients. "Currently most of the investment in cancer research is in the last chapter of this book," explained Sotomayor, a panelist for a discussion titled "21st Century Cancer Research: At the Crossroads between Clinical and Population Sciences" on Nov. 23, arguing that prevention and early detection are better investments. "We are investing our dollars in treatment, diagnosis, and survivorship, but we need to start focusing on prevention, lifestyle, and diet."
Students, staff, faculty, and alumni filled the Jack Morton Auditorium for the discussion, which is part of a quarterly speaker series focused on relevant issues in health care affecting academia, government and the private sector. It was developed through GWs valued partnership with ICF International, a global, management, technology, and policy consulting firm in Virginia. The partnership pursues research opportunities in federal health programs, including bioinformatics; public health properness, genetics and genomics, as well as survey methods, explained GW President Steven Knapp.
Jeffrey S. Akman, M.D. '81, RESD '85, vice president for health affairs, Walter A. Bloedorn Professor of Administrative Medicine, and dean of SMHS, introduced Sotomayor, along with panelist Robert Croyle, Ph.D., director, division of Cancer Control and Population Sciences at the National Cancer Institute (NCI).
First on the agenda was precision medicine. There are two misconceptions surrounding precision medicine, suggested Sotomayor. "That it's all about genetics and treatment. It is not," he explained. "Precision medicine is also about prevention and should incorporate genomic data with phenotypic data (diet, lifestyle, demographics)." He added that his approach to "total" cancer care, pioneered by William Dalton, M.D., at the Moffitt Cancer Center, includes asking every cancer patient coming to a cancer center, "Can I follow you through your lifetime? Can I collect your data? Can I use your tissue to identify what's wrong with your tumor?"
Croyle's comments echoed Sotomayor's statements, adding that "it's clear in order to leverage all of these scientific advances we keep hearing about that we need a more integrative approach across the sciences," he said. "At the NCI we have invested a lot of funding in transdisciplinary team science to increase the speed by which we access progress from discovery to application." 
Shifting gears to survivorship, the panelists agreed that the challenges include addressing long-term side-effects, ensuring effective communication with providers, and dealing with the economic burden of the disease. The positive news says Sotomayor, is that "in the past few years we have made significant advances in treatment in particular in the field of cancer immunotherapy, and we are seeing more patients surviving the disease."
The conversation turned toward underserved populations and the health disparities that exist around cancer treatment and prevention, especially in the District of Columbia. "It is a top priority of the GW Cancer Center to provide access to underserved populations," said Sotomayor. "What is important, being a minority myself, is gaining the trust of these underserved populations so they can be participants in their own health care."
Moderator Lynn Goldman, M.D., M.P.H., dean of the Milken Institute of Public Health at GW, described the united effort that is taking place across GW in research, clinical care, and cancer prevention. "Today, we are here about building bridges between clinic and population health and addressing cancer." In his parting remarks, Sotomayor echoed that sentiment.
"This is just the beginning," said Sotomayor. "There are so many great opportunities for us to collaborate."