An esteemed academic leader and surgeon who trained and taught at GW, Dr. Bass has established a pioneering career defined by excellence in patient care, educational innovation, interdisciplinary research and discovery and service.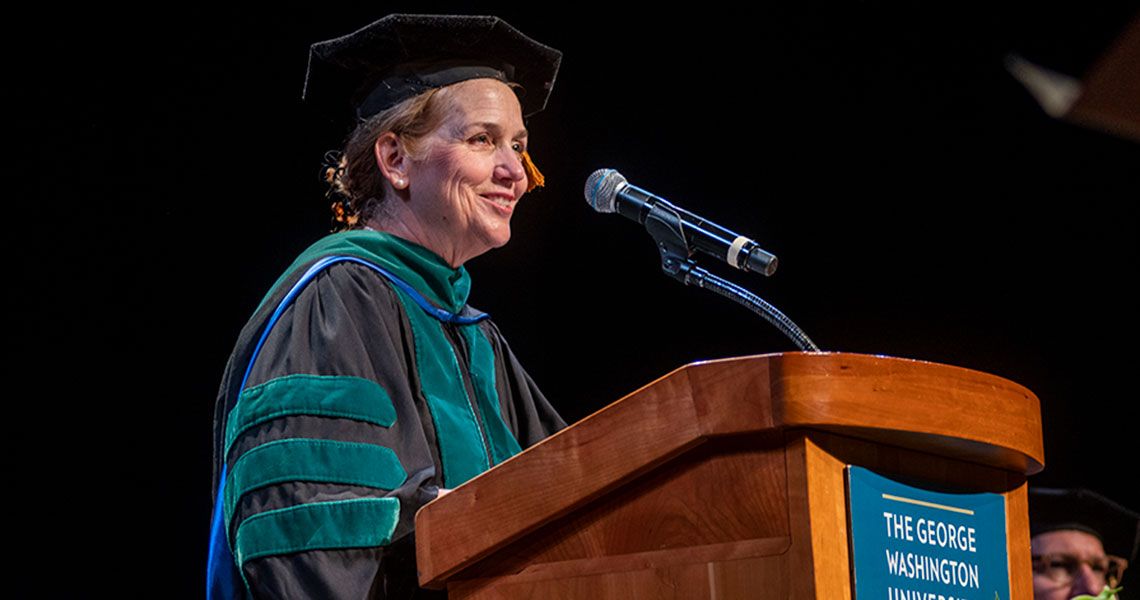 Barbara Lee Bass, a widely respected academic medicine leader, surgeon and researcher who completed her residency and served on faculty at the George Washington University, has been named vice president for health affairs and dean of the School of Medicine and Health Sciences, the university announced Wednesday. Dr. Bass will be the first woman to lead SMHS. She joins GW on Jan. 15, 2020.
Dr. Bass is currently chair of the Department of Surgery at Houston Methodist Hospital (HMH) in Houston, Texas, and holds academic, clinical and research leadership positions with its affiliated universities and institutes.
In her new role, Dr. Bass is responsible for leading SMHS' academic, clinical and research missions and providing strategic direction on all aspects of GW's medical enterprise, including the university's relationships with the Medical Faculty Associates and GW Hospital.
"Dr. Bass has shown a remarkable commitment to academic medicine and health care throughout her accomplished career. She is a devoted physician, educator and researcher with an inspiring vision for the School of Medicine and Health Sciences and the university's medical enterprise," GW President Thomas LeBlanc said. "We are fortunate to welcome her back to GW and to benefit from her venerable academic and clinical leadership."
Known for her pioneering innovation in academic surgery and her commitment to teaching the next generation of physicians, Dr. Bass has established a successful career defined by excellence in clinical care, education, research and scientific discovery.
"I am thrilled to return to GW, where I became a surgeon and began my career in academic surgery," Dr. Bass said. "GW is an institution made up of individuals committed to doing the right thing for patients, always. This focus drives our core missions: developing the physicians and health care providers and leaders of the future, driving forward in scientific discovery with the aim of translation to clinical deliverables, and working with energy and passion to improve health of the citizens and communities we serve. I so look forward to joining these committed individuals to propel GW as a dynamic future-driven health care system, learning continuously from all we do."
Dr. Bass has spent much of her medical leadership career at HMH, a top-tier integrated academic medical center.
Arriving at HMH in 2005, she was responsible for creating its Department of Surgery from the ground up, including recruiting internationally acclaimed faculty; building high-quality clinical, residency and fellowship programs; and creating robust interdisciplinary research teams in the basic sciences, translational and clinical research domains across multiple disciplines. This year, the hospital, which is the flagship of Houston Methodist, is among the country's U.S. News & World Report Honor Roll hospitals and has ranked No. 1 in Texas for the past eight years. The faculty in the surgical disciplines in Dr. Bass's department contributed substantially to these quality achievements.
In addition to her primary role at HMH, Dr. Bass also serves as chair of the surgery department in the Houston Methodist Specialty Physician Group and has contributed to the development of the organization's partnership with the hospital system it serves, helping align the entities' academic, clinical and research missions. She holds the John F. Jr. and Carolyn Bookout Distinguished Presidential Chair and is professor of surgery at Weill Cornell Medical College and the Houston Methodist Institute for Academic Medicine; adjunct professor of surgery at Texas A&M College of Medicine; and full member of the Houston Methodist Research Institute.
Completing her residency in general surgery at GW, Dr. Bass expanded her training with a research fellowship at the Walter Reed Army Institute of Research while serving as a captain in the U.S. Army Medical Corps, which launched her research career. After graduating, she began her career on the GW faculty as a general surgeon and surgeon-scientist at the Washington, D.C., VA Hospital. 
With that foundation, Dr. Bass further grew her leadership as a physician educator and researcher, holding leadership roles at the University of Maryland School of Medicine and University of Maryland Medical System, including professor of surgery, program director of the residency in general surgery and associate chair for research and academic affairs, before joining HMH.
Throughout her career Dr. Bass has been a mentor to medical students, surgical residents, research fellows and faculty, and she directly contributed to the training of more than 250 surgical residents. At HMH, she developed a highly rated clinical rotation for medical students and led the creation of Accreditation Council for Graduate Medical Education-accredited training programs in general surgery and numerous other surgical fellowship programs.
While she is most proud of the accomplishments and contributions of her faculty and residents at HMH, Dr. Bass said, she has been "very gratified" to have served as the founder and executive director of the Houston Methodist Institute for Technology, Innovation and Education (MITIE), a state-of-the-art education and research center that has hosted more than 55,000 health care providers in practice for training courses.  MITIE responds to evolving educational needs in health care for providers at all stages of career development, leveraging the tools of simulation to foster safe and effective dissemination of new technologies and to optimize interdisciplinary team performance—all critical elements for lifelong learning, Dr. Bass said.
As a researcher, Dr. Bass's current interests include computational surgery, health services research and outcomes sciences and clinical trials in surgical oncology, following two decades of bench research in gastrointestinal biology. For more than 25 years, her research has been funded by the National Institutes of Health (NIH), the National Science Foundation, VA Health Services Research and Development Service program, and the European Union, among others.  She has published more than 170 peer-reviewed manuscripts, and numerous monographs, chapters, and books; served on NIH review boards and on the editorial boards of the Annals of Surgery and the Journal of the American College of Surgeons, and other previous roles.
"Dr. Bass impressed the search committee with her far-reaching contributions to medicine; her demonstrated commitment to supporting faculty in their practice, education and research endeavors; and her passion for training the next generation of health care professionals," said Anton N. Sidawy, chair of the search committee and chair of the SMHS Department of Surgery. "She will be a strong leader for SMHS and the medical enterprise."
Through her national service and leadership, Dr. Bass has advanced her field with advocacy for equity and diversity for women and underrepresented minorities in health care careers and in academic advancement. She is nationally recognized for bringing innovative pathways to surgical training and fostering career development of clinician-scientists and leaders in health care and academic medicine.
She was a founding member of the research program that led to the development of the National Surgical Quality Improvement Program in the VA health care system and in the private sector program of the American College of Surgeons. Through leadership roles as chair of the American Board of Surgery, president of the Society for Surgery of the Alimentary Tract and the Society of Surgical Chairs and most recently as the 98th president of the American College of Surgeons, Dr. Bass has had significant impact on professional initiatives in surgical education, quality and outcomes measurement systems, professional advocacy and surgeon career development.
Dr. Bass has received numerous honors including election to the Alpha Omega Alpha Honor Medical Society as a medical student at the University of Virginia, the Olga Jonasson and Nina Starr Braunwald award of the Association of Women Surgeons, the Founder's Medal of the Society for Surgery of the Alimentary Tract and the Distinguished Service Award of the American College of Surgeons.  She has been awarded honorary fellowship from numerous international surgical colleges. This past May, Dr. Bass was the keynote speaker at the GW M.D. Program Diploma Ceremony.
Dr. Bass received a B.S. from Tufts University and an M.D. from the University of Virginia. Her current general surgery practice focuses on endocrine and breast surgery. She is married to Richard S. Marshall, who received his J.D. and L.L.M. degrees from GW. They have two sons, Wes and Wyatt.
--
This announcement originally appeared in GW Today