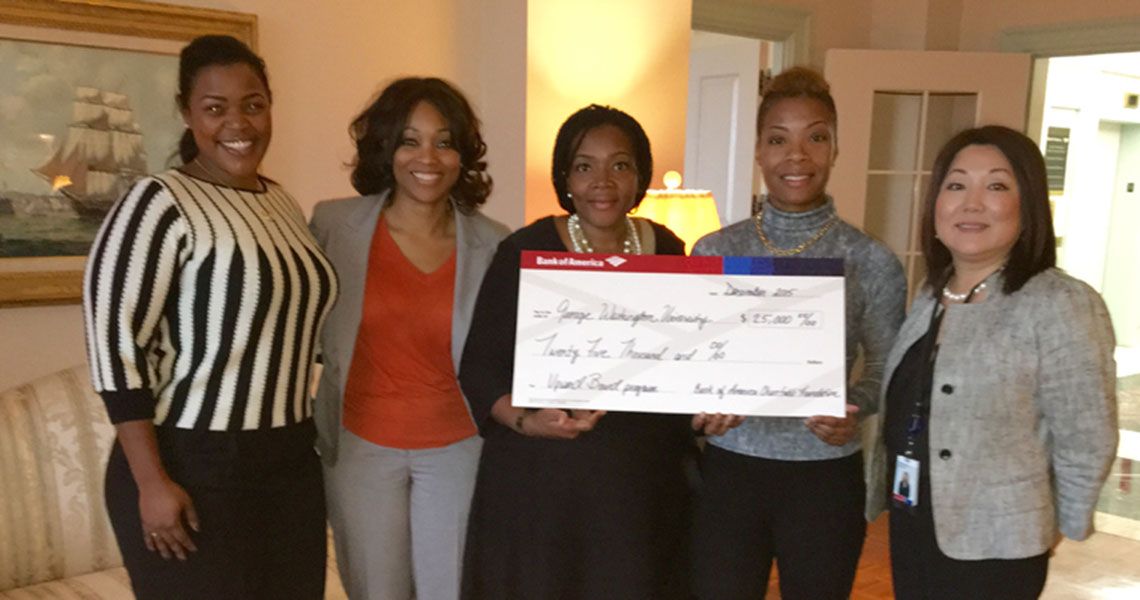 The Bank of America Charitable Foundation has awarded a $25,000 grant to the George Washington University (GW) School of Medicine and Health Sciences to support Upward Bound and the Health Education Leadership Program at the Rodham Institute. These initiatives work together to help prepare students for the workforce and for college.
"Supporting nonprofit organizations that connect our residents and young people to skills development and education to prepare them for future success is a top priority for Bank of America," said Jeff Wood, Greater Washington market president, Bank of America. "The funding will allow GW School of Medicine and Health Sciences to help young people not only attain the skills needed to secure a job or attend college, but succeed in these settings as well."
Upward Bound integrates formal out-of-classroom learning, informal education, and personal skills development to prepare low-income, potential first-generation college students for post-secondary education and the workforce. Open to D.C. public and charter school students in high school, the Upward Bound program invites students to come to campus after school and on Saturdays for SAT prep. While the program is not exclusive to those interested in a career in health and medicine, having it at the GW School of Medicine and Health Sciences and providing mentorship from faculty creates opportunities for interested students.
"Our programs help open doors for young people in D.C. who may not have thought college was an option," said Yolanda Haywood, M.D., associate dean for diversity, inclusion and student affairs at the GW School of Medicine and Health Sciences. "Bank of America's investment in our initiatives will allow us to expand our reach and increase our impact on future opportunities for youth in D.C."
The Health Education Leadership Program, run by the Rodham Institute, brings middle- and high-school students to Foggy Bottom to learn about pursuing a career in medicine and health from GW undergraduate, public health, and medical students, as well as faculty. During the summer program, students participate in lectures about leadership skills and group advocacy, do hands-on work with medical simulators, receive a tour of the White House by the Medical Unit staff, and meet with President Barack Obama's personal physician. They also work in small teams to identify opportunities for health-related improvements in their own communities, called social impact projects. Facilitators and community members, with expertise in students' chosen social impact topics, continue to work with students to present their findings at the annual Rodham Institute Summit in the fall.
"Our program gets students thinking about their role in solving problems in their own communities," said Jehan El-Bayoumi, M.D., director of the Rodham Institute and professor of medicine at the GW School of Medicine and Health Sciences. "This empowers our students to think beyond high school and about the possibilities that come with a career in medicine and health."