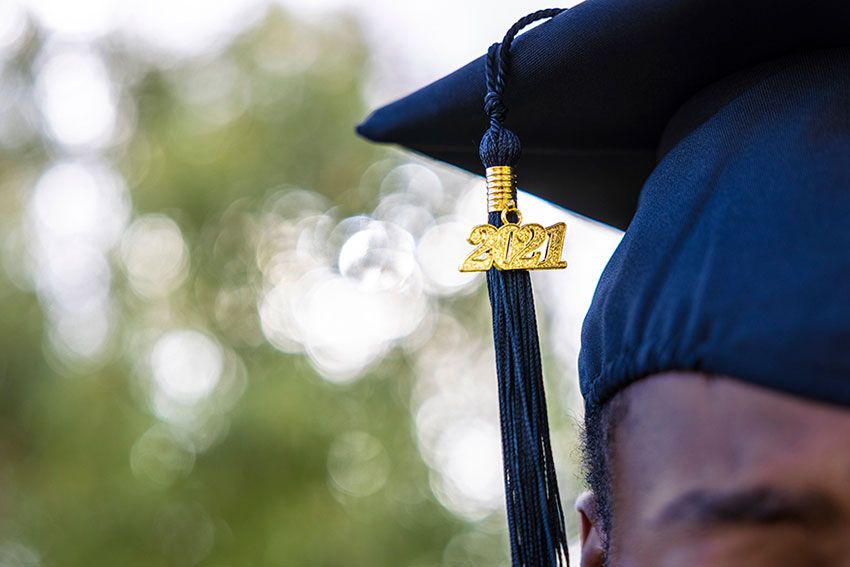 The Alpha Chapter of the Alpha Omega Alpha Medical Honor Society (AΩA) made a triumphant return to the 2021 Commencement Weekend festivities after canceling the annual grand rounds lecture and awards banquet last year, for the first time in its 65-year history, due to the COVID-19 pandemic. Partnering with the Clara Bliss Hinds Society for Women in Medicine and Sciences, the chapter added a new feature to its annual AΩA Visiting Professorship: the inaugural Leadership in Medicine lecture, a component of a three-part series of virtual lectures, career development sessions, and awards presentations attended by the Class of 2021 and their friends, families and significant others, and other members of the George Washington University (GW) School of Medicine and Health Sciences (SMHS) community.
"Our chapter and the AΩA student-inductee Class of 2021 are proud to welcome Janine Austin Clayton, MD, as our 13th annual AΩA Visiting Professor," said Alan Wasserman, MD, Eugene Meyer Professor of Medicine and chair of the Department of Medicine at GW SMHS. "Dr. Clayton is not only our inaugural Leadership in Medicine lecturer, but she is also our 13th consecutive AΩA Visiting Professor. She has an amazing record of achievements … . She is the architect of an ethics policy requiring scientists to consider sex as a biological variable across the research spectrum policy."
At the start, Clayton, the National Institutes of Health (NIH) associate director for research on women's health, explained the role of the NIH Office of Research on Women's Health, part of the NIH 21st Century Cures Act. The Office, of which Clayton is the director, aims to expand women's health research across the 27 institutes and centers. That objective is articulated in the NIH-wide strategic plan, Advancing Science for the Health of Women.
"In that strategic plan," she explained, "we imagine a world where every woman receives evidence-based, sex- and gender-informed care tailored to our own circumstances, needs, and goals in a world where all women in science reach their full potential."
Clayton then turned to the day's theme, leadership, and presented "Thank You for Not Stepping on My Foot: Becoming A Graceful and Sought-After Leader."
"We know that despite the fact that women have been getting over 50 percent of the life sciences PhDs for 20 years and represent about half of the medical students, we do not see that same proportion reflected in leadership positions.
"As you go through the academic pipeline from the most junior to the most senior, the proportion of women decreases."
Clayton also lauded the school's decision to form an anti-racist coalition and its commitment to the development and active implementation of an anti-racist academic community. These moves, she noted, are critical to identifying and eradicating all forms of racism and ethnic oppression, as well as finding strategies to dismantle racism and oppression, as evidenced by our daily interactions with all of our partners.
"How do we learn to see our gaps and understanding?" asked Clayton. "How do we learn to see what's missing? How do we learn to examine the data hiding in plain sight?
"We're all looking at something from our own vantage point. We can't see it from another vantage point, generally, without effort. Integrating multiple perspectives gives you a much more complete picture of what's going on. I think that that is an important part of what we all need to be doing."
AΩA Grand Rounds
In addition to serving as the inaugural Leaders in Medicine lecturer, Clayton presented the annual AΩA Grand Rounds lecture, "Lead the Way to Sex- and Gender-Informed Medicine." She followed the address with an interactive career development discussion with students, residents, and fellows. Clayton focused her remarks on the topic of sex and gender influences on disease and how COVID-19 has helped to spotlight these issues.
"Simone de Beauvoir said, 'One is not born a woman, one becomes one.' With this famous phrase, she first articulated what has come to be known as the sex-gender distinction. That is the distinction between biological sex and the social and historical construction of gender and, in this case, its attendant stereotypes."
From the earliest stages of research, in preclinical phases, she added, sex needs to be a consideration. "When we're identifying therapeutic targets, when we're testing interventions, as we go into the translational space, clearly, we need to be concerned about sex and how that might be important in terms of safety."
"We think of women's health," she continued, "as everything that affects a woman from head to toe, inside and out, mind and body. [We] focus on health in general, not just the way women and men are different, and we incorporate sex and gender in all aspects of disease and treatment."
Gender is a social-cultural construct, Clayton said, which incorporates gender roles, norms, and expectations. In most cultures, she added, caregiving for the elderly and children is a gender behavior most commonly associated with women.
"Caregiving has health consequences," said Clayton. "It can affect your own health. So, if we see that a woman is having health consequences because of caregiving responsibility, that would be a gender effect, not a sex effect, but sex and gender do interact with each other."
Clayton discussed what she called "toxicity surprises" stemming from clinical drug trials failing to include a statistically significant proportion of women. She described how not long ago, the FDA lowered the recommended starting dosage of zolpidem, a type of sedative used to treat insomnia, in women. The new recommendation, she explained, is half that for men.
"That is because subsequent studies, after the drug was approved, found that women clear zolpidem less quickly than men," Clayton explained. "So, it's a sleep aid you take in at night. The next morning, it's not clear from your system. You get in your car and drive to work. You don't even feel sleepy, but your reaction time is delayed. That was the parameter that was used to recognize that there's something different going on."
The point, Clayton said, is to deliver research results based on the study of both sexes so that physicians can deliver care in a way that is sex- and gender-informed. To date, she added, 10 drugs have been withdrawn from the market because they had more side effects in women than men.
"We literally know less about female biology than male biology," she said. By not broadening research studies to consider all biological factors, particularly sex and gender, Clayton concluded, "we unfortunately run the risk of making erroneous conclusions."
Following her grand rounds address, Clayton stayed on for the interactive career development discussion co-hosted by organized by Angelike Liappis, MD '96, FIDSA, associate professor of medicine at GW SMHS and secretary of the GW chapter of AΩA, and Brynne Ichiuji MD Class 2021.
AΩA Induction Ceremony
Concluding the AΩA events was the 66th Annual AΩA Induction Ceremony. The event, organized by Angelike Liappis, MD '96, FIDSA, associate professor of medicine at SMHS and secretary of the GW chapter of AΩA, included the induction of a voluntary faculty member, two full-time faculty members, four resident inductees, and 35 SMHS MD program students. Inductees are selected by their peers and faculty members based on their demonstration of leadership, character, community service, and professionalism.
"AΩA is to medicine what Phi Beta Kappa is to the arts and sciences," said Wasserman, who has served as councilor of the GW Alpha Chapter of AΩA for two decades. He added, "It is the highest honor in the medical profession, and [you] will always be recognized as a member of AΩA. Our values include honesty, honorable conduct, morality, virtue, unselfishness, ethical ideals, dedication to serving others, and leadership."
In her welcoming remarks, Barbara L. Bass, MD, RESD '86, vice president for health affairs and dean of GW SMHS and CEO of the GW MFA, congratulated the graduates and other inductees on their accomplishment. "This great honor, it's one that will stay with you for your entire career. It's a big deal. You're already starting out as part of an exceptional group of people."
Dean Bass recalled her own AΩA Visiting Professor experience with Judson Randolph, MD, former chief of surgery at Children's National Hospital and Emeritus Professor of Surgery and of Pediatrics at GW SMHS. "He was one of the founding fathers of pediatric surgery. He guided me throughout my career, based on that chance connection during his visit to the University of Virginia as our AΩA Visiting Professor. I hope you remember the lessons and the examples your time with Dr. Clayton has provided to you."
Clayton told this year's AΩA inductees, "I'm proud to be here to recognize and honor all of you who are being inducted today for your professionalism, your leadership, your academic and clinical excellence in research and community service, and for being worthy to serve the suffering."
What medicine becomes in the future, she added, "depends on who you become in the future. The field of medicine and biomedical research is going to change radically in your lifetimes."
"[Medicine] needs whole-people as its providers and practitioners," she continued. "Bring all of yourself to your practice, not just your white coat persona."
Following Clayton's remarks, Wasserman and Liappis formally conferred membership on this year's class AΩA members, beginning with the Voluntary Faculty Inductee.
Voluntary Faculty Inductee
Albert Grollman, MD
Professor Emeritus '21, former Clinical Professor of Medicine at the at the GW SMHS
Faculty Inductees
Hope T. Jackson, MD '09, RESD '16, CERT '15
Associate Program Director, General Surgery Residency, at the GW Medical Faculty Associates (MFA), and Assistant Professor of Surgery at GW SMHS
Courtney A. Paul, MD, RESD '15
Associate Program Director, Internal Medicine, at GW MFA, and Associate Professor of Medicine at GW SMHS
2021 AOA Resident Inductees
Daniel A. Benito, MD, PGY-4, Otolaryngology
Benjamin DelPrete, DO, PGY-3, Internal Medicine, Pulmonary/Critical Care Fellowship at GW in Fall 2021
Ayal Pierce, MD, PGY-2, Emergency Medicine
Laura Tiusaba-Guzman, MD, General Surgery, Research Fellowship then Pediatric Surgery Fellowship, Children's National Hospital
Class of 2021 MD Student Inductees
David Agdashian, Internal Medicine, University of California-San Diego Medical Center
Leora Malka Aizman, Dermatology, Johns Hopkins Hospital
Aslam Akhtar, Emergency Medicine, Harbor-UCLA Medical Center
Neil Deryck Almeida, Neurosurgery, University at Buffalo School of Medicine
Marya AlSamman, Emergency Medicine, Icahn School of Medicine at Mount Sinai Hospital
Gabrielle Aquino, Internal Medicine, Icahn School of Medicine at Mount Sinai Hospital
Christine Archuleta, Obstetrics-Gynecology, Virginia Commonwealth University Health System
Sivan Aliza Ben-Maimon, Pediatrics, Children's Hospital-Philadelphia
Daniel Ezekiel Bestourous, Otolaryngology, University of Utah Health
Christina Ribal Darwish, Internal Medicine, Icahn School of Medicine at Mount Sinai Hospital
Ishaan Paresh Dharia, Internal Medicine, Icahn School of Medicine at Mount Sinai Hospital
Megan Fuerst, Obstetrics-Gynecology, Oregon Health & Science University 
Brittney Imani Gordon, Emergency Medicine, Emory University School of Medicine
Laurie Hayrapetian, Internal Medicine, University of Southern California
Brynne Ariye Ichiuji, General Surgery, University of Southern California
Dariush Kafashzadeh, Pediatrics, UCLA Medical Center
Katina Kartalias, Orthopaedic Surgery, Walter Reed National Medical Center
Paulyne Bora Lee, Emergency Medicine, University of California-San Diego Medical Center
Ari G. Mandler, Internal Medicine, New York Presbyterian Hospital-Weill Cornell Medical Center
Sowmaya Mangipudi, Deferred match to 2022 to complete a master's degree in Global Health
Chantal Nguyen, Physical Medicine and Rehabilitation, Stanford University 
Juan Carlos Nogues, Otolaryngology, Icahn School of Medicine at Mount Sinai Hospital
Paulina Angeline Ong, Internal Medicine, NYU Grossman School of Medicine
Vivien Pat, General Surgery, MedStar Georgetown University Hospital
Abigail Nicole Pepin, Radiation Oncology, Hospital of the University of Pennsylvania
Christina Marie Pugliese, Primary Medicine, New York Presbyterian Hospital-Weill Cornell Medical Center
Pradip Ramamurti, Orthopaedic Surgery, University of Virginia
Alex Michael Rokni, Medicine-Preliminary, University of Illinois College of Medicine-Chicago
Natalie Alena Rosseau, General Surgery, MedStar Georgetown University Hospital
Preet Kaur Sohal, Ophthalmology, GW SMHS
Alexander John Straughan, Otolaryngology, University of Minnesota Medical School
Caitlin Marie Ward, Orthopaedic Surgery, Rush University Medical Center
Tess Alexandra Whiteside, Emergency Medicine, WellSpan Health York Hospital
Rachel Arielle Zemel, Medicine-Pediatrics, MedStar Georgetown University Hospital
Molly Jean Zepp, Internal Medicine, Beth Israel Deaconess Medical Center