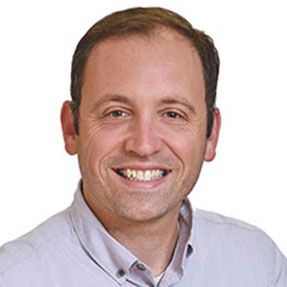 Joshua Barocas, MD '10, first became interested in the study of substance use disorders during his time as a medical student at the George Washington University School of Medicine and Health Sciences. He participated in research and clinical work with medically underserved patients and noticed how obstacles, such as a language barrier, resulted in significant disparities in the care they received. 
Now, a decade later, the American Association of Medical Colleges (AAMC) has awarded Barocas the Herbert W. Nickens Faculty Fellowship Award to support a project to advance health equity.
The award, established in honor of Herbert Nickens, MD, a champion of health equity is presented annually to an outstanding junior faculty member who demonstrates leadership potential in addressing inequity in medical education and health care, according to the AAMC website. The fellowship supports projects performed to support racial and ethnic minorities over the next two years.
Barocas, an assistant professor of medicine at the Boston University School of Medicine and infectious diseases physician and Boston Medical Center, will spend his fellowship addressing substance use disorders. He proposes that, in addition to focusing on specific communities impacted by substance use, it is also important to look at the adjacent communities that are receiving less attention and fewer resources.
"My hypothesis is, the drug market is very good at adapting and it's a little bit like whack-a-mole," Barocas said. "You go into one place and you try to help the epidemic, but the drug market adapts. My concern is that the communities that are adjacent to where there are high rates of overdose now are more or less being neglected."
He explained that a lot of overdoses are identified in predominantly white suburban and rural settings, while communities of color and other vulnerable areas have been largely ignored. 
"We've already started to see overdoses rise among black Americans, and my concern is that we are going to see these trends worsen," said Barocas. "This isn't because we are bad people — we went to the places we needed to — it's because our resources are stretched too thin."
As an infectious disease physician, in his research of substance use disorders and overdose, Barocas also focuses on the infectious complications of substance use disorders. Through his work, he noticed trends that were similar to those seen with HIV/AIDS epidemic during that last 30 years; adding that, "we do a decent job identifying problem spots and where prevalence is high."
Barocas furthered his interest in substance use research during his residency at the University of Wisconsin Hospitals and Clinics, where he also became interested in HIV, its disease mechanisms, and its associated social determinants of health. He especially was drawn to one of the most vulnerable patient populations at risk for HIV: people who inject drugs. 
"I became involved in research and a little bit of advocacy on behalf of patients who were not just injecting, but using drugs in general," Barocas said. "It's always tied to the social determinants of health and infectious complications of drug use."
He believes that clinicians and researchers are possibly more effective when they incorporate advocacy into their work. "I think one of the reasons I am excited about this project and this award is because it's a little bit of validation," said Barocas. "It's encouragement that it's good to be an advocate, it's good to be an ally, and it doesn't exactly bias your research. It just means you're doing it for very positive reasons."