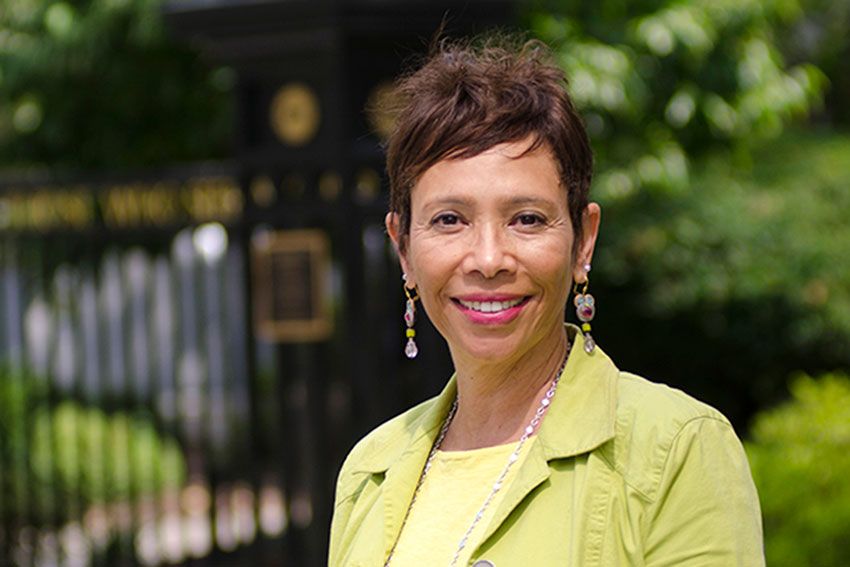 The George Washington University (GW) School of Medicine and Health Sciences (SMHS) recently named Yolanda Haywood, MD, RESD '87, BS '81, CERT '04, professor of emergency medicine, to serve as the senior associate dean for diversity and faculty affairs. In addition to a long list of leadership roles, Haywood most recently has served as the senior associate dean for diversity and inclusion since 2017 and as the interim senior associate dean for faculty affairs since 2019. This new role combines both roles.
"The decanal position overseeing SMHS faculty affairs is vitally important to the successful operation of our school, and it is essential that we place the best in experienced leadership in this role," said Barbara L. Bass, MD, RESD '86, vice president for health affairs (VPHA), dean of SMHS, and CEO of The GW Medical Faculty Associates. "Dean Haywood brings more than 30 years' worth of institutional knowledge and strong leadership as we continue our journey to excellence as an academic health care enterprise.
"Our faculty are our most valuable assets on that successful trip," added Dean Bass, "our goals will only be achieved when we have built a unified, accomplished, and engaged faculty for all missions, and when we can be proudly recognized as an institution that does not waiver in its commitment to equity, diversity, and inclusive excellence. I know Dean Haywood is the ideal person to support us on that journey."
Haywood joined the faculty at SMHS as an assistant professor of emergency medicine in 1990. Over her three decades at SMHS, she has held numerous administrative leadership positions, including clerkship director and residency program director in the Department of Emergency Medicine, associate dean for student and curricular affairs, and senior associate dean for diversity and inclusion. She is also the co-chair of The Anti-Racism Coalition.
Among her many honors and awards, Haywood is a diplomate of the American Board of Emergency Medicine, fellow of the American College of Emergency Physicians, member of Alpha Omega Alpha, and the recipient of the 1995 GW Distinguished Teacher Award.
In her new position, which officially began Aug. 1, 2021, Haywood reports directly to Dean Bass and oversees and directs all policies and procedures related to faculty affairs within SMHS. Haywood will work with department chairs and senior leadership across the school to oversee all aspects of faculty recruitment, interviewing, and hiring. She will continue to serve as a member of the VPHA and Dean's senior leadership team. In addition, she will assist with strategic planning across both SMHS and the GW Medical Faculty Associates (MFA), especially with faculty development that supports new academic and research endeavors.
SMHS and the MFA, committed to building a culturally diverse faculty, strongly encourage applications from candidates with backgrounds underrepresented in basic, clinical, and health sciences. As senior associate dean, Haywood will work with department chairs and senior leadership across SMHS to support efforts to attract and retain such talented students, faculty, and staff, and educate a diverse workforce of tomorrow's leaders in medicine, science, and health sciences.