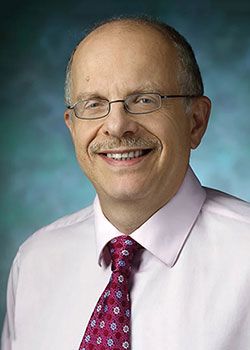 ANNOUNCEMENT - The GW School of Medicine and Health Sciences (SMHS) and the GW Medical Faculty Associates ( GW MFA) are pleased to announce the appointment of Vsevolod "Seva" Polotsky, MD, as vice chair for research in the Department of Anesthesiology and Critical Care Medicine. Polotsky will also serve as professor of anesthesiology and critical care medicine and of pharmacology and physiology.
As vice chair for research, Polotsky will partner with Jeffrey Berger, MD, MBA, Seymour Alpert Professor and Chair of the Department of Anesthesiology and Critical Care Medicine, to implement a vision for neuroscience, pharmacology and physiology, and pain research that complements the SMHS' current priorities.
"Dr. Polotsky is an internationally known clinician scientist with expertise in neuroscience and a focus on sleep medicine," said Berger. "His recruitment re-introduces basic and translational investigations to the Department and greatly expands upon our capabilities to participate in scientific discovery and innovation."
Polotsky's career has been dedicated to studies of the pathogenesis of sleep disordered breathing and its complications and he has been continuously funded by the NIH since 2002. Recently, he became involved in research into opioid-induced respiratory depression (ORID) and is the recipient of an R61/R33 grant funded by the National Institutes of Health HEAL program to develop a novel treatment for OIRD. Polotsky has published 149 papers in prestigious, peer-reviewed journals and served on multiple NIH study sections, and he is a member of the editorial board for several journals, including Frontiers in Sleep, the American Journal of Respiratory and Critical Care Medicine and the European Respiratory Journal.
David Mendelowitz, PhD, the interim chair of the department of Pharmacology and Physiology commented, "Dr. Polotsky has pioneered novel treatments for diseases such as obstructive sleep apnea and opioid induced respiratory depression, and holds many patents and copyrights for these innovative translational treatments. I am certain he will have many outstanding contributions and collaborations with those in the Department of Pharmacology and Physiology and elsewhere in the GW community."
Polotsky has been active internationally in professional societies, having served as the Chair of the Sleep and Respiratory Neurobiology Assembly, and as a member of advocacy committees influencing public policy in sleep disorders. He has trained multiple physician-scientists who hold faculty positions in the top U.S. medical schools as well as at academic institutions around the world. At GW, Polotsky plans to continue his mentorship of students and trainees, and he will practice clinically in the Department of Medicine's sleep lab.
"The addition of Polotsky will have a big impact on our ability to further develop discovery and translational research in the neurological sciences and I look forward to working with him in the future," said Robert H. Miller, PhD, vice dean for research and academic affairs, professor of anatomy and cell biology, Vivian Gill Distinguished Research Professor.
"I am excited to join the Department of Anesthesiology and Critical Care Medicine at GW," said Polotsky, who joins GW from Johns Hopkins University where he has served as a professor of medicine since 2015. "I am looking forward to building strong basic and translational research programs and to reinforcing a robust clinical research program, which is already in place. Our ongoing collaboration with the Department of Pharmacology and Physiology will be indispensable in my efforts."
Polotsky began in his new role at GW on Dec. 1, 2022.