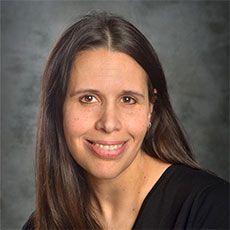 Terry Kind, MD, MPH, associate dean of clinical education and professor of pediatrics at the George Washington University School of Medicine and Health Sciences, was recently selected as a member of the Inaugural Cohort of the National Academy of Distinguished Educators in Pediatrics (NADEP). 
The newly created NADEP, which sits within the Academic Pediatric Association, will work to enhance the visibility and prestige of pediatric educators the United States and support the medical education community. 
Kind was chosen due to the depth and breadth of her educational experiences, expertise, and contributions to the field, according to the organization. She has held several national educational roles, and currently serves and an associate editor for Academic Pediatrics.  Members of the cohort are chosen by a rigorous peer review process. 
"I'm so honored to have been selected for this role," Kind said. "I'm looking forward to serving together with the NADEP cohort members and continuing to support junior pediatric educators in their career trajectories." 
Members of the inaugural cohort are charged with using their collective talent and energy to build a strong academic foundation for future educators by consultation and review, coaching and mentorship, and dissemination of cutting edge ideas as visiting professors, as well as engaging in strategic thought leadership to impact the professional development of pediatric educators, according to the NADEP. 
The first meeting of the cohort had to be postponed due to the COVID-19 pandemic, but will occur virtually this summer, with additional plans to meet in 2021 at the Pediatric Academic Societies Annual Meeting in Vancouver.
In her role as associate dean, Kind focuses on providing dynamic clinical education for MD students. She also provides support for the ongoing development, implementation, and evaluation for the school's undergraduate medical education curriculum. She advises the dean and faculty on directions for curricular change and improvement and helps ensure the MD Program curriculum prepares students for clinical practice, meets accreditation criteria, is appropriately integrated, and is evaluated and improved on an ongoing basis.