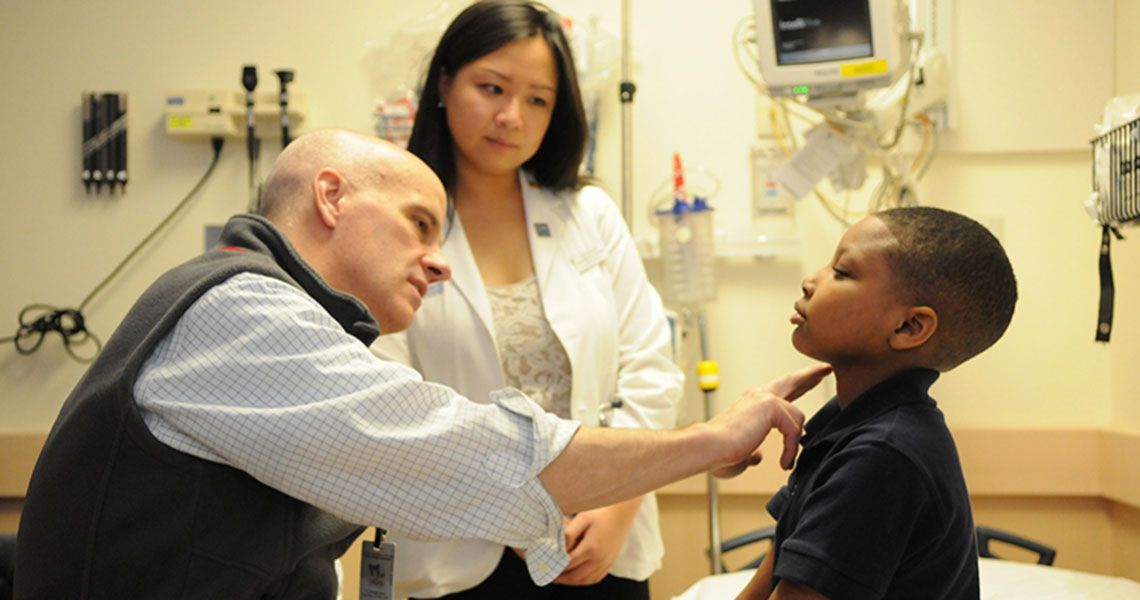 WASHINGTON (January 4, 2018) — The George Washington University (GW) School of Medicine and Health Sciences (SMHS), in collaboration with its pediatric clinical partner Children's National Health System, is pleased to announce that Stephen J. Teach, MD, MPH, has been selected to serve as the associate dean for pediatric academic affairs.
While continuing in his current role as chair of the Department of Pediatrics, Teach will also play a critical role in supporting and enhancing education and training relationships between SMHS and Children's National. He will also support the academic advancement of all faculty members sited at Children's National and its corporate affiliates, provide primary oversight for all SMHS faculty and faculty affairs activities, and provide overall coordination of child pediatric education efforts in consultation with the senior associate dean for MD Programs.
"I am pleased that Stephen will be serving in this capacity. He has an outstanding track record of success as a leader and chair at SMHS, and has insights and relationships that will enable him to transition smoothly into this new role," said Jeffrey S. Akman, MD '81, RESD '85, vice president for health affairs, Walter A. Bloedorn Professor of Administrative Medicine, and dean of SMHS.
As the associate dean of Pediatric Academic Affairs, Teach will make an active contribution to the University's goals and strategic aims in pediatric education and he will represent Children's National in developing and maintaining an effective academic affiliation agreement that provides a strategic focus and balance of the financial commitment of SMHS and Children's National to fulfill each institutions mission of providing pediatric education to SMHS learners. He will also provide leadership in the areas of achieving pediatric education goals; ongoing development, implementation, and evaluation of educational initiatives between SMHS and Children's National; and ensure compliance to University policies and procedures related to faculty appointments, tenure, and promotions in pediatrics.
Teach has been a member of the SMHS faculty since 1997 and currently serves as chair of the Department of Pediatrics and as professor of pediatrics and emergency medicine. He also serves as a professor of prevention and community health in the Milken Institute School of Public Health at GW. He is the recipient of many awards and honors, including the Environmental Protection Agency National Environmental Leadership Award in Asthma Management, IMPACT DC; the Faculty Mentorship Award for Clinical Research, Children's National; and has been cited as a "Super Doctor" in Washington, Baltimore, and Northern Virginia, among other honors and awards. 
As a well-funded researcher and widely published author, Teach's work has been featured in multiple prestigious peer-reviewed publications, including Pediatrics, the Journal of Pediatrics, Annals of Emergency Medicine, Pediatric Emergency Care, and many more. He has written book chapters and reviews, edited textbooks, and contributed to many publications.
Teach is regularly invited to present at national and international academic meetings, speaking on a range of topics, including asthma and topics associated with asthma exacerbations, racial and social disparities in care, emergency medicine delivery, diagnostic testing,  and the use of electronic communication in care delivery.
Mark Batshaw, MD, professor of pediatrics, has stepped down as associate dean for pediatric academic affairs after serving the role for nearly two decades. He also serves as the executive vice president, chief academic officer, physician-in-chief, and the director of the Children's Research Institute, at Children's National Health System.
"I am very grateful to Mark for his commitment to medical education over the past two decades. His outstanding leadership and dedication has helped us sustain the vital partnership between SMHS and Children's National that has enabled our institutions to do incredible things in research and education. As Mark continues in his roles at CNHS as a leader, physician, and researcher, I am certain that SMHS will remain central to his work. As the baton is passed to Stephen, we will remain committed to working in together to create the next generation of medical leaders and improve the lives of the patients we serve," said Akman.
Teach assumed the role of associate dean of pediatric academic affairs on Jan. 1, 2018.