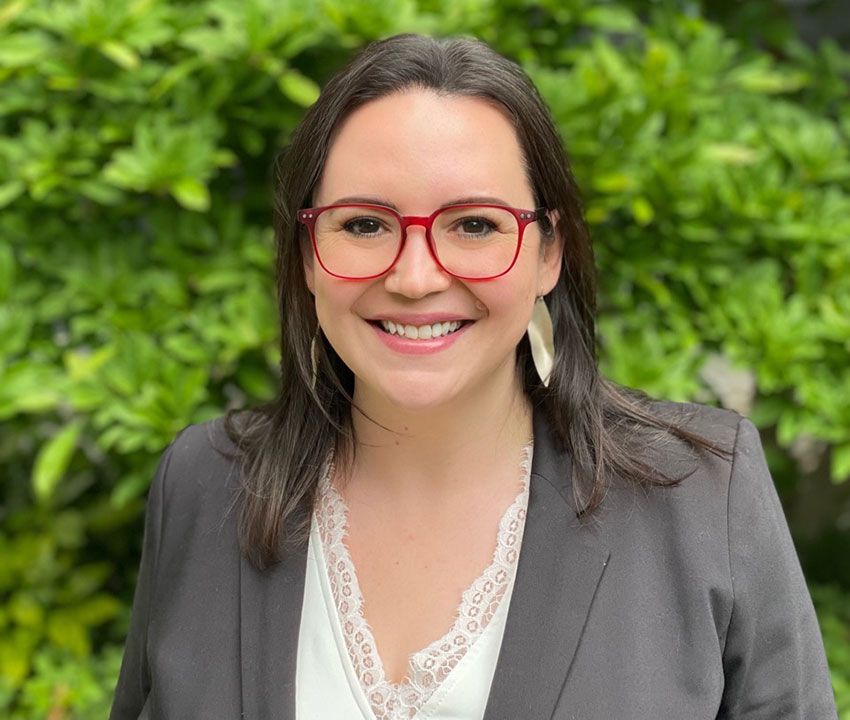 ANNOUNCEMENT (May 16, 2023) — The George Washington University (GW) School of Medicine and Health Sciences (SMHS) is pleased to announce that Stephanie Sarandos, MA, has been selected to serve as the assistant dean for evaluation. In this role, Sarandos will be responsible for all aspects of MD program evaluation, ensuring the continuous quality improvement of all courses, clerkships, and phases of the MD curriculum at the main campus in Washington, D.C., as well as at the new GW Regional Medical Campus in Baltimore, Maryland.
"Stephanie has a track record of success, and we are very pleased that she will be stepping into this role," said Richard Simons, MD, senior associate dean for MD programs. "Her attention to detail, close relationships with members of the SMHS community — including faculty, students, and staff — and her experience in this area, make her the right person to take on this critically important role."
Sarandos' duties leading all aspects of MD program evaluation will include the supervision of data collection, compilation/analysis, and interpretation. She also will be responsible for activities related to the preparation and dissemination of program evaluation data reports, an essential function for robust program evaluation and improvement, as well as ensuring all relevant accreditation standards are met. Sarandos will lead the development and implementation of evaluation strategies to ensure continuous quality improvement and regulatory compliance, and will work in lockstep with faculty and other subject matter experts in the development, evaluation, and continuous improvement of high-quality, innovative educational activities and programs. Convening appropriate working groups and task forces related to MD program evaluation, internal and external reporting, and quality improvement, as well as serving as the ex-officio member of the Committee on Undergraduate Medical Education Curriculum and engaging with medical students and course/clerkship directors, will also fall under Sarandos' areas of responsibility.
Sarandos joined GW in 2012 as a program coordinator and advanced to several key positions that have prepared her for this new role. Most recently, she served as the director of the Office of Evaluation, leading MD phase and program reviews. As the lead for course review processes for each of the 23 required courses in the MD curriculum, she regularly presented the data and action plans for improvement to all relevant committee members. Sarandos also served as the program manager for the medical education program.
"I am absolutely thrilled to take on this new role at GW SMHS.  Working with faculty, staff, and students over the years on the development and implementation of the MD curriculum has been very rewarding and prepared me for this next step.  I look forward to building on these relationships in order to continue this important work," said Sarandos.
Sarandos holds a Bachelor of Science in Business Administration from the University of Florida, Warrington College of Business, and earned a Master of Arts in Higher Education, with a focus on access and equity, from University of Michigan, Center for the Study of Higher and Postsecondary Education.
Sarandos began serving in this new role on April 1, 2023.  
GW SMHS is grateful to Anthony Artino, PhD, for serving as the associate dean for evaluation and educational research since 2021. Artino's role has shifted, and he will now serve as the associate dean for educational research. In this new leadership position, Artino will focus his full efforts on growing the educational research capacity of the school's faculty, students, and staff – to align with SMHS's updated strategic plan that has a focus on growing the school's preeminence in both education and research. To achieve this, he will work closely with Debra Herrmann, DHSc, and her staff in the Center for Faculty Excellence to offer faculty development, research mentoring, and scholarship consultations focused on educational research.