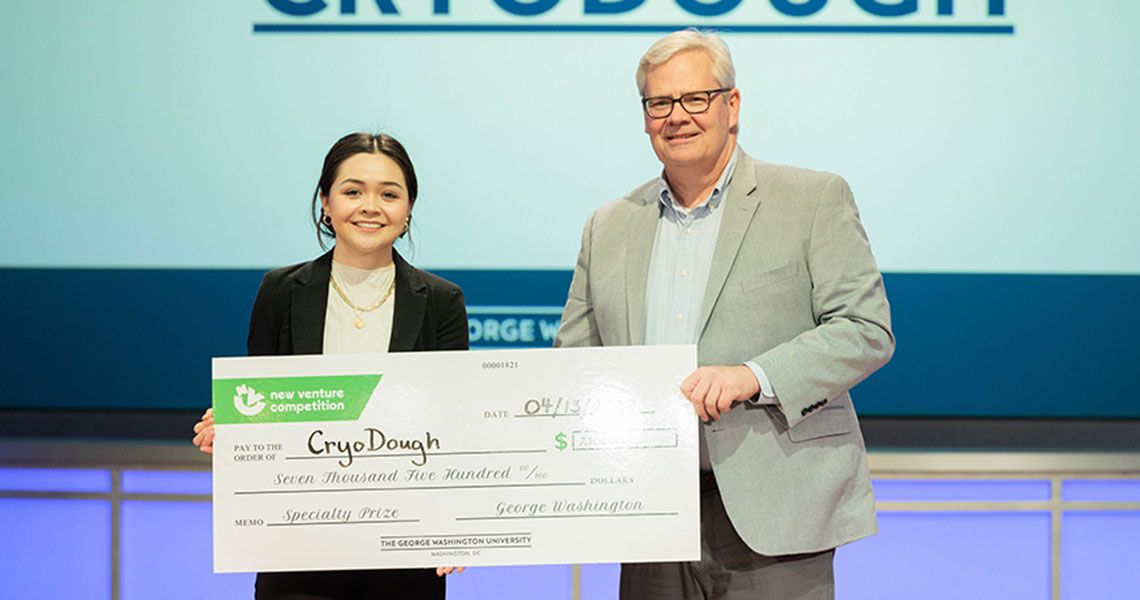 Three teams from the George Washington University School of Medicine and Health Sciences advanced to the finals in the Health Care and Life Sciences track of the GW Office of Innovation and Entrepreneurship's New Venture Competition, April 13.
First-year medical student Iris Brammer, took home the top prize and a $10,000 award, as well as a $7,500 award for Best Prototype, for her idea, Cryodough, a moldable ice pack for minor burns or sprains. Four first-year medical students —Abdulla Ahmed, Rithvik Chekuri, Phillip Parel, and Abhisri Ramesh — were second in the category for NFTY, a HIPAA-compliant medical image-sharing service. The team earned a $7,500 prize for the venture, as well as an additional $7,500 for Best Customer Discovery. Rounding out the winning SMHS entries was Kornerstone Health Solutions, LLC., led by clinical practice and leadership doctoral candidate Louis Eke, PhD, who received $5,000 for his concussion tracking mouthguard.
Over nearly three months and three rounds of competitions, 417 GW students from 161 teams, representing nine of GW's 10 schools vied for top more than $350,000 in prizes, including $163,000 in cash for their entrepreneurial ideas. The final round of competition featured the top three teams among four tracks — Business Goods and Services, Consumer Goods and Services, Health Care and Life Sciences, and Social Innovation. A new category, the Explorer Track, was added this year for students without much product development experience who are eager to learn more about the process.
The NFTY proposal addresses data privacy issues involved in sharing medical records. The idea employs blockchain to streamline the sharing of medical images in a way that is secure, private, and for private practice imaging centers and patients that require frequent imaging. Currently, providers share medical images using compact disks, a process that is costly, unprotected, and incompatible with most new computers.
The Kornerstone Health Solutions entry proposed a mouthguard for athletes that would provide biofeedback for traumatic brain injury assessment. The device would integrate nanotechnology to track concussion information, synthesizing brain-wave imaging in real-time. The data would then be sent to a phone and computer for clinical neurological assessment and prompt response.
Brammer, who is new to the medical device development, had been thinking about a reusable home first aid cold pack for a while, but she didn't start working on an actual product until she learned about the competition through the Innovation and Entrepreneurship Scholarly Concentration offered by the SMHS Office of Student Professional Enrichment. The competition, said Brammer, "felt like the perfect opportunity to put the idea to paper and start prototyping to see if it was even possible just in my kitchen."
Though she jokes that her idea for a contoured cold therapy product came as a result of her "clumsiness in the kitchen," but in truth Brammer's background working in health care as an undergraduate helped spark the idea. "My first inspiration may date back to surgical applications and complicated wound care."
The next step, she added, is to refine the product itself and begin some quantitative testing to finalize the formula and packaging. "I plan to continue working with some of my mentors and new investors throughout this summer."