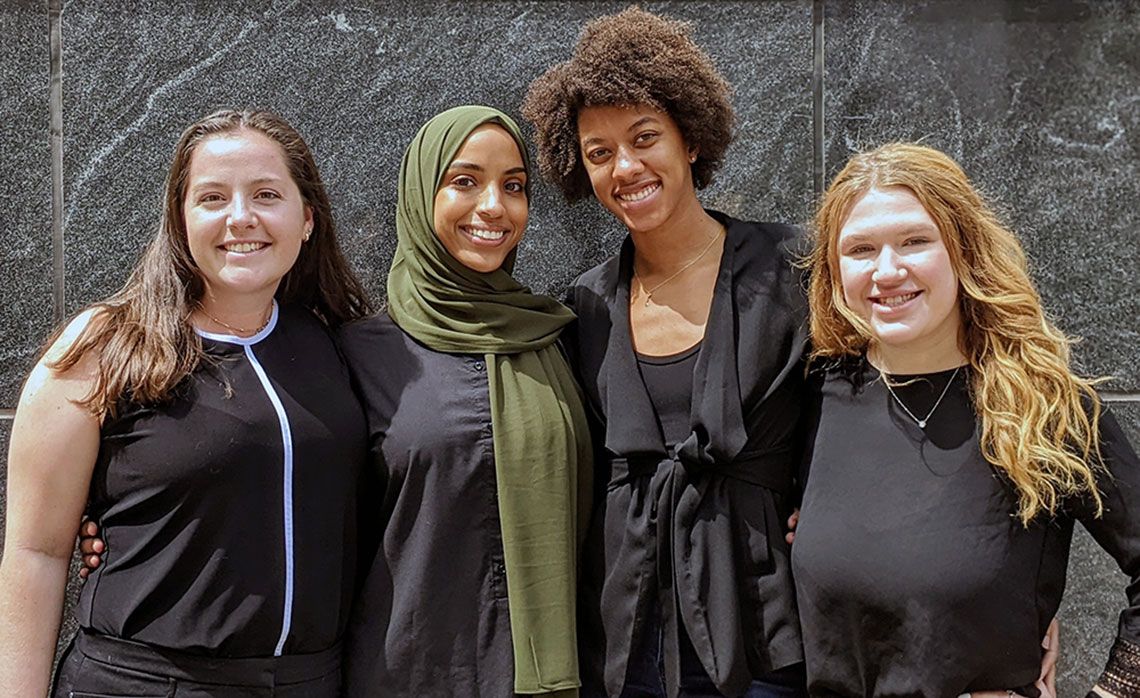 A natural fixer and a keen observer, Fatima Elgarguri was volunteering at the student-run free clinic Bridge to Care, part of the George Washington University (GW) Healing Clinic, when she zeroed in on a problem.
"I noticed that patients were being insufficiently screened [for cervical cancer] during my volunteer shifts," said the dual physician assistant (PA)/master of public health (MPH) student at the GW School of Medicine and Health Sciences (SMHS) and the Milken Institute School of Public Health. "I felt compelled to take action due to firsthand experience as a medically underserved patient myself, and my newfound joint-degree education equipped me with the necessary skills to do so."
With her team, Abigail King, Alana Herran, and Laura Tiffany, all PA/MPH students at GW, Elgarguri designed the Pap Smear Project, an evidence-based intervention model incorporating screenings, clinician and patient education, and a referral system to reduce financial and logistic barriers.
"The underlying goal of the Pap Smear Project is to address disparities in cervical cancer screening and mortality for uninsured women," Elgarguri explained. "Compared to their insured counterparts, uninsured women are 22% less likely to receive cervical cancer screening (83% versus 61%, respectively). Our overarching goal is to achieve a screening rate of 84% at Bridge to Care, in reference to the Healthy People 2030 target for cervical cancer screening."
Although the project is still in its early stages, the foursome has already secured funding: a $10,000 IMPACT Grant from the PA Foundation, a nonprofit organization prioritizing health and wellness through PA-specific philanthropic resources and opportunities. The IMPACT Grant provides funding for patient-focused, community-based health projects led by PAs and PA students that improve health, in alignment with the mission, values, and vision of the PA Foundation. The grant, Elgarguri noted, will "extend our support from screening to treatment, providing the critical link to reducing cervical cancer mortality."
While the work is beginning, Elgarguri is quick to point out that establishing the Pap Smear Project wouldn't have been possible without the help from Cynthia Macri, MD, a volunteer OB/GYN at Bridge to Care, as well as third-year GW SMHS medical students and former Bridge to Care research directors Michael Makutonin and Issa Ali. Seeing the project come to fruition has also been a heartening experience for the Pap Smear Project team.
"Women who have never received a Pap smear before have been able to receive screening, when they may have slipped through the cracks prior to the intervention," Elgarguri said. "It feels very rewarding to witness clinicians routinely screen patients and provide patient education as a direct result of the project."