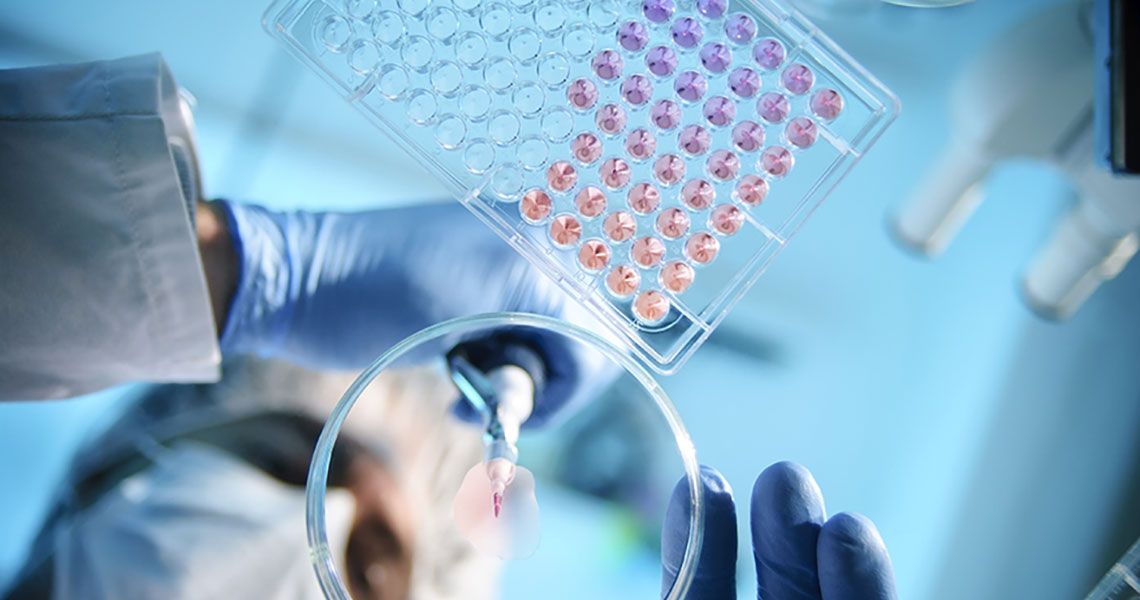 More than 150 MD program students presented abstracts, poster sessions, and selected oral presentations on a range of disciplines, such as clinical and translational science, clinical public health, and medical education-related research, during the 2022 George Washington University (GW) School of Medicine and Health Sciences (SMHS) Medical Student Research Day, April 28. The event, distinct from the university-wide research day, offered an opportunity for medical students to highlight their breadth of research and scholarly activities.
This year's event kicked off with a keynote address from Julie E. Bauman, MD, MPH, director of the GW Cancer Center, associate dean of cancer, and professor of medicine at GW SMHS, followed by poster sessions and awards presentations.
Bauman recently joined GW SMHS in April, coming from University of Arizona (UA) College of Medicine-Tucson, where she served as professor of medicine, chief of hematology/oncology, and medical director of oncology services. She also was the deputy director of the UA Comprehensive Cancer Center and co-leader of its Clinical and Translational Oncology Program, bringing together basic and clinical scientists to transform scientific discoveries into clinical applications. She is a nationally recognized leader in cancer therapeutics for both prevention and treatment, with more than 150 publications and a long track record of National Institutes of Health team science funding. Bauman's clinical research work earned her the prestigious NCI Clinical Investigator Team Leadership Award.
The 2022 recipient of the recipient of the annual Doris DeFord Speck, BA '41, and George Speck, MD '41, Endowed Prize for outstanding accomplishments in medical student research was Eric Chalif, MSIV. Chalif boasts an impressive record of research accomplishments during his time at GW SMHS, including several comprehensive database analyses of factors that affect brain tumor outcomes, as well as more basic studies related to developing immunotherapeutic approaches for the treatment of glioblastoma. He produced seven peer-reviewed manuscripts, two invited reviews, and has several other manuscripts under review, all predominantly related to neurosurgery and neuro-oncology. In addition, Chalif received competitive fellowships from both the Neurosurgery Research and Education Foundation and the Carolyn Kuckein student fellowship from the Alpha Omega Alpha honor society.
Paul Boyd, MSI, received the 2022 Donald H. Glew Prize for his abstract and poster, titled "The Impact of Magnetoencephalography-Directed Stereo-Encephalographic Depth Electrode Implantation on Seizure Control Outcome: A Single Institution's Experience." The Glew prize, established by William B. Glew, MD '53, in honor of his brother, Donald H. Glew, MD '48, is presented each year to the medical student with the best abstract and poster presentation at Medical Student Research Day. Chima Oluigbo, MD, associate professor of neurological surgery and of pediatrics at GW SMHS and Children's National Hospital, served as Boyd's mentor on the project.
The William Beaumont Research Awards were presented to three students for outstanding research accomplishments from work submitted for publication in Fusion, the student-run research magazine at GW SMHS.
The recipients of the 2022 William Beaumont Research Awards:
Jacob Bjork, MSI, "The Effects of Parenting Stress Between Poverty and Language Outcomes at One and Two Years" Faculty Mentor: Rachel Lean, PhD, instructor of psychiatry, Washington University School of Medicine
Alisa Malyavko, MSII, "Single-Level Cervical Disc Replacement Associated with Increased Anterior Revision at 1-Year, 2-Years, and 5-Years Compared to Single-Level Anterior Cervical Discectomy and Fusion" Faculty Mentor: Tushar Patel, MD, Washington Orthopedics and Sports Medicine
Wayde Dazelle, MSIII, "Tranexamic Acid for the Prevention of Postpartum Hemorrhage: A Cost-Effectiveness Analysis" Faculty Mentor: Homa Ahmadzia, MD/MPH '08, assistant professor of obstetrics and gynecology, GW SMHS
The abstracts and poster presentations for medical student research day were judged by an independent panel of faculty reviewers, and outstanding submissions were selected from each of the three major subject area categories: Clinical and Translational Research, Public Health Research, and Medical Education Research. Below are the recipients of these awards.
The recipients of the 2022 Awards for Best Abstract/Poster:
Andrea Klein, MSIV, "Impact of Cochlear Dose on Hearing Preservation Following Stereotactic Radiosurgery in Treatment of Vestibular Schwannomas: A Multi-center Study" Faculty Mentor: Jonathan Sherman, MD, associate professor neurosurgery, West Virginia University
Michael Berrigan, MSII, "Exogenous Reprogramming of Macrophages with HDAC6 Inhibitors Improves Macrophage-Based Cell Therapy in Melanoma" Faculty Mentor: Alejandro Villagra, PhD, GW Cancer Center and adjunct associate professor of biochemistry and molecular medicine, GW SMHS
Isabella Lipkin, MSII, "Artificial Intelligence in Heart Disease: Diagnostic Accuracy of Next Generation Coronary Imaging to Improve Patient Outcomes" Faculty Mentor: Andrew Choi, MD '08, BA '03, co-director, Cardiac CT and MRI, associate professor of medicine, GW SMHS
Rishika Bheem, MSII, "Clinical Epidemiology of Candidemia in Hospitalized Children" Faculty Mentor: Rana Hamdy, MD, MPH, assistant professor of pediatrics, GW SMHS, director, Antimicrobial Stewardship Program, Children's National Hospital
Jordan Pizzaro, MSII, "Overweight BMI and Its Impact on Lumbar Fusion Complications in the Elderly US Population" Faculty Mentor: Shalin Patel, MD, assistant professor of orthopaedic surgery, GW SMHS
Nick Jennings, MSII, "The Impact of the COVID-19 Pandemic on Medical School Pathway Programs" Faculty Mentor: Sonal Batra, MD, assistant professor of emergency medicine, GW SMHS
Katherine Maehl, MSII, "Preliminary Qualitative Analysis of a Novel Produce Prescription Pilot Program" Faculty Mentor: Kofi Essel, MD/MPH '11, assistant professor of pediatrics, GW SMHS, general and community pediatrics, Children's National Hospital
Prasantha Vemu, MSIV, "Telehealth Services in an Outpatient Nephrology Clinic During the COVID-19 Pandemic: A Patient Perspective" Faculty Mentor: Susie Lew, MD, professor of medicine, GW SMHS
Natalie D'Souza, MSII, "Impact of Ransomware Attack on System Operations at a Major Tertiary Medical Center" Faculty Mentor: Natalie Sullivan, MD, research instructor of emergency medicine, GW SMHS