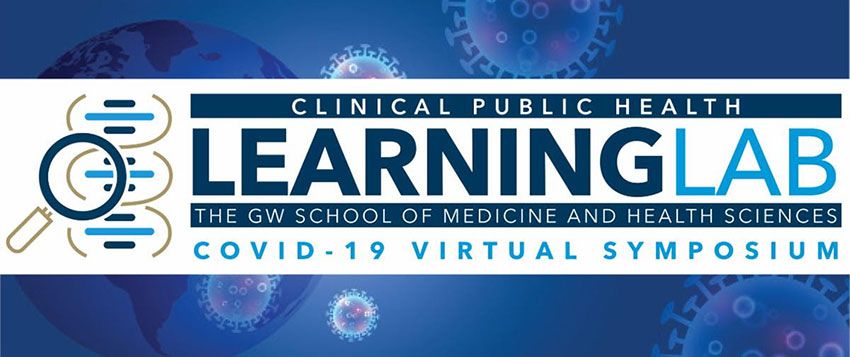 As the George Washington University (GW) community, and the country, continue to learn the full impact a public health crisis can have, the GW School of Medicine and Health Sciences (SMHS) is keeping students, faculty, and staff informed about clinical public health through a new online Learning Lab educational series.
The first symposium, hosted by Karla Bartholomew, PhD, JD, MPH, PA, program and development officer for clinical public health; Patients, Populations, and Systems course director; and director of the dual-degree MD/MPH program at SMHS, included topics related to COVID-19 such as zoonotic infections, epidemiologic measures in COVID-19, public health law, current public policy and advocacy efforts, and wellness practices.
Bartholomew kicked off the symposium, welcoming attendees to the virtual event and noting the increasing overlap between public health and health care and our ever-changing health care landscape.
"This Learning Lab is part of our mission to expand SMHS education on pressing clinical public health issues," she said. "And there's certainly nothing more pressing for our inaugural symposium than the growing COVID-19 pandemic."
The first speaker of the day was Bernadette Dunham, DVM, PhD, professorial lecturer in environmental and occupational health at the Milken Institute School of Public Health at GW (Milken SPH), who gave an overview of One Health and zoonotic infections — bacterial, viral, and parasitic diseases transmitted from animals to humans.
One Health, she explained, is a collaborative and interdisciplinary approach on local, national, and global levels to ensure optimal health of people, animals, and the environment.
Today, about 75% of infectious diseases come from animals, she said, including diseases such as Ebola, Zika, and now COVID-19. 
Dunham said often the chain of transmission includes the pathogen, a reservoir (the animal), and then a host. It seems likely, she added, that COVID-19 involved a wildlife market in China, where there can be high exposure to fluids from many different kinds of animals. Thus the need, she said, to make sure there are systems in place when it comes to human, animal, and environmental public health systems.
"Now that we are living and breathing a pandemic, [it's vital to understand] the origins of zoonotic diseases, how our interactions with animals change, what situation causes higher exposure, our role in transferring some of these animal-borne viruses … and how we handle the outbreaks. This is the most incredible lesson for public health right now around the globe," she said.
To paint a clearer picture of the COVID-19 pandemic's reach and impact, following Dunham's lecture, attendees learned about epidemiology of COVID-19 from Heather A. Young, PhD, MPH, professor and vice-chair of epidemiology at Milken SPH.  
Young provided an overview of the epidemiologic rates and measures used for COVID-19.
Young noted that, currently, the numbers in the United States and around the globe, reflect the iceberg concept: known cases are just the tip, but there are many more unknown cases below the surface. 
She added that there is a misconception that only older populations can become seriously ill from the virus, noting that while originally data from China showed the risk among younger populations as low, the risk still exists. 
Young also emphasized that mortality rates might trend higher if people are looking at the crude numbers and not taking into consideration the age-specific data. "Italy, for example, has a really high number of deaths as compared to other areas, that's because the areas most affected in Italy are also areas with a more elderly population," she said.
The symposium continued with information about the clinical presentation and care for COVID-19, as well as issues surrounding the current capacity and role of U.S. health systems, provided by Hana Akselrod, MD, MPH, assistant professor of medicine at SMHS.
As for how sick people can become due to COVID-19, Akselrod said that about 80% develop mild to moderate symptoms that do not require hospitalization, 15% have severe symptoms that require hospitalization, and 5% require critical care. There is about a five-day lag between exposure to the virus (SARS-CoV-2) and the onset of symptoms, she added, and most people who develop mild symptoms are sick for one to two weeks, while those with severe symptoms may be sick for up to six weeks.
The symposium also provided information on current laws surrounding COVID-19, presented by Bartholomew, who spoke about public health law, health care law, and public policy. She focused on both nonpharmaceutical interventions for containing the spread, such as social distancing, as well as medical countermeasures and other public health actions at the local, state, federal, and organizational levels.
She charged attendees with thinking, through policy measures and actions, about what can be done, must be done, and should be done to address the pandemic. 
Other speakers addressing policy issues raised by the pandemic included attorneys from the Children's Law Center, Kathy Zeisel, JD, and Elizabeth Oquendo, JD, MBA, who each gave an overview of current policy and advocacy issues impacting children and vulnerable families during COVID-19.  Zeisel and Oquendo discussed issues of food security, housing stability, and educational challenges presented by the closure of schools and public places due to COVID-19.
Kaylan Baban, MD, MPH, chief wellness officer and assistant professor of medicine at SMHS and director of the Lifestyle Medicine Program at The GW Medical Faculty Associates, rounded out the symposium with a lecture on wellness with tips and burnout prevention strategies for students, faculty, and staff. "This is a marathon, not a sprint," she noted. "It's important to be aware of your own needs and own self-care."
Many people are experiencing new workflows, new responsibilities, and uncertainties in this time, she said. For students who feel uncertain, it's important to become familiar with new and updated guidelines from both the deans at SMHS and the Office of Medical Education, and to focus on what can be controlled, she said.
"Keep yourself protected and protect those around you," she explained. "Use what you've learned as aspiring medical professionals and impart that knowledge on others."
She said other ways members of SMHS can find purpose include combatting misinformation around COVID-19, checking in virtually on colleagues, classmates, family, and friends, and finding opportunities for advocacy.
Baban also took attendees through some low-tech tools that can help alleviate stress, such as "box breathing," which consists of breathing in to the count of four, holding to the count of four, breathing out to the count of four, and then holding again to the count of four.
As the five-hour symposium wrapped up, Bartholomew thanked attendees for participating in the Learning Lab and welcomed attendees to reach out with suggestions for topics for future symposiums.
Ideas and suggestions can be emailed to Kat Binney.