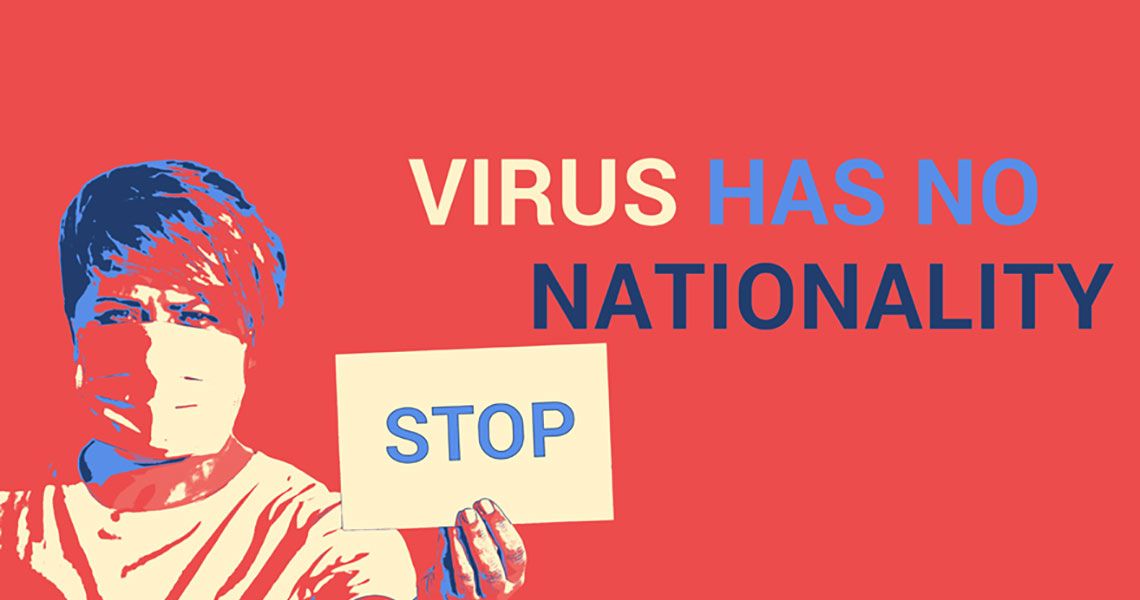 Amid the growing anti-Asian sentiment in the United States because of COVID-19 the George Washington University (GW) Elliott School of International Affairs and the GW School of Medicine and Health Sciences (SMHS) Office of Diversity and Inclusion hosted a recent webinar to inform students, faculty, and staff about the issue and address strategies to support targeted groups.
During the more than hour-long virtual event, faculty and students from across the two schools discussed disinformation about COVID-19, made recommendations on how to be inclusive of all perspectives related to the health situation, and offered advice on how to support disproportionately targeted and vulnerable groups during the pandemic. 
Reuben Brigety, dean of the Elliott School, kicked off the event. 
"It's is a universal truth that fear can often bring the worst out in many people," he said. "In the context of this horrible pandemic that is touching the entire world, we clearly recognize that many members of our community are being subject to the most vile and dangerous expressions of xenophobia and racism, which is completely unacceptable."
He added that GW's commitment to diversity and inclusion is "ironclad."
The more than 100 attendees listening in on the webinar also heard from Grace Henry, EdD '12, director of the SMHS Office of Diversity and Inclusion. 
Henry spoke of the importance of fighting against racism, "the offspring of white supremacy." She mentioned the book "How to Be an Antiracist" by Ibram X. Kendi, who spoke at GW in January 2019. Henry explained that in the book Kendi writes that being antiracist means more than just saying "I am not a racist."
"You have to initiate polices and conduct yourself in a way that says 'not only am I not for racism, but this is what I am going to do to actively and intentionally eradicate racism,' " she said.
Henry added that people have to be bold during the pandemic when talking about racism against Asians, and have to always be allies. "When we see someone making a joke about Asians or Asian Americans, [we need to be] speaking up in that moment," she said. 
In addition, individuals need to figure out how to uncover their blind spots when it comes to race, Henry said. "We have to remember for our students that their lived realities at school may be different than their lived experiences at home," she added.
"When we're thinking about policies we have to uncover the blind spots and things we cannot see. We have to think differently in how to support our students."
Adrienne Poon, MD, MPH, assistant professor of medicine at SMHS, sought to clear up misconceptions about COVID-19 itself. Information, including allegations that people of Asian descent are more likely to get or spread COVID-19, are "simply not true," she said.
"The World Health Organization claimed the term COVID-19 specifically to avoid reference to any particular region or its people given concerns of stigma," she noted.
Poon added that despite the fear COVID-19 has caused, members of the Asian community have rallied together to make donations of medical supplies to hospitals, including in the Washington, D.C., area.
"I think this sends a strong message that we in the Asian American community are part of the fabric of America and are making contributions to support the country's response to the epidemic," she said.
Strategies to support targeted groups during the pandemic, according to Poon, can include building trust in communities by working with community leaders, as well as collecting and reporting demographic data by race, ethnicity, and primary language.
Additional event speakers included Alexa Joubin, professor of English and international affairs in the GW Columbian College of Arts and Sciences, who spoke about anti-Asian sentiment throughout U.S. history; GW alumna Emma Rafaelof, MA '17, who spoke about U.S.-China relations; and Gabriel Young, an undergraduate student in the Elliott School, who offered the perspective of a student's struggles during the health crisis.