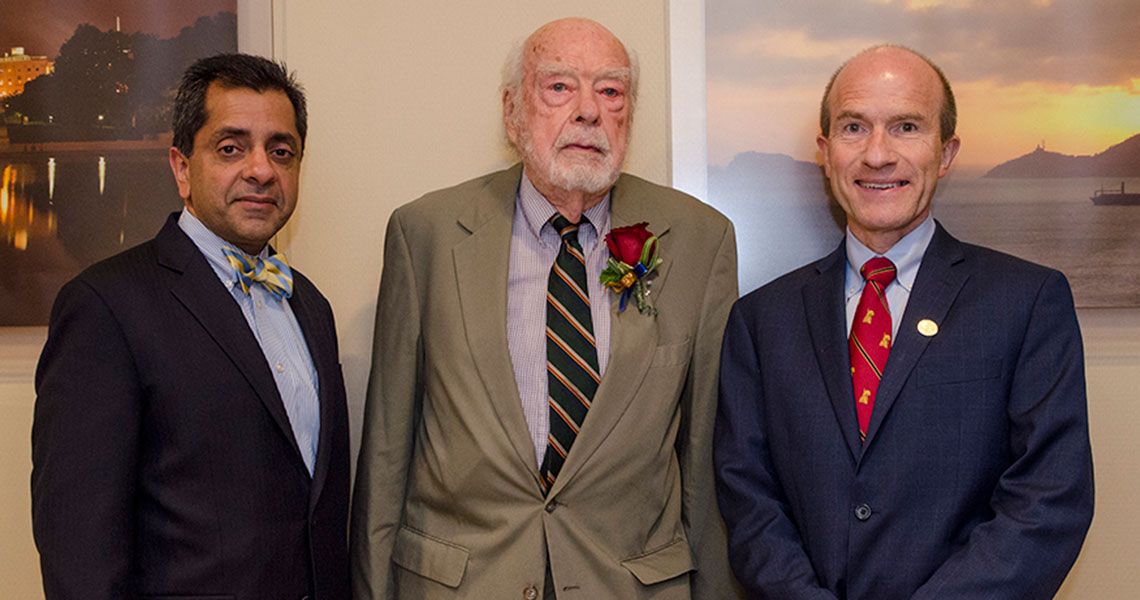 George Washington University (GW) orthopaedic residents and faculty members presented on cases, new research, and projects at John P. Adams Research Day on June 15, followed by a discussion from guest speaker Paul Sponseller, MD, chief of the Division of Pediatric Orthopaedics and professor of orthopaedic surgery at Johns Hopkins Medicine.
The annual event is named for John P. Adams, MD, Professor Emeritus of Orthopaedic Surgery and of child health and development at the GW School of Medicine and Health Sciences (SMHS). Adams, who was in attendance at this year's event, served as chair of the SMHS Department of Orthopaedic Surgery from 1953 until his retirement in 1987.
"It's very good to see the program doing so well," Adams said during a break between presentations. "There's always something new to learn; it's great."
Raj Rao, MD, chairman of the Department of Orthopaedic Surgery, in his introduction of this year's visiting professor, described Sponseller as one of the nation's leading orthopaedic surgeons and researchers, who has a thoughtful and empathetic approach toward his patients. Sponseller focused on "Best Practices of Treating Bone and Joint Infection in Adolescents and Children" in his address.
"Pediatric infections are very important to know about, because you never know when you're going to get one, and you can really change a child's life by knowing about it," he said. "These are understudied orthopaedic emergencies, but you can't get away from them."
"[Y]ou're probably going to get a septic joint or an osteomyelitis [patient] at some point, and they can really be serious conditions," he added.
Sponseller's advice for the residents, especially the graduating chief residents, was to "own the bone."
"We have to encompass this part of medical biology and know all about orthopaedic infections," he explained. There are changes in the field, he noted, such as changing bacterial characteristics with the emergence of methicillin-resistant Staphylococcus aureus (MRSA).
"There are many subsets to the infection problem … there are many wrinkles on this, and we'll try to touch on the main ones," he said. Those wrinkles included acute hematogenous osteomyelitis, which Sponseller called a spontaneous affliction of healthy kids.
"It strikes the families [like] a lightning bolt, because the kid's healthy one day and the next he's sick, and sometimes even septic," he said. "And it really comes to play because of the unique anatomy of a child's bone. The blood flow in the child's bone has some different characteristics."
In addition to acute hematogenous osteomyelitis, Sponseller also covered topics such as subacute osteomyelitis, septic arthritis, discitis, Lyme disease, and tuberculosis during his hour-long presentation.
Residents who presented during the event included Jessica H. Heyer, MD; Evan J. Smith, MD; Ryan D. Scully, MD; Jenna Osborn; Benjamin Martin, MD; and Matthew E. Oetgen, MD, MBA. Chief residents also presented at the close of the event: Rachel E. Lefebvre, MD; Rachel E. Lefebvre, MD; and Rebecca E. Rajfer, MD.