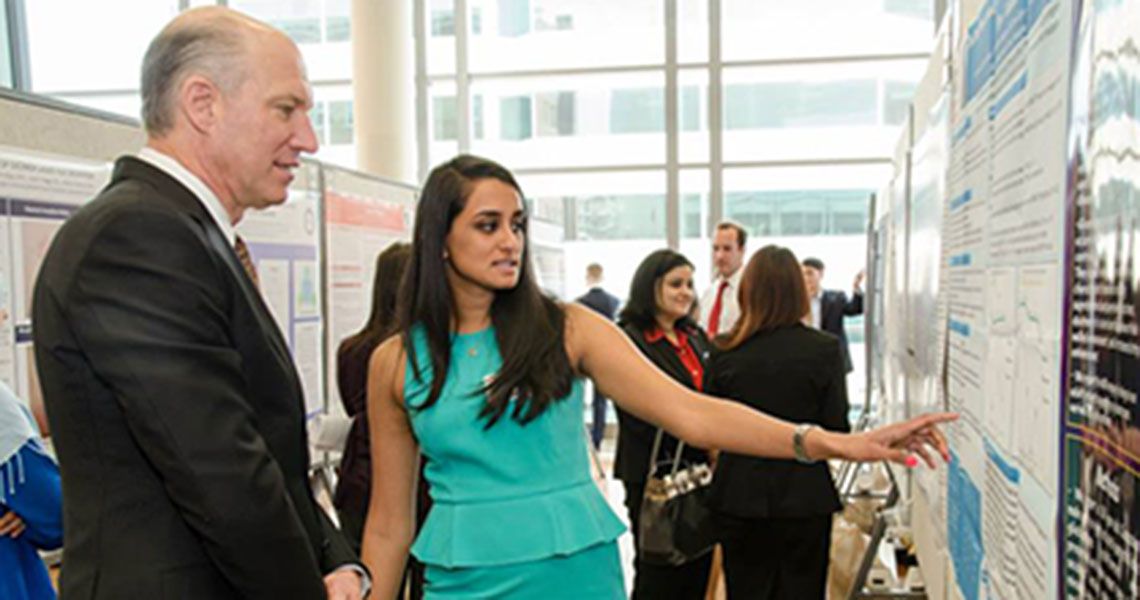 Dominic Raj, M.D., M.B.B.S., professor of medicine, biochemistry and molecular biology, and director of the Division of Renal Diseases and Hypertension, took home the 2014 Distinguished Researcher Award as faculty, residents and students from throughout the School of Medicine and Health Sciences participated in the Health and Medicine Research portion of GW's 19th Annual Research Day, April 2. The two-day event — co-hosted by the Office of the Vice President for Research and the Office of the Provost — showcased research from across the university, with day two of the event focused exclusively on health-related research.
Earlier in the academic year, Raj, a kidney disease and hypertension expert, received a pair of multi-million dollar grants from the National Institutes of Health to examine the role of gut microbiome on inflammation and cardiovascular disease. Joining him as 2014 research day winners were fourth-year MD students Bradley Anderson, Devin Patel, Anita Sivaraman, and Sarah Todd, who received the Stuart Kassan Research Fellowship Award; fourth-year MD student Maureen Banigan, who won the 2014 Doris Deford Speck and George Speck, MD Endowed Prize; and Wenge Zhu, Ph.D., assistant professor of biochemistry and molecular medicine, who received the 2013 Elaine H. Snyder Cancer Research Award. Poster award-winners were M.D. students Robin Stiller, class of 2017; Lindsay Marszal, class of 2016; and Samantha Ahle, class of 2014.
"Today we celebrate one of the three key missions of our school — education, training and research," said Jeffrey Akman, Walter A. Bloedorn Professor of Administrative Medicine, vice president for health affairs, and dean of the School of Medicine and Health Sciences. "We celebrate the work of our undergraduates, our grad students, our faculty, our fellows and mentors who generate new information, new ideas and who develop scholarship to advance our fields in health and medicine."
Elaine Ostrander, chief and distinguished investigator at the National Institutes of Health's National Human Genome Research Institute, presented the SMHS keynote address.
In her speech, titled "Genetics of complex traits: Understanding breed variation in the domestic dog," Dr. Ostrander encouraged her audience to think creatively.
"When faced with a problem, don't do the tried and true," she said. "Think about a novel way of attacking the problem." Dr. Ostrander, who is credited with founding modern canine genetics, has made numerous contributions to the field through her parallel research pursuits on the genetic basis of phenotypic variation between dog breeds and on genome-wide associations in human cancers.