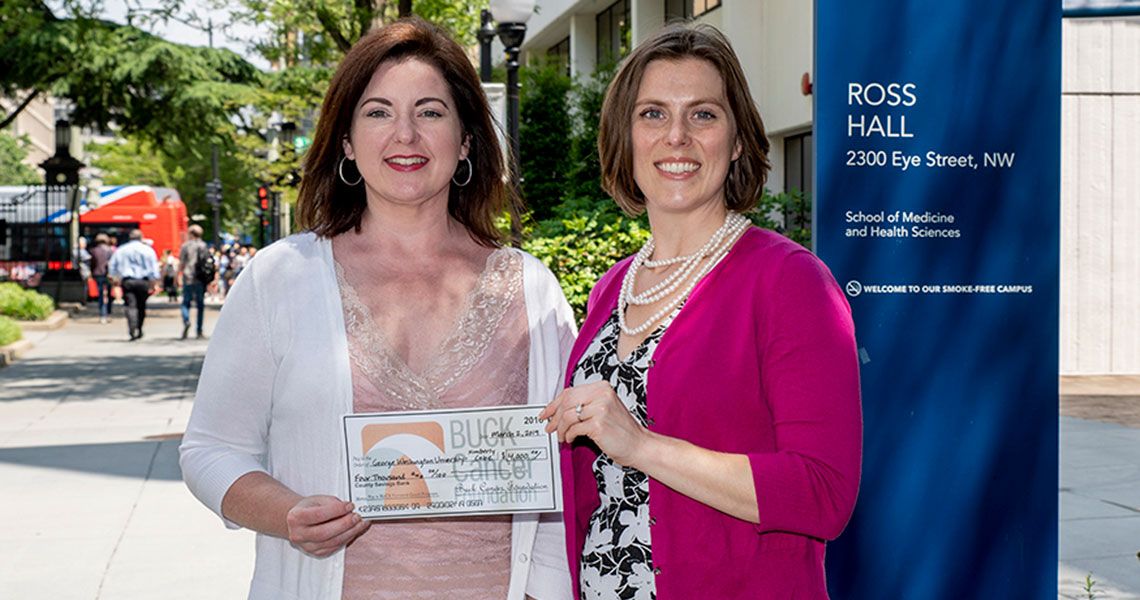 PHILADELPHIA (June 17, 2019) — The BUCK Cancer Foundation (BUCK) announced the winner of their 2019 Pay A BUCK Forward educational grant for $4,000 on Saturday, May 18. Kimberly Cabe, FNP-BC, a graduate student majoring in integrative medicine at the George Washington University School of Medicine and Health Sciences, was awarded the grant. 
A family nurse practitioner, Cabe's dedication to patient-centered care, combined with her continuing education through multiple graduate programs, made her stand out from other applicants.  These experiences, combined with her passion for integrative medicine made her a great candidate. 
"It's a huge honor to be recognized for my passion for integrative medicine," Cabe said. "Unlike other grants that I've received, I really view this as an ongoing relationship with the nonprofit.  Through this opportunity, BUCK was able to find individuals that aligned with its pillars and start the collaboration with providers earlier in their career as they graduate.  Not only have I received some financial help, but I look forward to collaborating with BUCK to promote integrative medicine within cancer care."
The BUCK grant is helping Cabe pursue her education without worrying as much about the finances of a graduate level education. "Instead of paying interest to a bank, I know my future contributions will be going towards students like myself with similar values and expectations," she said. "I look forward to working closely with the BUCK Cancer Foundation for years to come."
The Pay A BUCK Forward educational grant program offers pay-back grants to students pursuing a degree in integrative medicine or a complementary cancer treatment. A pay back grant provides funds to selected students with the expectation that once the student has graduated and is fully employed, they pay back the grant as a percentage of their salary. The grant paybacks provide additional grants to future health and wellness students. 
The BUCK Cancer Foundation offers two grant periods and awards at least one educational grant a year. BUCK's goal is to help fund the education of future health care professionals supportive of integrative medicine. The President of BUCK, Lori Nonnemaker, stated that, "BUCK is focused on making integrative oncology standard cancer care in America." BUCK's next educational grant period opens on November 1 and ends December 31, 2019.
This release is posted courtesy of the BUCK Cancer Foundation.