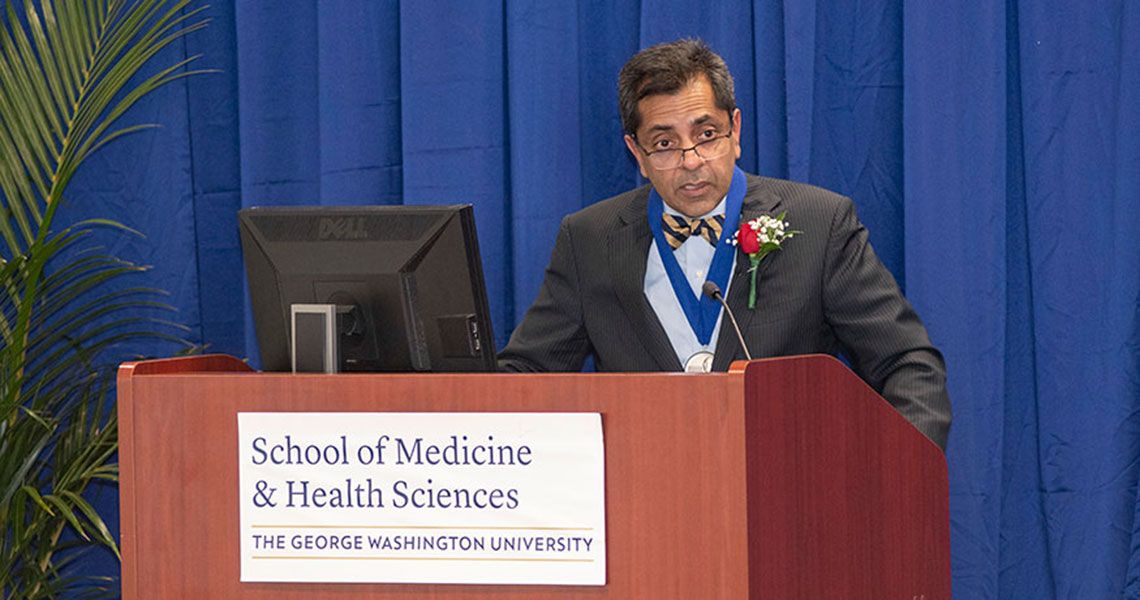 In 1953, John P. Adams, MD, became chair of the George Washington University School of Medicine and Health Sciences (SMHS) Department of Orthopaedic Surgery, and more than 60 years later he watched the installation of Raj Rao, MD, as the inaugural John P. Adams Professor in Orthopaedic Surgery.
"I thank everyone who has contributed to the fund: Ms. Katharine Graham, former publisher of the Washington Post who started it, my nephew Stephen, who finished it, and all those in between who supported it," said Adams, 97, Professor Emeritus of Orthopaedic Surgery at SMHS. "With the professorship, I know that I'll be still part of the department for the future, and I thank everyone who made this possible."
Since becoming chair of the department in spring of 2015, Rao has "taken the department into the next phase of excellence," said Jeffrey S. Akman, MD '81, RESD '85, vice president for health affairs, Walter A. Bloedorn Professor of Administrative Medicine, and dean of SMHS.
"He's articulated a bold new vision for the department in building research and relationships with the community," he said. "The department is known for its commitment to high standards in patient care, a strong residency program, and growth in its research programs. Under Dr. Rao's leadership, the department has embraced its history with an eye toward the future."
The professorship started as the John P. Adams Endowed Fund in Orthopaedic Surgery, thanks to a gift from Katharine Graham, former publisher of The Washington Post, who was a patient and friend of Adams and made a gift in honor of his retirement in 1987, said Provost and Executive Vice President for Academic Affairs Forrest Maltzman during the installation ceremony on March 20.
"Dr. Adams has had an incredible career, and we are incredibly honored he's here with us today to celebrate this installation," he added.
"The goal was to grow the fund so ultimately it would be able to support the professorship," he said. "Fast forward to 2015 when Dr. Rao arrived at GW, with the encouragement of Dr. Adams and other leaders in the medical school, he took on the challenge of completing the funding of the professorship."
That challenge was achieved only two years later in 2017.
"I plan to execute the intent of this professorship to the fullest and carry on the fine education and research tradition that Dr. Adams established for the department beginning in 1953," Rao said. "It's been a long road to get here."
Rao thanked his family, friends, and many mentors for helping to support him in his journey. He also reflected on leadership and how the leaders who came before him and the leaders who supported him made a difference in his life.
There are three qualities leaders must possess, he said. Clarity, integrity, and tenacity.
Clarity, more specifically clarity of thought, he said, is important because it helps leaders to "understand why they think the way they do. … Clarity of thought also permits the leader better insight into the strategy that needs to be developed for the organization and the activities that need to be carried out to move the entire team forward."
Integrity is also of the utmost importance, and it's "not just honesty," Rao remarked. "[It's] a more multilayered complex sense of decency and solidity to the person, not just in their dealings with others, but within themselves too."
Rounding out the top three qualities is tenacity. Leaders must have the strength and courage to persevere along the course of action, Rao said. "There are easy paths to take that arouse limited opposition and tougher paths to take that inevitably arouse protest," he said.
A leader, he explained, must have the clarity, integrity, and tenacity to move forward with courage.
"Thank you for being here and for the leadership you each provide," he concluded, "and thank you to Dr. Adams for having the clarity, integrity, and tenacity for setting in motion 60 years ago the events that made today possible."