The Charles and Sonia Akman Professor of Global Psychiatry Talks about Applying Global Mental Health Strategies in New York City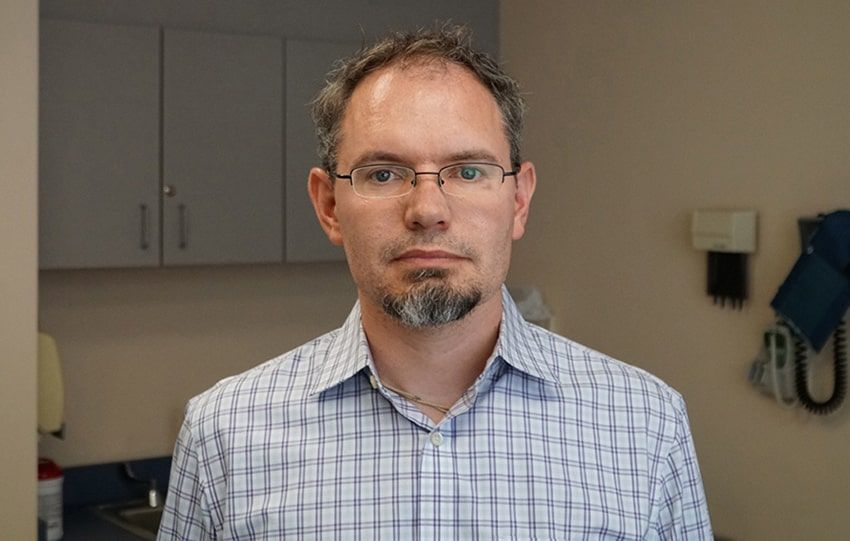 Brandon Kohrt, MD, PhD, Charles and Sonia Akman Professor of Global Psychiatry and professor of psychiatry and behavioral sciences at the George Washington University (GW) School of Medicine and Health Sciences, spent more than two decades in countries where psychiatric care was scarce. One solution, he found, was recruiting and training non-psychiatrists to help shoulder the burden, known as a task-sharing model. Now, he's bringing this strategy to underserved populations in New York City, thanks to a 5-year, $3.5 million grant from the National Institutes of Health. Here, he talks about his work to balance health equity and equality, his goals for the study, and his big-picture plans.
Q. Can you tell us more about the mental health task-sharing model?
Kohrt: We've shown through our research that, when properly trained and supervised, people who aren't mental health professionals can effectively treat depression, anxiety, and PTSD. We've found that teachers, religious leaders, community volunteers, and others can take on some of the roles of psychiatrists and psychologists. 
We've used this model for a long time for global needs in mental health, HIV care, and maternal and child health, but here in the U.S., it is not as widely used. The coronavirus pandemic has been a painful reminder of how inequitable our mental health care system is and why we need greater investment in task-sharing.
Minority populations, which have been hardest hit physically and psychologically by the pandemic, are not getting the mental health services they need, and there is a profound lack of mental health professionals from minority backgrounds.
Q. How has your international work helped inform this study?
Kohrt: I've worked mostly in humanitarian-affected settings: post-war Nepal, post-war Liberia, post-earthquake Nepal and Haiti, and in a number of other least-developed countries. We've used a range of different interventions in the task-sharing approach. One of the models is the World Health Organization's Problem Management Plus (PM+). It's only five sessions long, and it's focused on building psychological well-being to address immediate needs during crises. 
Over the past year, the Division of Global Mental Health at GW has collaborated with the New School in New York City to adapt PM+ for the effects of the COVID-19 pandemic. We are working to train staff who provide social services at New York community-based organizations to integrate PM+ into their work.
Q. Which population are you targeting for participation?
Kohrt: COVID-19 has really accentuated a lot of the disparities in health care and health outcomes in our country, and we've seen the disproportionate burden born by Black, indigenous, and other people of color. In a commitment to these groups, in April 2021, the New York City Mayor's Office for Community Mental Health was established to promote equitable and evidence-based mental health services. We are working closely with them to assure that PM+ can be scaled up throughout the city if the research is successful. Through our current work and the upcoming study, the PM+ program will serve Black and Latinx communities, LGBTQ+ youth, older adults, veterans, and people with chronic medical needs.
Q. What makes your study unique?
Kohrt: What's innovative is that we are part of a growing movement of research funded by the National Institute of Mental Health that's not only generating novel interventions but also focusing on innovations to help reduce inequality and disparities in the American mental health care landscape. Innovations that are only accessible to wealthy Americans and that are predominantly delivered by white psychiatrists and psychologists are not going to have the needed public health impact.  
Q. What impact would you like to see this study have?
Kohrt: This study is a randomized control trial. One of the key things that we want to see is, does it work? Equally importantly, how does it work best? What's the best way to implement it, how much training do people who are not specialists need, how much supervision do they need, for how long does that supervision need to be? Very importantly, how much does this cost? 
I would love to see a good scientific result, but I would be even more satisfied if we can actually see how the science would generate changes in policy and practice to make task-sharing part of an overall tiered mental health care system. We want to see how the improvements in mental health care from around the world can reshape mental health care in the U.S. to ensure equitable care for all.