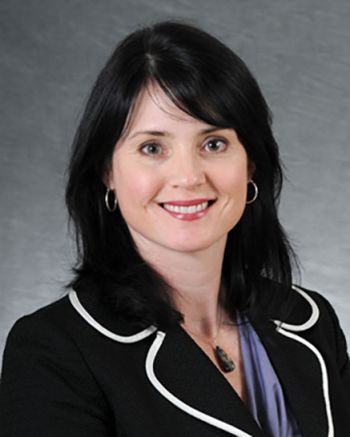 The George Washington University (GW) School of Medicine and Health Sciences has named Paige McDonald, EdD '12, assistant professor of clinical research and leadership, to serve in a new role as vice chair of the Department of Clinical Research and Leadership (CRL). 
As vice chair, McDonald will work closely with program directors in assessment and modifications to curricula as well as develop cross-curricular initiatives. An expert in educational research, she will lead faculty in scholarship on academic programming and development in teaching excellence.
"After serving as a faculty member in the department for the last 12 years, there is not a better person than Dr. McDonald to serve as vice chair," said Leslie Davidson, PhD, chair of CRL. "Her qualifications are exemplary.  Her strong leadership qualities and ability to successfully mentor faculty are traits that are key to this new role. I appreciate her willingness to take on this important new position in the department."
CRL is the largest department in the GW Health Sciences division of SMHS with 12 fields of study represented, including clinical research administration, integrative medicine, biomedical informatics, correctional health administration, emergency medical services, regulatory affairs, translational health research, and health care quality. The department offers a bachelor's, master's, dual-degree, graduate certificate, and PhD. All CRL programs approach education and leadership development from an interdisciplinary perspective. In this way, students' skills are cultivated in critical thinking and research, while guiding important insights into their chosen field of study.
"I look forward to working with Dr. Davidson, the faculty, and staff to continue our success in innovative programming within health sciences education," McDonald said, eager to work with her CRL colleagues in a new role. "Since joining SMHS, much of my work has focused on curriculum design and assessment and educational research. I am excited to work with program directors to continue to design and evaluate innovative programming. As an educational researcher, a corresponding goal is to design an educational research agenda for CRL that will promote and disseminate our expertise in online and blended learning in health sciences education.
"We have extensive experience in this area,' she added, "that could be beneficial to medical and health professions education more broadly, particularly at a time in which our ability to teach face-to-face is challenged by the current COVID-19 pandemic."
In 2008, McDonald joined CRL as an adjunct assistant professor, a role she held for four years. She was named a visiting assistant professor in 2012 and an assistant professor in 2014. During her time in GW Health Sciences, she has developed undergraduate and graduate writing courses that cross multiple programs and has served as the director for the core health sciences curriculum, where she led the conversion of graduate courses to an intensive seven-week delivery model.  Most recently, she served as director of curriculum for the PhD in Translational Health Sciences Program and assisted with the program's three-year assessment.
McDonald has a master's degree from the University of Texas, San Antonio and earned her EdD from GW in 2012.