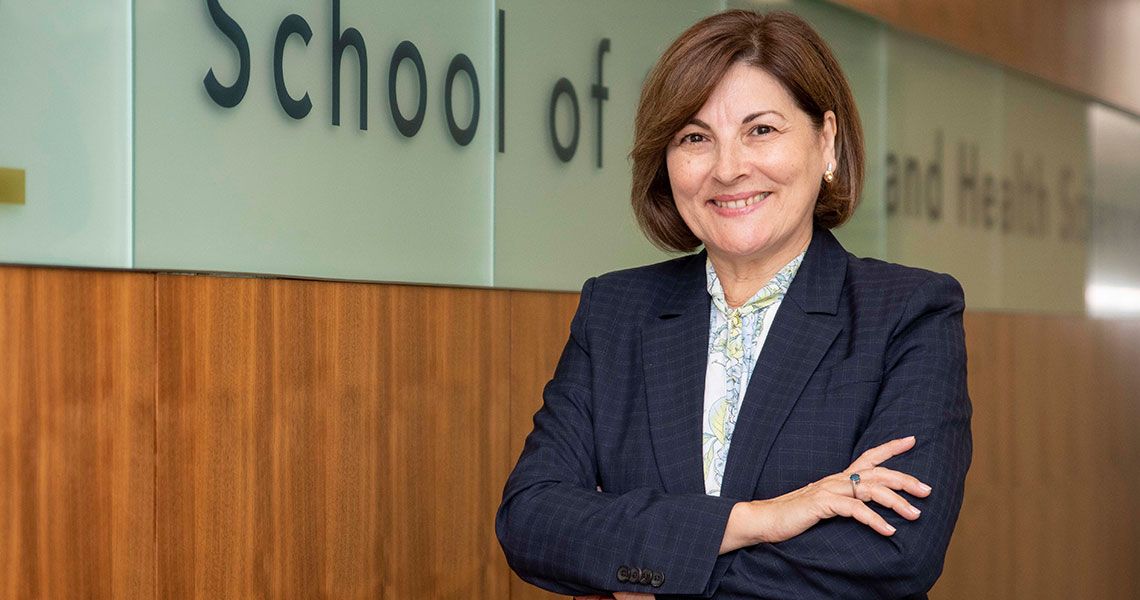 WASHINGTON (Aug. 27, 2019) — Antonia R. Sepulveda, MD, PhD, has been selected to serve as chair of the Department of Pathology at the George Washington University (GW) School of Medicine and Health Sciences. She will also serve as the Ralph E. Lowey Professor of Oncology, as well as chief of pathology service and clinical laboratory director at GW Hospital. 
"We are delighted to welcome a world class cancer biologist and leader in gastrointestinal pathology and molecular diagnostic pathology to serve as the new chair of the Department of Pathology," said Jeffrey S. Akman, MD '81, RESD '85, vice president for health affairs, Walter A. Bloedorn Professor of Administrative Medicine, and dean of the GW School of Medicine and Health Sciences. "Dr. Sepulveda's distinguished career as a researcher, clinician, and educator and record of transformative leadership will enable the department and GW Cancer Center to continue on an upward trajectory toward pre-eminence."
Sepulveda is an expert in gastrointestinal pathology and molecular diagnostic pathology of cancer and a leader in personalized genomics for precision medicine. Sepulveda has held many leadership positions and is currently the president-elect of the Association for Molecular Pathology (AMP) and was recently the lead co-chair for the AMP's Multi-society Molecular Testing Guidelines for Colorectal Cancer.  
She was most recently the vice chair for translational research and director of the Division of Gastrointestinal Pancreas and Liver Pathology in the Department of Pathology and Cell Biology at Columbia University Irving Medical Center in New York. At Columbia, she spearheaded clinical and research programs for genomic and biomarker testing of gastrointestinal cancers. She was previously director of surgical pathology and the medical director and founder of molecular anatomic pathology and molecular test development at the Hospital of the University of Pennsylvania in Philadelphia. 
"In the last few years, we established a molecular laboratory and expanded both prognostic and diagnostic testing services available to our patients," said Robert E. Kelly, MD, CEO of the GW Medical Faculty Associates. "With Dr. Sepulveda at the helm of GW's pathology department, I am confident we will continue to see rapid growth in this area." 
Sepulveda's research laboratory and translational research program receives National Institutes of Health (NIH) and National Cancer Institute (NCI) funding and utilizes innovative genomics, transcriptomics, and computational image analyses to discover novel regulatory pathways and early biomarkers of cancer and precancer lesions of the esophagus, stomach, colorectum, and pancreas. She has authored over 160 publications, including 122 original peer-reviewed papers, and over 40 reviews, editorials, guidelines, book chapters, and books. Sepulveda has been invited to lecture and share her expertise in pathology and biomarker testing in cancer around the world.  
Sepulveda has a strong commitment to education of the new generation of pathologists having directed gastrointestinal pathology and surgical pathology fellowship programs at the University of Pittsburgh, University of Pennsylvania, and Columbia University, and having mentored many national and international pathology, undergraduate, and post-doctoral trainees.
In addition to her leadership at the AMP, Sepulveda participates in a number of professional organizations and associations, including as a member of the United States and Canadian Academy of Pathology, the American Society of Clinical Oncology, the American Gastroenterological Association, and a fellow of the College of American Pathologists. She serves on the Colon Task Force of the NCI Gastrointestinal Steering Committee and as editor of the Gastrointestinal Pathology Section for the Archives of Pathology and Laboratory Medicine. She has been honored to receive a number of awards for her achievements in research, clinical operations and scholar contributions. In 2018, she received the Verna Stembridge MD Lectureship Award from the Texas Society of Pathologists.  
Sepulveda received her PhD in cell biology and performed her postdoctoral training in molecular virology at Baylor College of Medicine in Houston. She also completed her residency training in anatomic pathology at Baylor College of Medicine. She received her MD at the University of Lisbon Medical School in Lisbon, Portugal. She is board certified in anatomic pathology and holds a New York State Certification of Qualification in Molecular Oncology. 
"We are thrilled to welcome Dr. Sepulveda to GW Hospital. Her expertise will bolster our hospital's efforts to provide the highest quality patient care in the region," said Kimberly Russo, CEO and managing director of GW Hospital. "We look forward to her leadership in integrating discovery and innovation with clinical practice."
The Department of Pathology at the GW School of Medicine and Health Sciences comprises a talented and dedicated group of faculty, fellows, residents, students, and staff working together to bring the very best of pathology clinical laboratory services, medical education, and research. The department includes 40 pathologists and scientists from the GW Medical Faculty Associates, the Washington DC Veterans Affairs Medical Center, Children's National Health System, the NIH, and the District of Columbia Office of the Chief Medical Examiner. Faculty members have expertise in a number of subspecialties and research areas, including hematopathology, ovarian tumor and placental pathology, gastrointestinal pathology, genitourinary pathology, breast pathology, head and neck pathology, microbiology, and AIDS and cancer research. 
Sepulveda will lead the faculty in a shared vision for strategic growth and direction for the department. She will prepare the department for success in a clinical environment of large-scale value-based health care delivery, with a focus on improving the quality and safety of patient care. She will also ensure excellence in the graduate medical education programs and foster an integrated research program by promoting a culture of discovery and innovation. 
"It is a great privilege to be chosen to chair the Department of Pathology and join GW's leadership and the pathology and clinical laboratory team to promote GW as one of the world's elite research institutions and a top destination for patients, students, trainees, staff, and faculty," said Dr. Sepulveda. "My vision for the GW Department of Pathology is to provide outstanding cutting-edge clinical care and to distinguish ourselves through innovation powered by basic, translational, and clinical research. I am looking forward to working closely with the dedicated faculty, trainees and staff in the Department of Pathology towards our common goals."
Sepulveda will assume her role on October 1.