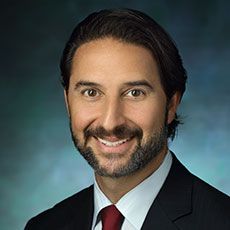 Faculty, students, and residents at the George Washington University School of Medicine and Health Sciences (SMHS) are invited to attend the 7th Annual Dr. Harry C. Miller Visiting Professorship Symposium and Reception on Saturday, March 14. 
The symposium, hosted by the Department of Urology at SMHS, is named after Harry C. Miller, MD, who joined SMHS as a professor and chair of the Department of Urology in 1973 and led the department for 22 years until his retirement in 1995.
This year's lecture will be delivered by visiting professor Trinity Jude Bivalacqua, MD, PhD, R. Christian B. Evensen Professor of Urology and Oncology and director of Urologic Oncology at the James Buchanan Brady Urologic Institute at Johns Hopkins Medicine. Bivalacqua has a special interest in cancers of the prostate and bladder, with an emphasis on organ sparing therapies, minimally invasive techniques, and orthopaedic bladder substitution.
"The symposium provides a great opportunity for our faculty, students, and residents to learn from an expert in the field of urology, and we're very excited to welcome Dr. Bivalacqua to GW this year," said Thomas Jarrett, MD, chair of the Department of Urology and professor of urology at SMHS. 
During his lecture, titled "Novel Therapeutics for Management of BCG-unresponsive NMIBC," Bivalacqua will discuss new developments in the management of high-risk non-muscle invasive bladder cancer (NMIBC) in Bacillus Calmette-Guerin (BCG) naïve and BCG unresponsive patients. 
BCG is the most common intravesical immunotherapy for treating early-stage bladder cancer.
In anticipation for the lecture, Bivalacqua said he hopes the audience "will learn about new intravesical agents and clinical trials available to treat NMIBC patients." 
The symposium also serves as a forum for urology residents to deliver case presentations and receive feedback from their peers and from the visiting professor, providing exposure and interaction essential to professional development.