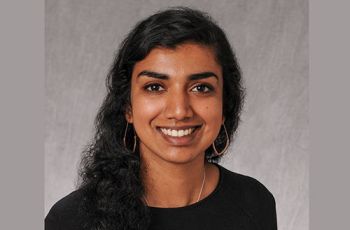 A recent correspondence published in The Lancet Global Health assessed the availability of oxygen in sub-Saharan African countries and makes a call for more data to be collected in order to inform service delivery amid the COVID-19 pandemic.
Sowmya Mangipudi, a fourth-year MD student at the George Washington University School of Medicine and Health Sciences (SMHS), was first author on the article titled "Oxygen availability in sub-Saharan African countries: a call for data to inform service delivery."
Oxygen is crucial to the management of patients admitted to the hospital with severe COVID-19. However, despite the recognition that oxygen is a fundamental component of the health care delivery system, it has not been a focus in sub-Saharan African countries, as demonstrated by the lack of data collected on oxygen availability.
"Our original goal was to model how countries may be able to scale up oxygen delivery to meet the predicted increased demand for COVID-19; however, we quickly realized that taking stock of existing oxygen availability was a challenge in and of itself," said Mangipudi. "We hope this correspondence highlights the need for more publicly available data regarding oxygen from a greater proportion of countries in the region."
Mangipudi, along with researchers at the King's College London analyzed data available from several sub-Saharan African countries to determine oxygen availability, source, and constancy of supply. The group's findings highlight three major issues: the scarcity of data collected on oxygen availability; the seemingly poor availability of oxygen in some sub-Saharan African countries; and the lack of publicly available data from the World Health Organization's Service Availability Readiness Assessment surveys.
The team suggests that national governments and supporting international partners urgently need data on oxygen capacity to plan a clinical response to COVID-19 and other future health emergencies.
Mangipudi participated in the project as part of her early work as a recipient of the Lazarus Family Scholarship. The scholarship was established by Gerald Lazarus, MD '63, and Audrey Jakubowski Lazarus, PhD, to support medical students while they pursue extraordinary educational opportunities in health care.
"The Lazarus Family Scholarship will enable me to pursue an MSc in Global Health and Global Surgery this fall at King's College London," Mangipudi said. "I am grateful to SMHS and the Lazarus Family Scholarship committee for investing in my learning and passion. I look forward to employing this degree and research skills in a career in academic surgery."
"Oxygen availability in sub-Saharan African countries: a call for data to inform service delivery," is available to read.