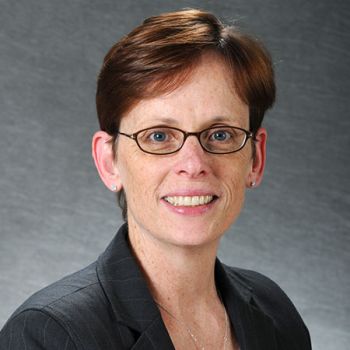 WASHINGTON (June 15, 2015) — The GW School of Medicine and Health Sciences is pleased to announce that Margaret M. Plack, Ed.D., D.P.T., P.T., will serve as the interim chair of the Department of Clinical Research and Leadership (CRL).
Dr. Plack has been a long-time leader at GW since joining the faculty in 2004. She has served as the director of the Physical Therapy program, chair of the Department of Health Care Sciences, and interim senior associate dean for the Health Sciences. Dr. Plack now serves as a professor in the Doctor of Physical Therapy program.
As a leader in the health sciences, Dr. Plack has served as a mentor for hundreds of students as they have pursued careers in the health care field. She is an internationally known leader in the areas of interprofessional education and the scholarship of teaching and learning.
As interim chair of CRL, Dr. Plack will oversee and provide leadership support for the department's 12 programs.
Dr. Plack received her undergraduate degree in Physical Therapy and master's degree in Physical Therapy with a concentration in Developmental Disabilities from the New York University and holds Doctor in Physical Therapy degree from Nova Southeastern University in Florida. Additionally, she has an Ed.D. in Organization and Leadership from the Columbia University, Teachers College.