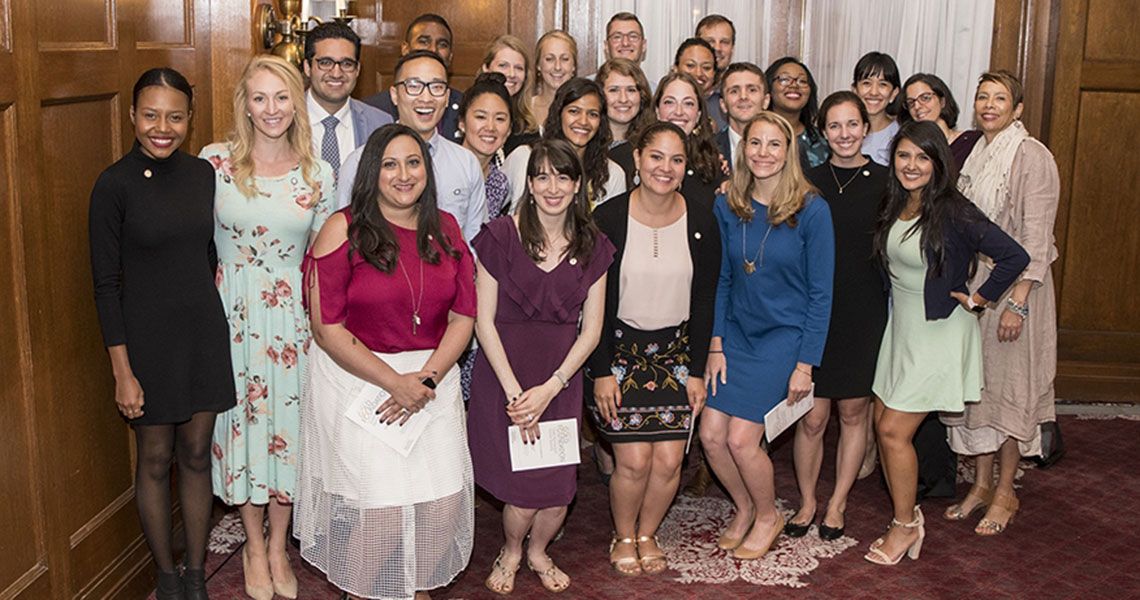 When David Popiel, MD, MPH, assistant professor of medicine at the George Washington University School of Medicine and Health Sciences (SMHS), was inducted into the Arnold P. Gold Foundation's Gold Humanism Honor Society (GHHS) as medical student, Arnold Gold gave him a challenge: find your next step in your practice of humanism.
Twelve years later, Popiel issued a similar challenge to the 25 medical students from the Class of 2018 inducted into GHHS.
"I know many of you have incredibly big hearts, very smart brains … I know many of you are just infectiously excited about practicing medicine … So what is your next step?" Popiel, this year's GHHS faculty inductee, asked during the induction ceremony held at Washington, D.C.'s historic Willard Hotel during Commencement Week.
"If Dr. Gold were here, he would tell you to make sure you figure out how to grow that heart. Your brains will keep going – you're going to continue to learn new things – but that heart, you have to figure out how you are going to nurture that, how you are going to groom that and maintain that ... you cannot neglect that heart piece." 
Maintaining humanism remained a consistent theme during the ceremony.  
"We all have our stories. Everyone has a story. I think as long as you remember that with your patients, that is what is going to keep you human," advised Laura Tiusaba Guzman, a fourth-year medical student at SMHS.
Fellow graduating student and inductee Emmeline Ha thanked the other society members and acknowledged how their compassion and support kept her going during medical school.
"Please continue to embody those values [of humanism] so that you can inspire your patients, your peers, and your students to be like that too," she said.
Yolanda Haywood, MD, RESD '87, BA '81, associate dean for diversity, inclusion, and student affairs and associate professor of emergency medicine at SMHS, congratulated inductees and reminded them that "membership in the Gold Humanism Honor Society is considered a mark of excellence." She issued her own challenge as well.
"We talk about humanism, but your humanism is all grounded in your ability to love … your classmates, your patients, your families, and even us as the administration. Your challenge today as you move into the next stage of your career is to figure out a way to carry that with you and not ever let it go. Because there is such power in it – it's unbelievable," Haywood concluded.
The 2018 student inductees are:
Sagah Ahmed
MedStar Georgetown University Hospital Internal Medicine
Mallette Asmuth
University of Washington Affiliated Hospitals Internal Medicine
Linda Ataifo
MedStar Franklin Square Medical Center Family Medicine
James Boddu
Jackson Memorial Hospital Neurological Surgery
Alexia Charles
Kaiser Permanente Oakland Medical Center Pediatrics/MPH
Nicole Doria
University of Pittsburg Medical Center-Medical Education Internal Medicine
Domenique Escobar
University of California San Francisco Medical Center Preliminary Surgery/General/Urology
Emmeline Ha
Stanford University Programs Family Medicine
Maria Nabil Henry
U Washington Affiliated Hospital Anesthesiology
Bridget Huysman
Barnes-Jewish Hospital Obstetrics-Gynecology
Ashtin Jeney
Arrowhead Regional Medical Center General Surgery
Priyanka Joshi
Children's Hospital of Philadelphia Pediatrics
Christina Kaba
University of California, Los Angeles Medical Center Primary Medicine/UCLA-VA
Alice Schmidt
Kehaya Oregon Health Science University Internal Medicine
Jamie Carpenter
Majdi University of New Mexico School of Medicine Family Medicine
Kaylah Maloney
Thomas Jefferson University Emergency Medicine
Omid Manoochehri
Icahn School of Medicine at Mount Sinai Emergency Medicine
Chloe Michel
Naval Medical Center San Diego General Surgery
Noah Ravenborg
University of California, Los Angeles Medical Center Primary Medicine/UCLA-VA
Julia Rozier
Carle Foundation Hospital Family Medicine
Matt Snyder
Baylor College of Medicine Pediatrics-Medical Genetics
Madeline Taskier
Research
Jason Juan-Jye Teng
Stanford University Programs Emergency Medicine
Laura Tiusaba
Guzman Rhode Island Hospital/Brown University Preliminary Surgery
Sarah Van Remmen
University of Maryland Medical Center Psychiatry