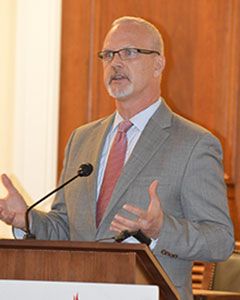 Ken Harwood, PT, Ph.D., program director for health care quality, director for research for the Physical Therapy (DPT) program, and associate professor of clinical research and leadership, served on a panel at a congressional briefing on May 12, 2015 where Congressman John Conyers re-introduced legislation, called The Nurse and Health Care Worker Protection Act of 2015, that focuses on Safe Patient Handling & Mobility (SPHM).
Thousands of registered nurses (RNs) and other health care workers suffer debilitating injuries from lifting and moving patients. Investing in SPHM programs improves the quality of patient care, protects health care workers from severe injuries, and provides significant cost savings to health care systems. Improper handling of patients is also expensive and costs the United States over $7 billion each year in workers compensation costs, medical bills, and staff replacements. Associations like the American Nurses Association (ANA) works to prevent injury and protect nurse well-being in the workplace through Safe Patient Handling and Mobility programs and advocacy.
During the briefing, Dr. Harwood spoke about "Patient Benefits of Safe Patient Handling and Movement," citing research from a 6 Veterans Association nursing homes SPHM program that improved bed mobility and transfers; improved urinary continence; provided patients with higher alertness and engagement; and decreased falls risk, and combativeness. He also presented on the therapeutic use of SPHM equipment or using SPHM equipment to enhance rehabilitation outcomes
In addition to other professional associations and organizations, Dr. Harwood is a member of the ANA's work group for Safe Patient Handling Interprofessional National Standards. His research around SPHM has been published in many academic journals, including the American Journal of Safe Patient Handling and Mobility and Rehabilitation Nursing. In 2010, Dr. Harwood was honored with the "Advocacy Award for Safe Patient Handling" from the Tampa VA Research and Education Foundation.
Dr. Harwood was joined on the panel by other experts including Jean Lucas, retired nurse, Cooper University Hospital, New Jersey; Colin J. Brigham, 1Source Safety and Health, Inc.; and Rhonda Fritz, Safe Patient handling and Mobility Coordinator, Nebraska. The panel was moderated by Pam Cipriano, PhD, RN, NEA-BC, FAAN, president of the American Nurses Association.