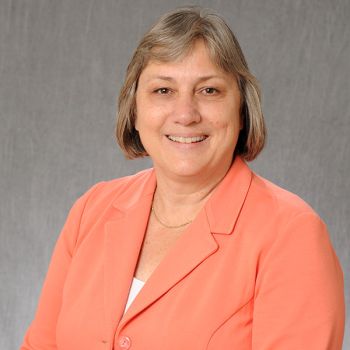 Joyce Maring, Ed.D., D.P.T., P.T., program director for the Doctor of Physical Therapy Program, chair of the Department of Physical Therapy and Health Care Sciences, and associate professor of physical therapy and health care sciences at the George Washington University (GW) School of Medicine and Health Sciences (SMHS), joins an elite group of 31 academic women leaders in the fields of science, technology, engineering, and mathematics, who are participating in Drexel University's Executive Leadership in Academic Technology and Engineering (ELATE) Fellowship Program.
ELATE at Drexel is a collaborative project of Drexel University and Drexel University College of Medicine. The intensive one-year, part-time program focuses on increasing personal and professional leadership effectiveness, leading and managing change initiatives within institutions, using strategic finance and resource management to enhance organizational missions, and creating a network of exceptional women who bring organizational perspectives and deep personal capacity to the institutions and society they serve.
"Participating in this program has been a wonderful experience. I have grown my leadership skills and I know I will be able to bring those skills back to GW and apply them to the work that I do every day," said Maring. "With such a strong group of diverse women, we have been able to capitalize on this experience and really draw out the best in each participant. I look forward to having a network of colleagues from this program that I will remain close with for years to come."
Maring was nominated for the fellowship by Jeffrey S. Akman, M.D., vice president for health affairs, Walter A. Bloedorn Professor of Administrative Medicine, and dean of SMHS. She began the year-long program in May 2015 with online assignments and community building activities, and throughout her fellowship Maring is being mentored by Joe Bocchino, Ed.D., M.B.A., senior associate dean for the health sciences. As part of the program, fellows participate in three week-long in-residence sessions, where students enhance their knowledge and skills in business practices of higher education, project management with diverse stakeholders, and effective communication in a variety of leadership platforms. The program will conclude in March 2016 with a symposium organized around institutional change projects that are being developed in collaboration with the leadership of their organizations.