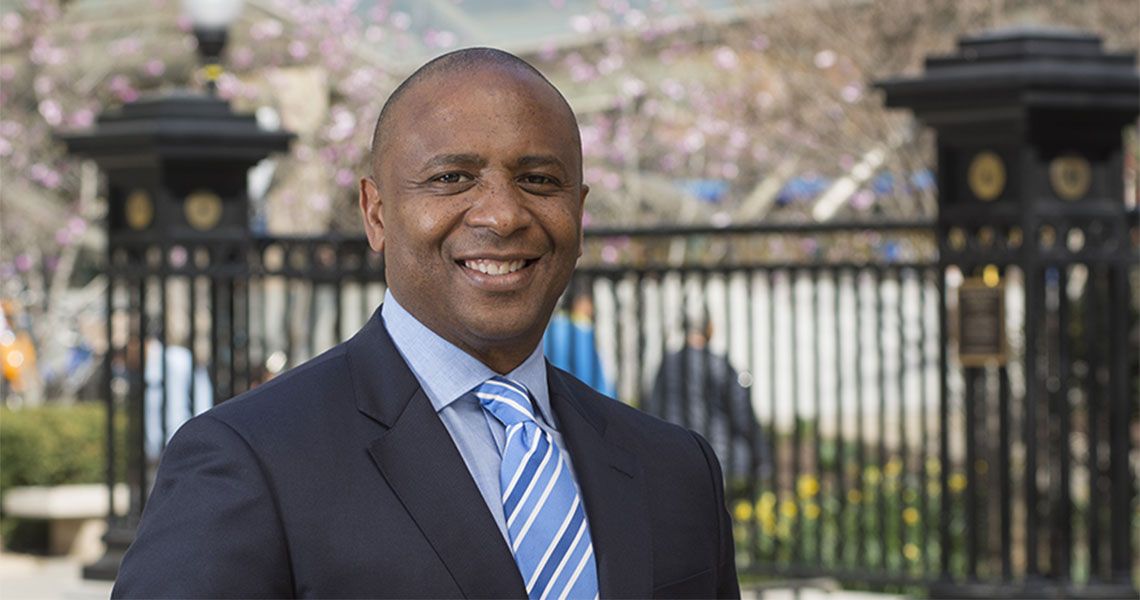 John M. Young, DPS, describes himself as a health care scholar-practitioner, someone who takes his strong foundation of educational knowledge and translates that into real-world applications for the industry. "Health care quality arguably is the most essential aspect of health care reform, and it's important to understand its intricacies," the Chicago native explains. Now an assistant professor of clinical research and leadership at the GW School of Medicine and Health Sciences — a position Young terms the "culmination of my professional experiences" — he is shifting his scholar-practitioner approach in a new direction: translating front-line experience into classroom instruction to help guide the next generation of health care quality professionals. Here, Young takes us through the career path that led him to GW, his role in creating and implementing the Affordable Care Act, and his desire to understand all aspects of health care.
How did you become interested in health care?
I've always had this ambition to understand our health care system from an enterprise perspective, meaning there are lots of complexities to and opportunities in health care, whether as a technologist or as a physician or a data scientist. I wanted to understand the web that connects it all. So, I set out to become a hospital administrator as my early career ambition. I took an unpaid internship shadowing a gentleman by the name of Bruce Mims, who at the time was the public health officer for Chicago at the Illinois Department of Public Health. This led to an opportunity to work full time as a clinic supervisor in the Cook County Hospital and Health System in Chicago, my hometown.
While there, I was introduced to a management training opportunity in Washington, D.C. at Group Health Associates of America, which is now America's Health Insurance Plans, where I studied managed care in the Minority Management Development Fellowship program. My professional journey subsequently included working at a couple of academic medical center-affiliated health plans, a short stint as chief operating officer at a physician-hospital organization, and executive director of a start-up Medicaid managed care organization. I was also privileged to serve in the federal government for over a decade, working on many current policy issues at the Centers for Medicare and Medicaid Services (CMS), and I eventually became a consultant working on projects like ICD-10 implementation in physician practices. Again, going back to the enterprise perspective of health care, that was my goal: to get as many relevant experiences as I could without really knowing where it would eventually lead me.
At which institutions did you get those relevant experiences?
I characterize my professional background as rooted in academic medicine, policy, and in community health. As I look back over my career, I was fortunate to work for several visionary health systems,  as early as 1993; I was proud to be part of a team that re-opened Provident Hospital [part of the Cook County Health and Hospital Systems in Chicago, the first African-American owned and operated, and non-segregated hospital in the country], founded by the prominent black surgeon Daniel Hale Williams. There, I was an outpatient clinic supervisor, and I helped the hospital ambulatory center achieve its first Joint Commission Ambulatory Care accreditation.
Following my fellowship year, when I was part of the provider relations team at WellPath Community Health Plans, a joint-ventured managed care organization between NYLCare Health Plans and Duke University Health Systems, I stayed on at NYLCare, in Greenbelt, Maryland, as a network manager before being recruited by Johns Hopkins Health System. There, I helped start up a provider relations department at Priority Partners, a managed care organization that now serves more than 200,000 Medicaid and CHIP (Children's Health Insurance Program) beneficiaries in the state of Maryland.
That was a pivotal and enlightening experience for me as I immensely enjoyed the university culture, the work, and the people. That's also where I was introduced to the notion of the scholar-practitioner model, which is centered on the application of scholarly knowledge and theoretical models in health care practice.
From there, you worked as COO of the Physician Hospital Organization at Southern Maryland Hospital, and later you rose through the ranks of CMS. There, you helped to create the Affordable Care Act (ACA); can you tell me about that experience?
Yes. As the ACA was being drafted in its final form, I, as a technical director at CMS, worked with the agency's performance improvement team and staff of the Senate Finance Committee to score ACA policy language for health homes, clinical quality measurement, and patient safety.
In the early days of the Innovation Center planning at CMS, I was promoted to a senior advisor after having worked for several years as a technical director in Medicaid quality. While I have a passion for strategic planning and health equity, I was encouraged by one of the center directors to join the team in the Innovation Center, where I worked under the leadership and mentorship of Rick Gilfillan, M.D., who was the Innovation Center's first director. He provided me with a once-in-a-lifetime, hands-on professional opportunity to be at the forefront of developing and implementing alternative payment models, including bundle payments, Accountable Care Organizations (ACOs), shared saving models, and payment models for patient-centered health homes. I was also part of a team that evaluated Pioneer ACOs and led work groups on planning and implementing the Strong Start for Mothers and Newborn Initiative, which has proven to be sustainable at reducing preterm births and improving outcomes for newborns and pregnant women.
So, not only was I part of helping to develop some of the language in the Affordable Care Act, I was fortunate to be part of the team that started the CMS Innovation Center.
What an accomplishment, being part of such historic legislation.
It truly was an accomplishment and continues to be one of the highlights of my career; I'm certainly proud to have been part of potentially one of the most historic pieces of health care legislation in our lifetime in a meaningful way. That experience allows me to intertwine many of the front-line authentic experiences and stories into teaching, which provides our students with a real-world application of the course objectives in quality and current issues and trends in health and health care.
How do you incorporate your real-world experience into the curriculum?
In health sciences, we have some of the best and brightest students who already bring a wealth of practical knowledge from their respective organizations to the classroom. They challenge me to not only remain current on emerging health care issues and trends, but also to balance my facilitation and mentoring approach with credible experiential knowledge and authentic experiences. I like to believe that I excel at intertwining topics, including payment reform legislation, process improvement, clinical quality measurement, leadership, and workforce shortage issues, and applying them to real world examples that students can immediately apply at work. So yes, sharing my real-world experiences across the various sectors of the healthcare ecosystem is frankly what our students have come to rely on and expect.
How was it that you made your way to GW?
It was through a lot of persistence and my nagging Health Care Quality Program Director Dr. Ken Harwood that I was available to join the faculty at GW. Actually, it was a couple of factors and a long journey. When I began my doctoral studies in information management at Syracuse University in the School of Information Studies, I became intrigued by the notion of big data in health care as a practical matter of care delivery rather than the buzzword it was at the time. I also wanted to study the methods and application of narrative medicine, or patient stories, beyond the typical patient-physician relationship. Coupled with the work I was doing at the time as a government consultant mentoring small physician practices on the implementation of ICD-10, it became evident that I immensely enjoyed delivering often nebulous and complex content in a group setting of allied health professionals. That's when I began looking in earnest at the prospects of teaching.
I like to think that [coming to GW] was the result of my body of work and relevant professional experiences over a 20-year career, but the most important part was timing and that there was a master's program here in health care quality. The subject matter became my specialty while working at CMS. So, a confluence of events led me here, and it seemed like a great fit to join the faculty and be part of the community of learners here at George Washington University.
How do you feel about shifting your career path to the classroom?
It's a welcome change and one I am absolutely ready for. I knew getting a full-time faculty appointment would be very competitive, but I was confident and persistent. As I began to learn more about GW, its mission, students, and people, I was convinced I had something relevant to contribute to the university and everything to gain.