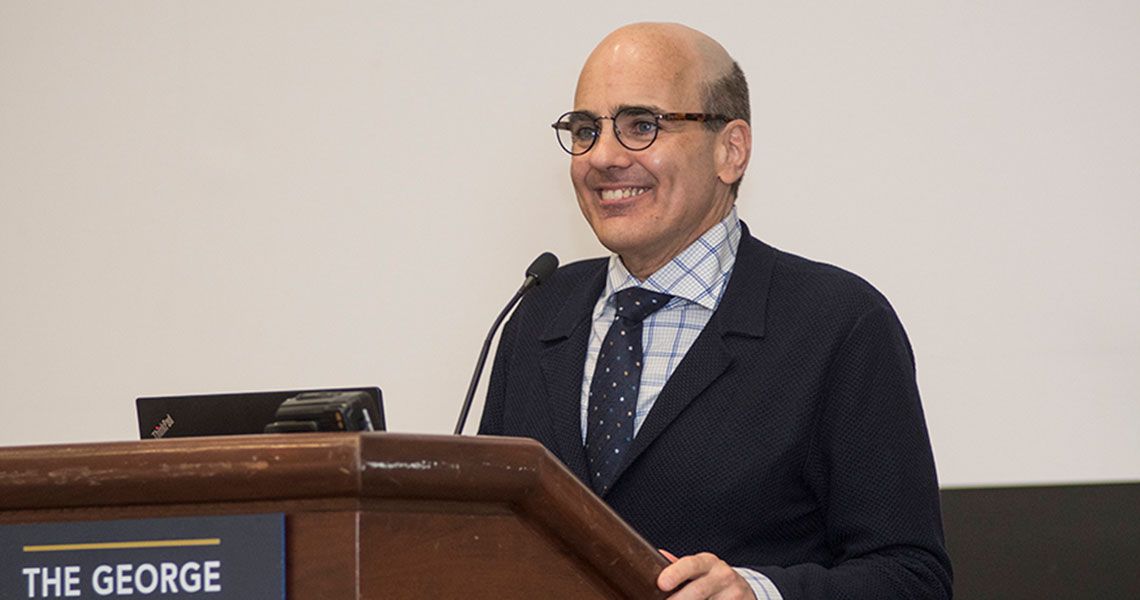 The George Washington University (GW) once again played host to the GW Institute for Neuroscience (GWIN) Symposium, held on April 25. The eighth annual event focused on the science of language and communication, and among the many presentations were discussions on flexibility of vocal control networks, developmental brain plasticity after pediatric stroke, and neuroscience of autism spectrum disorders.
The day-long exploration of the neurosciences originally started after a chance meeting between Leo M. Chalupa, PhD, vice president for research at GW, and Anthony-Samuel LaMantia, PhD, Jeffrey A. Lieberman Professor of Neuroscience, director of GWIN, and professor of anatomy and regenerative biology at the GW School of Medicine and Health Sciences, at a conference in Croatia.
"[Chalupa] is someone I admired and knew since the time I was a beginning graduate student," LaMantia said. "He engaged me in a conversation at a meeting in Croatia, and that was the inception of the Institute for Neuroscience; he became its champion, and he has supported me and the institute thereafter in an exemplary fashion."
Before the lectures began, Chalupa announced exciting news: the creation of a lecture seminar series for graduate students. It will be a master class in which six or seven well-known neuroscientists will be invited to speak to and meet with students. The students will receive readings about each guest speaker, so they have deeper understanding of his or her research, Chalupa noted. Then the neuroscientists will each meet with the students, as well as give a public lecture.
Following Chalupa's remarks, the symposium began with a talk from Michael Long, PhD, associate professor of otolaryngology and neuroscience at the New York University School of Medicine. Long's lecture centered on his study of the song of the Zebra finch, a small bird with a bright orange beak and black-and-white striped tail that sings the same song continually with a high degree of precision.
This bird, he noted, only learns the song once but can repeat it over and over, year after year.
"For zebra finch, once they get the song down, it only makes sense to stamp that on an individual level," Long noted, "but how the brain actually maintains this stable representation is something that's difficult and something we're trying to figure out.
"I want to know how we can go from the bird to us … and if there's any kind of pathway that can help inform our understanding of the human brain," Long said. "I think there are a lot of fundamental things that are not known."
GWIN faculty members Guangying Wu, assistant professor of psychology at SMHS, and Malathi Thothathiri, assistant professor of speech and hearing sciences at SMHS, addressed distinct aspects of communication. Wu presented his laboratory's recent findings of how single cells in a part of the brain called the inferior colliculus construct higher level representations of auditory information, such as direction of sound and changes in the pitch and intensity of sound via distinct synaptic inputs. Thothathiri described her work on word choice and sentence production, and how the brain differentially process aspects of complex language and speech.
Symposium Speaker Marta Kutas, Ph.D., Distinguished Professor and Chancellor's Associates Endowed Chair, Department of Cognitive Science University of California San Diego, addressed cognitive and brain mechanisms of language perception at the level of how we construct meaningful sentences despite ambiguity and multiple word choices moment to moment. She showed that the brain's processing mechanisms are tuned to anticipate and produce meaningful communication despite uncertainty of moment to moment word choices.
Kevin Pelphrey, PhD, Carbonell Family Professor in Autism and Neurodevelopmental Disorders and director of GW's Autism and Neurodevelopmental Disorders Institute, who focused on the role of social neuroscience in aiding the development of more precise behavioral treatments for children with autism spectrum disorders. Catherine Limperopoulos, PhD, director and principal investigator of the Advanced Pediatric Brain Imagining Research Laboratory at Children's National Health System, also spoke at the event, focusing her talk on fetal quantitative MRI and the window technology can give into human brain development.
To conclude the celebration of neuroscience, symposium attendees heard from keynote speaker Elissa Newport, PhD, director of the Center for Brain Plasticity and professor of neurology, rehabilitation medicine, psychology, and linguistics at Georgetown University.
Newport's research seeks to identify the limits and principles of developmental brain plasticity.
Her work focuses on developmental plasticity and language reorganization after pediatric stroke, particularly in an early left hemisphere injury.
The left hemisphere, Newport noted, is often thought to be privileged for language. At the same time, people have suggested that everything in the brain is plastic, and anything can go anywhere. In many individuals who had pediatric stroke and thus had the left hemisphere of their brain damaged, Newport said, their language is perfectly normal.
Through two tasks, one where individuals hear sentences and push a button if they're true and another that tests comprehension of increasingly complex sentences, the results came out the same in children who had pediatric stroke and in those that did not.
"So what exactly is the explanation for recovery of function and developmental plasticity of this kind? I want to tell you about a hypothesis that we're working on: The suggestion that there is a broader distribution of [brain] function in young children."
This is called the "developmental origins hypothesis," she said, where researchers think language is more broadly distributed between brain regions in young children than it is in adults.
In addition, attendees heard from GWIN students and post-docs, with discussions on neonatal brain injury and 22q11.2 deletion syndrome, among other topics.