New role established will enhance research partnerships between the George Washington University School of Medicine and Health Sciences and Children's National Health System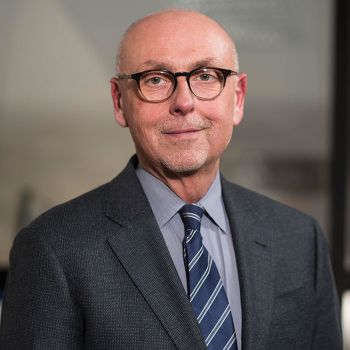 WASHINGTON (May 16, 2017) - The George Washington University (GW) School of Medicine and Health Sciences (SMHS) is pleased to announce that Vittorio Gallo, Ph.D., professor of pediatrics and of pharmacology and physiology, will serve as the associate dean for child health research - a newly established position within the school to enhance research relationships between GW SMHS and Children's National Health System.
In this new role, Gallo will support faculty in their pursuit of child health research funding by identifying appropriate funding sources and providing educational opportunities to enhance grant-seeking skills. He will also provide overall coordination of the school's child health research efforts and will provide general administrative leadership for the operation of strategic projects in child health, in coordination with the senior associate dean for research.
"By establishing this position, we will ensure that all of the resources necessary for collaboration are readily available to our researchers and that there is a steady flow of communication between both institutions. Given Dr. Gallo's longstanding commitment to the health of children and his research, I know he will be a wonderful leader and a catalyst for more innovative science between the two institutions," said Robert Miller, Ph.D., senior associate dean for research, Vivian Gill Distinguished Research Professor, and professor of anatomy and regenerative biology at GW SMHS.
In addition to his new role, Gallo will serve as chief research officer at Children's National starting on July 1, and will continue his appointment as professor of pediatrics and of pharmacology and physiology at GW SMHS. He will also continue in his role of Director of the District of Columbia Intellectual and Developmental Disabilities Research Center (DC-IDDRC) based at Children's National. Gallo is also an adjunct professor at the Child Study Center at Yale University School of Medicine.
Gallo has been on the faculty of GW SMHS and Children's National since 2002 and has held many key research and administrative positions, including the position of Director of the Center for Neuroscience Research and the Wolf-Pack Chair in Neuroscience at Children's Research Institute. He is an internationally recognized researcher in neuroscience and delivers lectures and serves as a keynote speaker on a regular basis. He is the recipient of multiple professional honors and awards, including GW's Distinguished Researcher Award. He holds many grants from the National Institutes for Health and other funding organizations, including the National Multiple Sclerosis Society.
Dr. Gallo's recent work has been focused on understanding development and regeneration of a brain region that plays a crucial role in brain function - the white matter. White matter abnormalities are associated with many neurodevelopmental and behavioral disorders, as well as neurological disorders of the adult. Dr. Gallo and his team have made outstanding contributions to our understanding of the cellular and molecular mechanisms that lead to formation of the white matter. They have also demonstrated that leveraging on these endogenous developmental mechanisms can lead to developing new therapeutic strategies that promote white matter regeneration and functional recovery in different pathologies of the nervous system, including neonatal brain injury.
Prior to joining the faculty at GW SMHS and at Children's National, Gallo held positions at the Eunice Kennedy Shriver National Institute of Child Health and Human Development at the National Institutes of Health, including the Acting Lab Chief of the Laboratory of Cellular and Molecular Neurophysiology; the Chief of the Section on Molecular and Cellular Neurobiology, Laboratory of Cellular and Synaptic Neurophysiology; and Adjunct Scientist and NATO Fellow in the Unit on Molecular Neurobiology, Laboratory of Developmental Neurobiology. He also held positions at the Istituto Superiore di Sanita' in Rome, Italy and at the MRC, Developmental Neurobiology Unit, in London, United Kingdom.
He holds a B.Sc. in chemistry and a Ph.D. in neurochemistry from the University of Rome, Italy.
"This is an important new role, and I am thrilled to be the first person to hold this position. I believe that we will be able to enhance the GW SMHS/Children's National partnership as we embark upon vital research that will improve the lives of the patients we serve," said Gallo.
Gallo will begin in this new role as the associate dean for child health research on July 1, 2017.