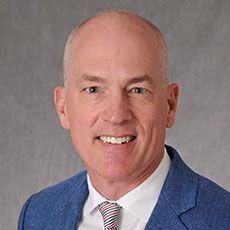 Within the George Washington University (GW) School of Medicine and Health Sciences (SMHS) is a small but unique program that exists at the niche intersection of medical care, public health, and health equity — and it just graduated its first cohort. The GW Correctional Health Administration master's degree program blends operational know-how with real-world scenarios designed for both new administrators and those hoping to advance in their careers.
"The role of the correctional health administrator is the linchpin of providing quality care that's fiscally prudent," said Newton Kendig, MD, clinical professor at SMHS and retired medical director of the Federal Bureau of Prisons, who developed the program. "[An administrator] addresses risk management concerns and does it without compromising public safety."
Correctional health administrators have a wide range of tasks: recruiting and retaining staff, crafting often limited budgets for incarcerated patients with medical and mental health issues, and working with internal (wardens, CEOs, sheriffs) and external stakeholders (federal or local judges, communities, the media). According to Kendig, these responsibilities can vary; some health administrators manage small jails, while others are statewide administrators or working for private companies and overseeing numerous jails and prisons.
To prepare for these duties, which Kendig notes have only grown more complex during the COVID-19 pandemic, the GW Correctional Health Administration program trains students to create evidence-based, constitutional, and affordable health care services plans for patients with diverse needs. They also develop leadership skills and gain experience using specialized tools that ensure consistent health care for newly released patients.
"A significant benefit of this program for me has been the learning that comes from engaging the broader correctional health care environment and seeking out best practices across the country," said Kevin Bovenkamp, a 25-year veteran of adult corrections who has served as a corrections health care executive for the past eight years. "The practical experience of utilizing research and networking to stay abreast of changes in health care and guide decision-making continues to shape my practice within health care administration."
Bovenkamp, a member of the 2021 cohort, pointed to rapidly advancing health care technology, laws, and research that correctional health administrators must follow to be successful. That challenge is bolstered by the program's curriculum, which focuses on legal implications in caring for incarcerated patients as well as medical ethics, health care delivery, special populations, and fiscal management.
"Ultimately, the course is fundamentally operational, with its focus on preparing students to work in the field of correctional health care systems," Kendig said. "Additionally, there is a strong emphasis on learning strategies for continuous quality improvement and risk management mitigation."
Nikki Gilliland, a 2021 cohort member who transitioned to correctional health care in 2019, noted that the critical thinking and analysis skills the program instills are essential for the field. "Students entering this program … ultimately walk away with a practical set of tools and experiences," she said. "Students will exit this program understanding the importance of health care excellence in correctional settings and how it directly impacts public health."
The emphasis on public health is arguably one of the most important aspects of the GW Correctional Health Administration program. "One of the core objectives is that the [correctional health administrators] not only take responsibility for health care delivery during incarceration, but actually from the very beginning of incarceration, [they] start preparing patients for re-entry into the community," Kendig said. 
The program is currently one of few in the country focused on correctional health, and the only master's degree program tailored to correctional health administration. 
"The fact that GW is willing to support this program, I think, is a commitment of GW to address health care disparities in this very vulnerable population that's vital to the public health of our nation," Kendig said. "GW is very committed to justice and health, and this program is one reflection of that."